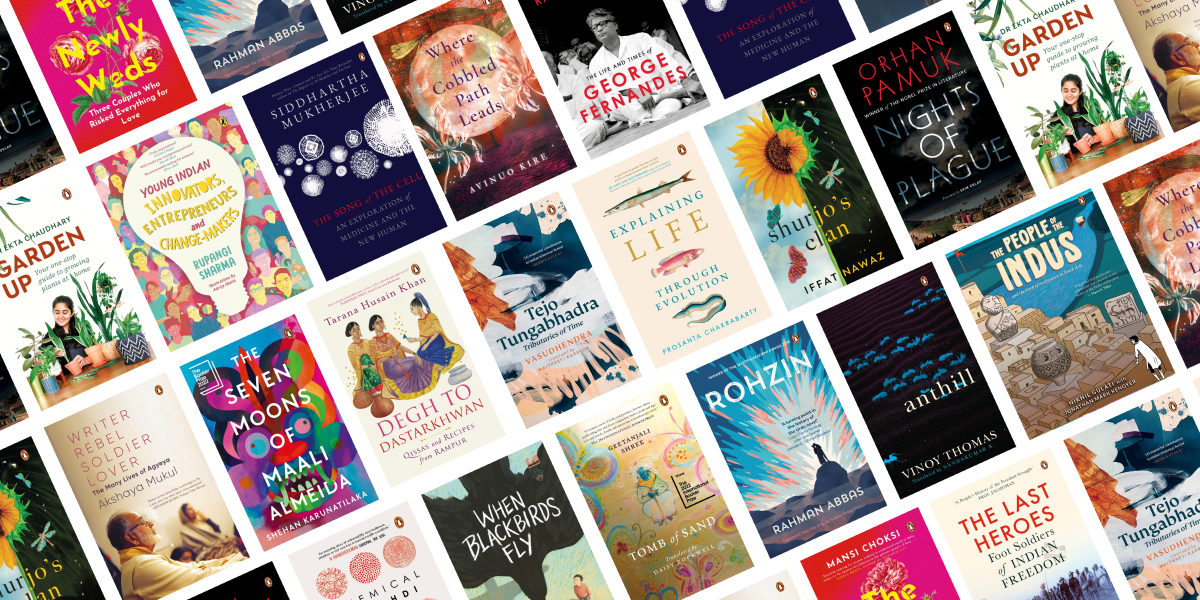 We've got you 22 books to read in 2022!
Tis' the season to read and revel. Winter is here, and it is the best time to snuggle in a blanket with a cup of coffee and a book. If you are new to the reading realm or still wondering what you should read, then you are at the right place. Before you welcome the new year, bookmark your favourite reads from this curated list of 22 books to read before 2022 ends.
1. Degh To Dastarkhwan, Tarana Husain Khan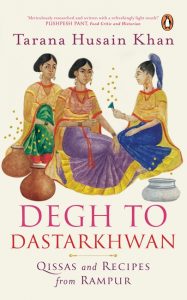 Tarana was an indifferent eater and an unenthusiastic cook until a chance encounter with a nineteenth-century Persian cookbook in Rampur's fabled Raza Library started her off on a journey into the history of Rampur cuisine and the stories around it. Part food memoir and part celebration of a cuisine, Degh to Dastarkhwan answers the question- 'what constitutes and distinguishes Rampur cuisine?' Each chapter represents an emotion, an observance or a celebration. The spread of Rampuri food from the grand royal cuisine to the simple daily fare becomes the arena to express love, loss, forgiveness and spirituality. Peopled with compelling characters from all walks of life, the book is a tour de force that includes recollections of a princess to the spiritual ambiance of a Sufi shrine, with stories of khansamas, weddings and funerals.
2. Chemical Khichdi: How I Hack My Mental Health, Aparna Piramal Raje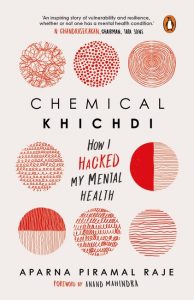 Some said children were out of the question, but she is a mother of two boys. Some said she couldn't handle business life, but she has interviewed over a hundred CEOs, and counting. Some said she wouldn't be able to write a book on mental health, but here it is. Aparna Piramal Raje is happy, thriving and bipolar. And this is her story.
Part memoir and part self-help guide, Chemical Khichdi provides a pathway for anyone with a mental health condition and the family, friends, colleagues, and medical professionals that love and care for them. Empathetic, candid and accessible, it outlines 'seven therapies' that have enabled Aparna to 'hack' her mental health and find equilibrium over the years, and shows how you or someone you know can also do the same. Empathetic, candid and accessible, it outlines 'seven therapies' that have enabled Aparna to 'hack' her mental health and find equilibrium over the years, and shows how you or someone you know can also do the same.
3. Garden Up, Dr Ekta Chaudhary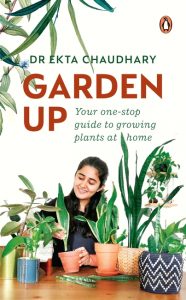 Have you been trying to grow plants at home?
Do you want to be able to eat fresh, organic produce and herbs grown in your balcony?
Do you want beautiful plants around your home to add that extra love and warmth to your space?
YouTube sensation Ekta Chaudhary has been teaching gardening to her millions of followers, and for the first time, she is putting it all down in an easy-to-use, fun and simple beginner's guide to growing plants at home. Rich in information on the amount of light plants need, the kind of soil to use and plants that can thrive indoors and outdoors, with answers to all 'silly' questions, Garden Up will gift anyone a green thumb.
4. When Blackbirds Fly, Hannah Lallanpuji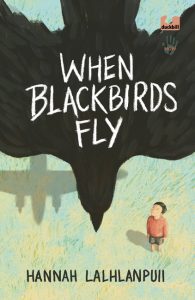 Life is sweet growing up in Aizawl, with his family and friends, and all the narrator wants is a peaceful life. But the independence movement in Mizoram means that regardless of what he wants, he is drawn inexorably into a world where everyone has to choose where they stand …
Set in the initial stages of the two-decade-long struggle for Mizoram's independence and against the backdrop of the 1966 bombing of Aizawl, this stunning debut novel is a universal story of how individual dreams and lives are shattered when larger conflicts arise.
5. Young Indian Innovators and Change-maker, Rupangi Sharma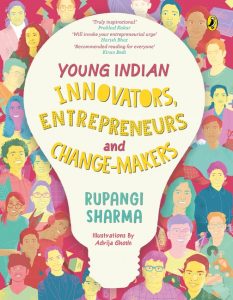 Let's meet:
the teen whose tech company got a $75 million funding
the boy who created the world's smallest satellite
the nine-year-old who set up her own software firm
the girl who started a social initiative to impart life skills through sports and many more!
These are the inspiring stories of India's future generations-innovative thinkers, dreamers and tinkerers-who have created amazing solutions to real-life problems. Aged seven to twenty-one, these youngsters are effecting change from far-flung rural villages, small towns and urban cities. There's no stopping these kids!
6. The People of the Indus, Nikhil Gulati with Jonathan Mark Kenoyer
Who were the people of the Indus?
Why didn't they build pyramids like the Egyptians?
And ultimately what happened to them?
Supported by extensive research from a leading Indus archaeologist, this graphic novel seeks answers to precisely these questions. It is not history in the form of a dull record of dates and events but a beautifully illustrated glimpse into the lives of the people of the Indus civilization, dating all the way back to 3200 BCE. The People of the Indus is a rare account of how one of the most unique and enigmatic civilizations of the ancient world changed the course of human history. It is sure to enthrall young adults and older readers alike.
7. The Seven Moons of Maali Almeida, Shehan Karunatilaka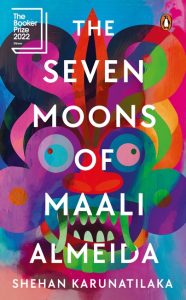 Colombo, 1990. Maali Almeida, war photographer, gambler and closet gay, has woken up dead in what seems like a celestial visa office. His dismembered body is sinking in the Beira Lake and he has no idea who killed him. At a time when scores are settled by death squads, suicide bombers and hired goons, the list of suspects is depressingly long, as the ghouls and ghosts who cluster around him can attest. But even in the afterlife, time is running out for Maali. He has seven moons to try and contact the man and woman he loves most and lead them to a hidden cache of photos that will rock Sri Lanka. Ten years after his prizewinning novel Chinaman established him as one of Sri Lanka's foremost authors, Karunatilaka is back with a rip-roaring epic, full of mordant wit and disturbing truths.
8. Rohzin, Rahman Abbas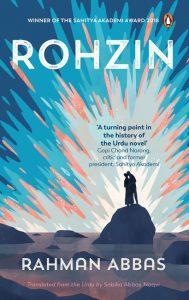 The love story of Asar and Hina begins abruptly and ends tragically. It is love at first sight which takes place in the premises of Haji Ali Dargah. The arc of the novel studies various aspects of human emotions, especially love, longing and sexuality as sublime expressions. The emotions are examined, so is love as well as the absence of it, through a gamut of characters and their interrelated lives: Asrar's relationship with his teacher, Ms Jamila, a prostitute named Shanti and, later, with Hina; Hina's classmate Vidhi's relations with her lover and others; Hina's father Yusuf's love for Aymal; Vanu's indulgence in prostitutes. Rohzin dwells on the plane of an imagination that takes readers on a unique journey across the city of Mumbai, a highly intriguing character in its own right.
9. The Newlyweds, Mansi Choksi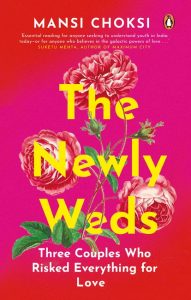 10. The Art of Bitfulness, Nandan Nilekani and Tanuj Bhojwani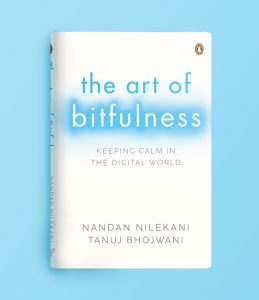 Bitfulness is being effortlessly mindful of your technology. In this short, practical book, Nandan Nilekani and Tanuj Bhojwani describe a framework to tune out the overwhelming noise of the internet. They empower you with tools to take back your time, attention and privacy from those who want to capture and sell it. They reveal their own personal systems, and how they stay on top of a constant flow of information. This book doesn't believe our excessive screen time usage is a personal failing. The internet creates winner-take-all market conditions, which in turn create an attentional race to the bottom. It doesn't have to be this way. The book covers how we, as a collective, can take back control of our future. The authors even analyse the promise of web3 & cryptocurrencies to see where that alternative will take us. The reason to read this book is simple: If you don't design your technology around your life, someone else will design your life around their technology.
11. Explaining Life Through Evolution, Prosanta Chakrabarty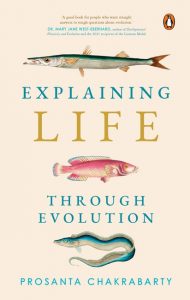 Looking forward to a book that explains life? Well, here it is! Explaining Life Through Evolution opens a window to the four billion year history of the millions of species we see on this planet. This book does not simply narrate the story of evolution: It brings to light who we are and where we came from. As humans we often focus on identifying our differences, no matter how small; Prosanta Chakrabarty demystifies our perceived differences and emphasizes our similarities. As more and more people take ancestry tests, sending their DNA samples and money to genealogy testing centres, we need to be educated on what the results actually mean scientifically; and we all have to decide together what it means socially. He thinks we should be celebrating the fact that our diversity comes from the same little drops of water and sunlight, each of us just shining a little differently as seen through the prism of evolution. Evocative, comprehensive and thought-provoking, this is a book which will compel you to reimagine life.
12. Tejo Tungabhadra, Vasudhendra and Maithreyi Karnoor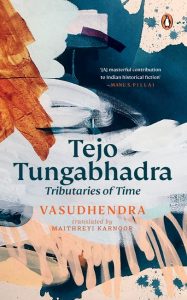 Tejo Tungabhadra tells the story of two rivers on different continents whose souls are bound together by history. On the banks of the river Tejo in Lisbon, Bella, a young Jewish refugee, and her family face daily threats to their lives and dignity from the deeply antisemitic society around them. Gabriel, her lover, sails to India with General Albuquerque's fleet seeking wealth and a secure future for themselves. Meanwhile, on the banks of the Tungabhadra in the Vijayanagara Empire, the young couple Hampamma and Keshava find themselves caught in the storm of religious violence and the cruel rigmarole of tradition. The two stories converge in Goa with all the thunder and gush of meeting rivers. Set in the late 15th and early 16th century, Tejo Tungabhadra is a grand saga of love, ambition, greed, and a deep zest for life through the tossing waves of history.
13. The Last Heroes, P. Sainath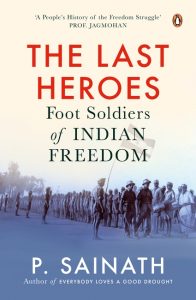 So who really spearheaded India's Freedom Struggle? Millions of ordinary people-farmers, labourers, homemakers, forest produce gatherers, artisans and others-stood up to the British. People who never went on to be ministers, governors, presidents, or hold other high public office. They had this in common: their opposition to Empire was uncompromising. In The Last Heroes, these footsoldiers of Indian freedom tell us their stories. The men, women and children featured in this book are Adivasis, Dalits, OBCs, Brahmins, Muslims, Sikhs and Hindus. They hail from different regions, speak different languages and include atheists and believers, Leftists, Gandhians and Ambedkarites. The people featured pose the intriguing question: What is freedom? They saw that as going beyond Independence. And almost all of them continued their fight for freedoms long after 1947. The post-1947 generations need their stories. To learn what they understood. That freedom and independence are not the same thing. And to learn to make those come together.
14. Shurjo's Clan, Iffat Nawaz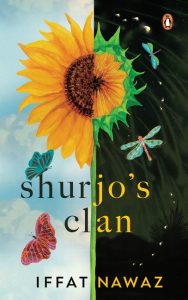 During the hours of daylight, young Shurjomukhi's family is like any other in Dhaka, going through the motions of school, work, and domesticity in a nation still in the flush of youth. But every night, once darkness falls over their asymmetrical house, they switch over to the Unknown world. Death does not exist in the Unknown side and the family is joined for dinner by Shurjo's freedom fighter uncles, who were martyred in the tea gardens of Sylhet at the start of the 1971 Bangladesh liberation war, and her grandmother who killed herself by jumping into a well in the aftermath of 1947. These dinners are festive affairs, replete with the joy of reunion, music and stories, but underneath the celebration, Shurjo's family is riddled with the traumas of their past: death, war, migration, separation, the inability to belong to a land, dwelling in an in-between space, an eternal limbo. And when the miasmic shadow of the past inevitably falls on young Shurjo, the pitfalls of their dual reality is laid bare.
15. Writer Rebel Soldier Lover, Akshaya Mukul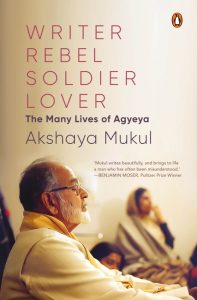 Sachchidanand Hirananda Vatsyayan 'Agyeya' is unarguably one of the most remarkable figures of Indian literature. From his revolutionary youth to acquiring the mantle of a (highly controversial) patron saint of Hindi literature, Agyeya's turbulent life also tells a history of the Hindi literary world and of a new nation-spanning as it does two world wars, Independence and Partition, and the building and fraying of the Nehruvian state. Writer, Rebel, Soldier, Lover features a formidable cast of characters: from writers like Premchand, Phanishwarnath Renu, Raja Rao, Mulk Raj Anand and Josephine Miles to Prime Minister Jawaharlal Nehru, revolutionary Chandra Shekhar Azad and actor Balraj Sahni. And its landscapes stretch from British jails, an intellectually robust Allahabad and modern-day Delhi to monasteries in Europe, the homes of Agyeya's friends in the Himalayas and universities in
the US. This book is a magnificent examination of Agyeya's civilizational enterprise.
16. Tomb of Sand, Geetanjali Shree and Daisy Rockwell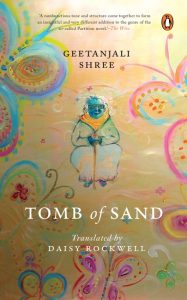 In northern India, an eighty-year-old woman slips into a deep depression after the death of her husband, and then resurfaces to gain a new lease on life. Her determination to fly in the face of convention – including striking up a friendship with a transgender person – confuses her bohemian daughter, who is used to thinking of herself as the more 'modern' of the two. To her family's consternation, Ma insists on travelling to Pakistan, simultaneously confronting the unresolved trauma of her teenage experiences of Partition, and re-evaluating what it means to be a mother, a daughter, a woman, a feminist. Rather than respond to tragedy with seriousness, Geetanjali Shree's playful tone and exuberant wordplay results in a book that is engaging, funny, and utterly original, at the same time as being an urgent and timely protest against the destructive impact of borders and boundaries, whether between religions, countries, or genders.
17. Here and Hereafter, Vineet Gill
How is a writer formed? Yes, through labour, commitment, perseverance, grit and various other things that we keep hearing about. But equally, a writer is formed through the workings of a particular kind of sensibility. As Vineet Gill attempts to understand this writerly sensibility in Nirmal Verma's life and work, he finds that the personal and the literary are, on some level, inseparable. In this masterly deep dive into the world of one of Hindi literature's pioneers, Gill looks at the scattered elements of Verma's life as ingredients that went into the making of the writer. The places he lived in, the people he knew, the books he read are all reflected, in Gill's view, in Verma's stories and novels. This is a work of intense readerly analysis and considered excavation-a contemplation on Verma's oeuvre and its place in world literature.
18. Nights of Plague, Orhan Pamuk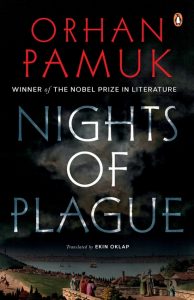 It is April 1900, in the Levant, on the imaginary island of Mingheria-the twenty-ninth state of the Ottoman Empire-located in the eastern Mediterranean between Crete and Cyprus. Half the population is Muslim, the other half are Orthodox Greeks, and tension is high between the two. When a plague arrives-brought either by Muslim pilgrims returning from the Mecca or by merchant vessels coming from Alexandria-the island revolts. As the plague continues its rapid spread, the Sultan sends a second doctor to the island, this time a Muslim, and strict quarantine measures are declared. But the incompetence of the island's governor and local administration and the people's refusal to respect the bans doom the quarantine to failure, and the death count continues to rise. Faced with the danger that the plague might spread to the West and to Istanbul, the Sultan bows to international pressure and allows foreign and Ottoman warships to blockade the island. Now the people of Mingheria are on their own, and they must find a way to defeat the plague themselves.
19. The Song of The Cell, Siddhartha Mukherjee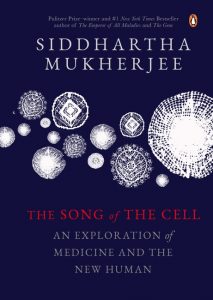 From Pulitzer Prize-winning and #1 New York Times bestselling author of The Emperor of All Maladies and The Gene, The Song of The Cell is the third book in this extraordinary writer's exploration of what it means to be human-rich with Siddhartha Mukherjee's revelatory and exhilarating stories of scientists, doctors, and all the patients whose lives may be saved by their work. The discovery of cells-and the reframing of the human body as a cellular ecosystem-announced the birth of a new kind of medicine based on the therapeutic manipulations of cells. A hip fracture, a cardiac arrest, Alzheimer's, dementia, AIDS, pneumonia, lung cancer, kidney failure, arthritis, COVID-all could be viewed as the results of cells, or systems of cells, functioning abnormally. And all could be perceived as loci of cellular therapies. In The Song of the Cell, Mukherjee tells the story of how scientists discovered cells, began to understand them, and are now using that knowledge to create new humans. He seduces readers with writing so vivid, lucid, and suspenseful that complex science becomes thrilling.
20. The Life and Times of George Fernandes, Rahul Ramagundam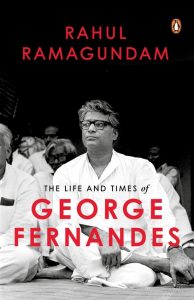 George Fernandes(1930-2019)-a firebrand trade union leader, socialist politician and incredibly powerful orator-is popularly known for leading the All India Railwaymen's Federation (AIRF) in May 1974 and calling upon its approximately 1.7 million employees to strike, which brought India to a halt for twenty days. The Life and Times of George Fernandes chronicles the story of George, who rose from the streets of Bombay to stride the corridors of power. In this extraordinary biography, Rahul Ramagundam opens a window to George's political evolution and traces the course of the Socialist Party in India from its inception in 1930s to its dissolution into the Janata Party in the late 1970s. In the process, this book explores the trail of India's opposition parties that worked to displace the long-ruling Congress Party from its preeminent position. Comprehensive, evocative and fascinating, this first definitive biography of George Fernandes is an unputdownable tour de force.
21. Where The Cobbled Paths Lead, Avinuo Kire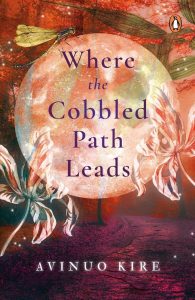 Where the Cobbled Path Leads is a folk fantasy novel, interweaving fantasy fiction with Naga spirit stories and folklore. Eleven-year-old Vime is struggling to come to terms with the demise of her beloved mother. She has a special place she frequents-a cobbled footpath near her house which leads to a forest. On the day of her mother's death anniversary, not wanting to return home, Vime follows the cobbled footpath all the way to the deep end of the woods and discovers that the trail leads to a magnificent tree. She falls asleep under it only to wake up and find that the footpath has disappeared. Tei, a forest spirit, helps her relocate the missing pathway. Vime is soon to discover that this tree is no ordinary tree. It is a portal between the human and spirit world, and Vime keeps finding her way back to it. Distressed that her father might remarry, she decides to leave her earthly life and join her mother in the spiritual world. As she travels to, from and through these realms, she understands what it is to embrace and survive grief, and what it means to surrender herself to these old spirits, not all of whom are good.
So, which of these 22 books are you planning to read?
22. Grasping Greatness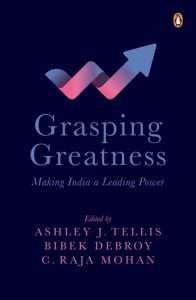 Grasping Greatness explores the various tasks pertaining to this push for eminence in world affairs. It elaborates the economic, state-building, and international dimensions of this ambition. Eminent thinkers like Rakesh Mohan, Ila Patnaik, Surjit Bhalla, Arjun Subramanian, and others reflect upon the tasks at hand and the desirable routes to achieve them.
Edited by Ashley J. Tellis, Bibek Debroy and C. Raja Mohan, Grasping Greatness is an important contribution to the intellectual debates as India enters into a new era on the world stage.