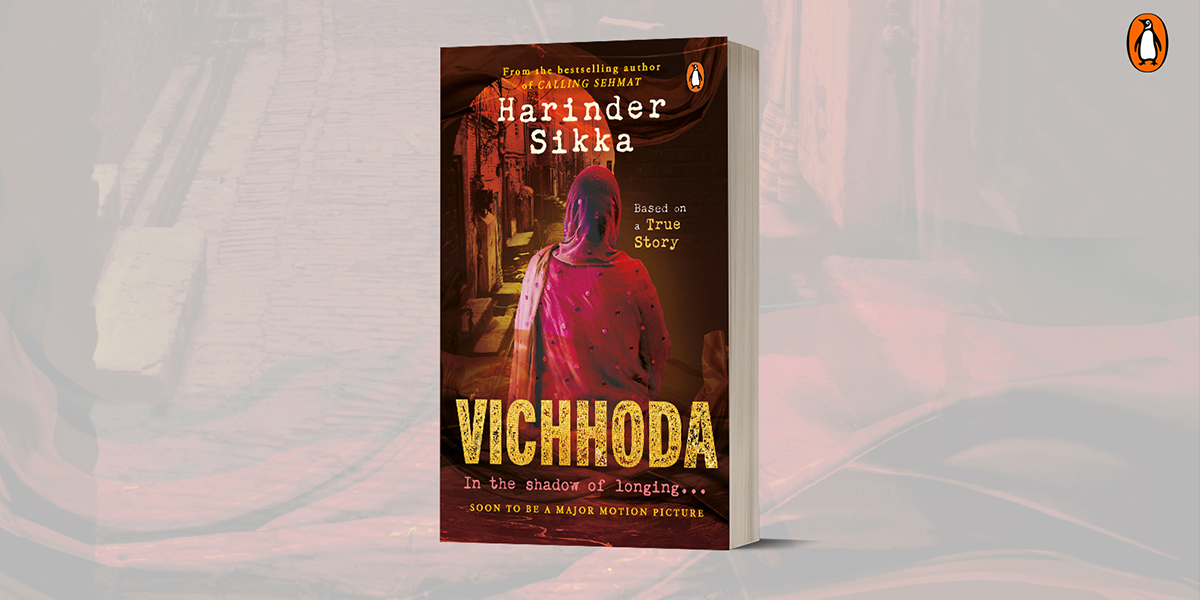 Bestselling author of Calling Sehmat, Harinder Sikka is back! His new book Vichhoda, narrates the experiences of another powerful woman, Bibi Amrit Kaur.
Bibi's life is torn apart in the 1947 riots. She's now living in a different country with a different identity, a fate she eventually accepts gracefully. She gets married and has two children. Life, however, has something else in store for her. It breaks her and her children apart. And this time the pain is unbearable.
Read an excerpt from the book below:
In the meantime, Bibi reached home to find a large group of women assembled in front of her home. They were surprised to see her without her burqa. As the tonga stopped, she stepped down, and, without saying a word to the women, rushed into her home and bolted the door from inside. But like jungle fire, stories about her act of bravery reached every ear in no time. It generated praise and fear in equal measure. Even though Sakhiullah was respected by the villagers, most women feared police retaliation. They were all aware of the brutality with which cops often operated, especially in rural areas where they were treated like demigods. When Sakhiullah arrived that evening, he was shocked to learn about the turn of events. He rushed to the army camp situated near his house and narrated the story to the deputy camp commander, a young army captain named Ishtiaq, who was also his first cousin. 'I need urgent help, Ishtiaq. We have no time to waste. It won't be long before the police come banging at our doors. And that could mean serious trouble; not only for Bibi, but for the entire family!'
The young captain nodded and called his most senior and experienced jawan at the camp, Subedar Major Mushtaq Khan, for advice. A deep furrow appeared between his brows as Sakhiullah related the story. He mused for a moment and then said, 'Sir, the camp commandant will have to intervene immediately as this is a case of attack on a serving police officer. But he's in Islamabad for the entire week. I know the SHO well. He's politically connected, highly corrupt and most brutal. If he survives, he will take revenge in every possible manner. But even if he doesn't, his colleagues won't spare your family. I suggest that you move out with your family immediately. Also, Bibi will have to be sent to India right away if we are to save her.'
Captain Ishtiaq looked at Sakhiullah and said, 'Bhaijaan, if what Mushtaq Sahib is saying is right, then we don't have much time. Please decide. I don't even have the authority to do what we are planning, but I shall not spare any effort.' A helpless and confused Sakhiullah nodded in affirmation and the subedar swung into action.
An hour later, two military jeeps arrived at Sakhiullah's residence. Four army jawans in battle rig and armed with rifles stepped out, followed by a subedar and a young lieutenant. The lieutenant took Bibi into custody while Sakhiullah watched from a distance as a mute spectator. The military officer whispered in her ear that her life and that of her entire family was in danger. He explained to her that the arrest was being made only to evade a counter-attack as the police would not interfere with the military forces.
The first jeep left, taking Bibi to an unknown destination. Shortly, Sakhiullah too departed under escort. He was accompanied by his two minor sons and his cousin, Captain Ishtiaq. After travelling for about twenty kilometres, the first vehicle turned left from the narrow highway towards the Indian border while the second one turned right towards the main city. Bibi instinctively realized the plan. She cried and begged for an opportunity to meet her husband and children one last time. But her wails fell on deaf ears. Despite being aware of Sakhiullah's clout, the young army lieutenant displayed no mercy. He could not have; he was under strict instructions. The jeep reached the border half an hour later. The officer stepped down and went across the border, exchanged pleasantries with his counterpart from India and swiftly handed Bibi over to the Indian armed forces.
---
What happens to Bibi next? Order your copy of Vichhoda to find out!