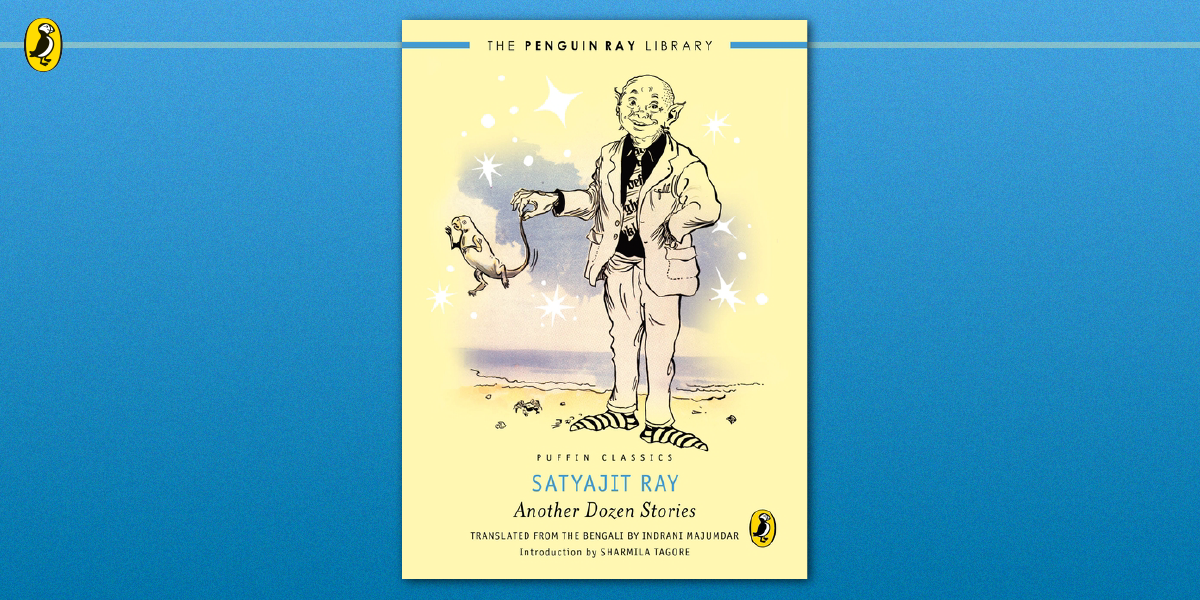 A gift book for children and teens, Another Dozen Stories is a must-read collection of 12 fascinating short stories by award-winning author Satyajit Ray.  It is our homage to this brilliant writer who has blessed us with an era of enchanting stories. Translated for the very first time into English by noted translator Indrani Majumdar, this edition is a gift for his many fans and children who are nine years old or more, on the centenary of his birth.
Another Dozen Stories brings to you the magical, bizarre, spooky and sometimes astonishing worlds created by Satyajit Ray, featuring an extraordinary bunch of characters! This collection includes twelve hair-raising stories that will leave you asking for more!
We decided to add to the gift by giving away a part of a story. If the cliff-hanger at the end piques your curiosity, you know what to do.
~
Ranjan Purakayastha is a noted painter in Calcutta. Why just Calcutta? His popularity has spread way beyond Bengal, across the whole of India. He has had exhibitions in Bombay, Madras, Delhi, Bangalore and Hyderabad. Ranjanbabu's income, which is quite substantial, comes from selling his paintings. Last month in Bombay, one of his oil paintings was sold for thirty-five thousand rupees.
The painting style Ranjanbabu has adopted is modern. Very little of the real world can be associated with his work. His human figures look like puppets created by some incapable artisan; the trees resemble the twigs of a broomstick; the clouds in the sky look like floating chunks of meat; and his birds and animals have nothing to do with nature or a zoo. But as today's art connoisseurs appreciate this kind of approach, Ranjanbabu's earnings have not been affected. Yet I must also add, Ranjanbabu remains unrivalled in creating portraitures of people. Here he doesn't adopt his modern style, the pictures look like real people and the likenesses are rather good too. Due to the nature of his work, Ranjanbabu needs to travel often, and that offers him a good income too. For a life-size oil painting, he charges fifteen thousand rupees, which he plans to increase to twenty-five thousand next year. Even in the age of photographs, a few wealthy people still prefer to have their portraits made, and Ranjanbabu gets to prove his expertise again and again.
One Sunday morning, a gentleman arrives at Ranjanbabu's fancily decorated flat on Richi Road. At a glance, one can tell he is wealthy. Tall and hefty, attired in a raw silk suit, and sporting five rings on five fingers. His appearance is marked by a strapping personality. The gentleman says his name is Bilash Mallik, and he is keen to have his portrait done. When Ranjanbabu hears his name, he knows the gentleman is one of Calcutta's most affluent businessmen. His will be a life-size portrait, and he is ready to pay any amount stipulated.
'How much will you charge?' Mr Mallik asks.
With a straight face, Ranjanbabu says, 'Fifty thousand rupees.'
The client promptly agrees.
Ranjanbabu already has an incomplete work at hand, a large painting. He needs at least seven days to finish it. Accordingly, he calculates his timeframe and offers Mr Mallik a date. He will have to do a one-hour sitting every day at 9 a.m.
'How many days will you take to finish it?' Mr Mallik queries.
'About a fortnight.'
'Very well,' says Mr Mallik. 'It's settled. Hmm . . . do you require an advance?'
'No, sir.'
Before embarking on any major project, Ranjanbabu always seeks his guru's blessings. He became Saralananda Swami's—also known as Babaji or Swamiji—disciple ten years ago. On many occasions he takes Babaji's advice, and the latter too is very fond of this disciple. Babaji has been bestowed with many powers, and fortune-telling is one of them.
After listening to everything his disciple tells him, Babaji meditates for three minutes and then says, 'There is danger.'
'What danger, Swamiji?'
'A lot of mishaps. You didn't do the right thing by taking up this task.'
'Then should I refuse the gentleman?'
'Wait.'
Babaji closes his eyes once again and begins to sway.
This continues for another five minutes, after which Babaji finally opens his eyes. Ranjanbabu is looking at his guru reverentially.
'I can foresee you ultimately crossing all the hurdles and finding success. Don't worry; get on with your work,' Babaji says.
Greatly relieved, Ranjan Purakayastha touches Babaji's feet and takes his leave.
The work on Bilash Mallik's portrait commences on Saturday, 21 January. Mr Mallik is a jovial fellow. Right at the outset he checks if he can talk during sittings. Usually Ranjanbabu doesn't permit this, but since this is an exceptional client, he has to say yes.
'But you shouldn't move your neck. If you speak, speak in one direction, that is, look at my right shoulder and then speak.'
When the first stroke of charcoal appears on the canvas, the time is 9.15 a.m.
Day by day, Mr Mallik's face begins to emerge. There's no doubt that Ranjanbabu is a very skilful artist, but at this juncture the only person who can see his work is the artist himself. The person whose portrait is being created will get to see it only after it's completed. Even though this condition wasn't discussed beforehand, Mr Mallik doesn't have any objections.
It's the twelfth day, and the portrait is nearing completion. After half an hour of sitting, Mr Mallik says he's feeling dizzy.
Ranjanbabu stops and says, 'Please go home. In any case, the portrait is almost complete. If you feel better, please come back tomorrow morning.'
But Mr Mallik doesn't feel any better the next day. In fact, his fever goes up to 103 degrees. On the third day, things turn even more serious and he is shifted to a hospital.
Ranjan Purakayastha removes the portrait from the easel, puts it aside and fixes a brand-new canvas on it. Then he starts to work on a landscape with a modern touch.
After spending one-and-a half months in hospital, when Mr Bilash Mallik finally returns home, he no longer carries any resemblance to his former self. He has lost weight—down to seventy-two kilos from ninety. His cheeks are now hollow and his eyes sunken. He sends word to Ranjan Purakayastha that the portrait can wait. When his appearance becomes a little better, he can once again come for a sitting.
A month later, Mr Bilash Mallik begins to look better. Yet there's no resemblance between his former and present selves. Doctors have advised him to control his diet. With the result, his weight can never go beyond eighty kilos.
Mallik says, 'Let's do a new portrait in my present state.'
Ranjan Purakayastha places a fresh canvas on his easel. Mr Mallik has altered his clothes to fit his reduced frame. But it's a fact that he no longer looks unwell.
After four days of sketching, Ranjanbabu goes shopping to New Market in his Fiat one evening. On the way back, as soon as he crosses the turn at Park Street, a mini bus coming at high speed rams into the car from the right.
Of course, the Fiat is damaged, but along with it, Ranjanbabu's right hand is severely battered. In the
hospital, the X-ray reveals multiple fractures on his elbow, wrist and the right thumb.
Once the cast on his hand is taken off after two months, Ranjanbabu discovers that he will never regain the same level of artistic expertise as he had before the accident. The most critical issue is his thumb. One can create modern art by holding a brush between the index and middle fingers,
but not a natural portrait.
This causes a huge trauma in Ranjanbabu's life. He stops all work and goes on a pilgrimage. After spending three months travelling in Kashi, Haridwar, Rishikesh and Lakshman Jhula, he returns home and starts painting again using two fingers. The work produced looks slack and the appearance of his work completely changes. Ranjanbabu can now no longer demand thirty to forty thousand rupees for a painting. He needs to re-establish his market.
Meanwhile, Mr Bilash Mallik enquires about him, extends his sympathies and deeply regrets that he can now no longer have a Ranjan Purakayastha portrait in his house.
After trying for three months, using the paintbrush with only two fingers, Ranjanbabu manages to evolve a style that eventually earns him an endorsement in the art market. One Sunday morning, the retainer comes to his studio to announce the arrival of a gentleman.
'You know him,' the retainer remarks.