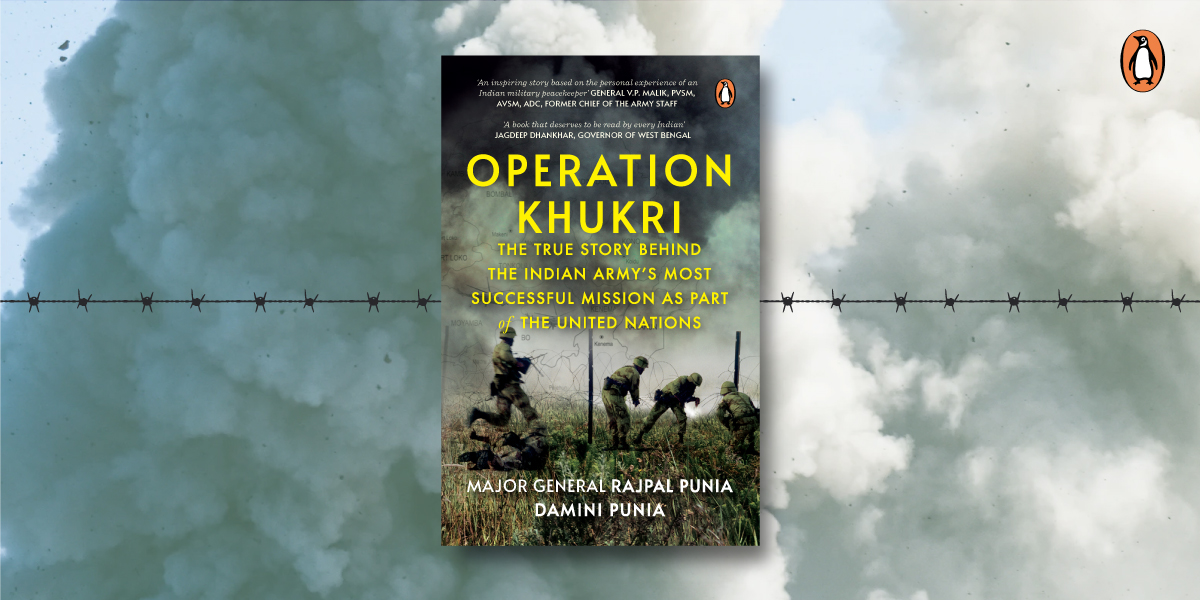 Did you know that 233 soldiers of the Indian Army were cordoned off for almost three months without food in the jungles of Africa?
How did a United Nations Peacekeeping mission turn into a war for dignity, a war for the Indian tricolour?
Operation Khukri was one of the Indian Army's most successful international missions, and the book is a first-hand account by Major Rajpal Punia, after three months of of impasse and failed diplomacy, orchestrated the operation, surviving the ambush of the RUF in a prolonged jungle warfare twice, and returning with all 233 soldiers standing tall.
Here is an excerpt from Operation Khukri by Major General Rajpal Punia and his daughter, Damini Punia
After driving for about half an hour through the wilderness, I could see some sort of habitation, which looked like an RUF camp. I got off the vehicle as two RUF soldiers continued pointing their guns at me. Major Nair's vehicle, too, arrived, and he was in a similar state. I saw Jonathan, the RUF intellectual, who came forward to welcome Major Nair and me. Seeing him, I remarked, 'The RUF is playing with fire, the consequences of which will be hazardous. Jonathan, I thought you were smarter than that. I'm amazed to witness how the RUF is on a road of self-destruction.'
He explained that these were the orders from the Field Commander but assured us of ensuring that they would follow protocol. He then said something in the local language to the soldiers who had their guns pointed at us. As a result, they moved a few steps back and put down their weapons. Even Major Kupoi's behaviour changed slightly after Jonathan's arrival. Jonathan explained that it was part of RUF tactics to separate Commanders from their companies and that their next step would be to disarm all peacekeepers as per instructions. I asked Jonathan about Colonel Martin, and he informed me that currently Colonel Martin was in the field and would meet me once he got back. Jonathan also told us that what was happening was a response to the previous day's unfortunate incident in which many RUF soldiers were killed by United Nations peacekeepers.
I wondered why we were not informed of the incident by our own headquarters. Had we known, we probably would not have landed into the RUF trap. After an hour, eleven military observers hailing from different countries were brought in vehicles from Kailahun to the RUF camp, and now Jonathan's major worry was to provide food to everyone. He put forth his concern that the RUF would not be able to offer food to our taste, so he was going to send one of our vehicles to our camp to get food for everyone.
The military observers were petrified; most of them had been manhandled by the RUF. Major Andrew Harrison of England was scared out of his wits. Sierra Leone was an erstwhile British colony, and he anticipated that he would be the first casualty in case the RUF started eliminating us one by one.
The first exercise the RUF carried out was to physically frisk each of us by taking everyone individually into a dark room. All the money the observers had was taken away, and during
the frisking, most of them were roughed up. Thereafter, all of us were asked to stay in 'barracks' that had no roof and no walls. Primarily, it was only a stretch of coarse floor in the name of barracks. I instructed my driver to get groundsheets for everyone when he would go to procure our dinner, since it was already well past lunch. The so-called barracks had four armed RUF soldiers on four corners, while the rest went into their living areas.
Major Nair and I wondered what must be transpiring back in our companies. But one good thing that happened was that the food vehicle going to camp eventually got back with all the information about the developments taking place in our camp. Overall, I was feeling miserable, having been separated from my command in a crisis, which is the worst thing that can happen to a soldier. My boys, my men, were my responsibility. But here I was stuck as a hostage without any offence and with barely any knowledge of what my soldiers were going through in Kailahun. I just kept praying for their safety.
Om Prakash, my driver, accompanied by four RUF soldiers, brought our dinner from the camp. He also brought in the situation report of our company being surrounded by the RUF in large numbers. Since morning, they had been trying to coerce and threaten the company to lay down weapons, failing which, they would attack the company. That sight of dead bodies of innocent soldiers piled up wouldn't have been a pleasant one. They also used Captain Sunil as a human shield for terrorizing the company to surrender, threatening to shoot him. I was told Captain Sunil displayed undaunted courage and valour by shouting back at our soldiers, 'Koi bhi hathiyaar nahi daalega chahe yeh mujhe goli hi kyun na maar de. Humare tirange ki izzat kam nahi honi chahiye kisi bhi haal mein (Even if they shoot me, nobody will surrender, nobody would diminish the honour of our tricolour).' I was so proud of the young officer and wondered where he went right after the town hall incident in the morning.
My driver further shared that almost all peacekeepers of the United Nations deployed in areas other than Kailahun had surrendered to the RUF, and the soldiers who accompanied him were wondering why the Indian peacekeepers were not laying down weapons despite being in the RUF heartland of Kailahun. My driver also informed me that the RUF had captured a United Nations helicopter that was on a routine sortie.
I anticipated more pressure on our camp to surrender since it was a matter of prestige for the RUF. Therefore, I quickly wrote strict directions on a piece of paper: 'No surrender come what may…'
What happened next? Grab a copy of Operation Khukri to learn more!