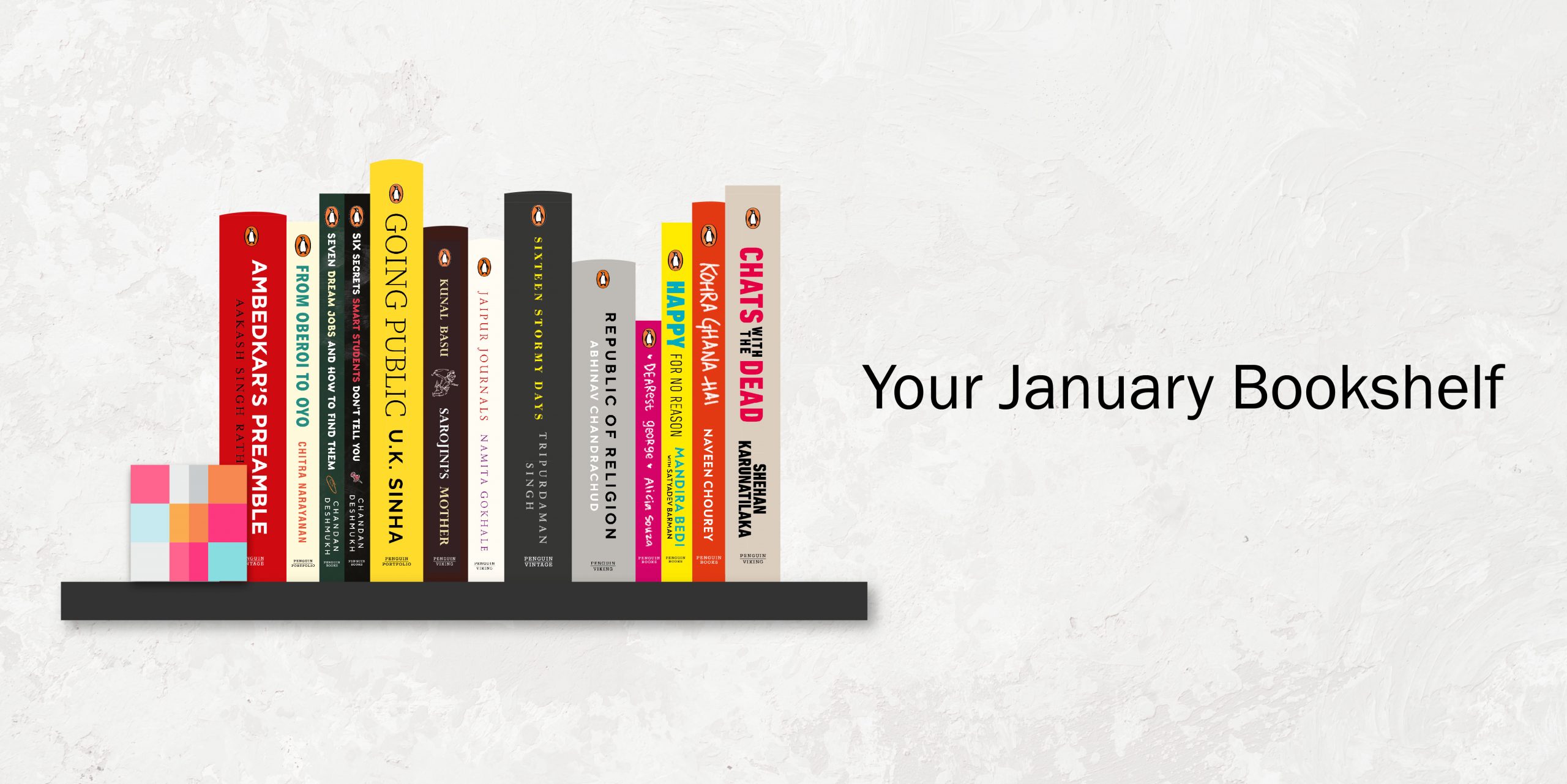 We are all loving the winter, because it makes for perfect weather to snuggle up with a nice, hot mug of tea (or any hot beverage of your choice) and – of course – a book.  No picture of cozy days is complete without books!
If you feel the same way, we have some great book recommendations lined up for you to add to your weekends:
Dearest George



Get ready for the corniest book of the month!
Author Alicia Souza admits she is in love. And she is admitting it in (literary and artistic) style!
Full of real, day-to-day snippets of love, kisses, and marriage – Dearest George captures Alicia's married life with her husband George. Although, one of the most important agendas was to document on print that George totally made the first move!
*
7 Dream Jobs and How to Find Them
Is  finding a job that makes you happy on your resolutions list?
TedX speaker Chandan Deshmukh takes you on a journey through goals, opportunities, challenges and turning points of any career.
Learn about human personalities and how they're suited for certain jobs; how to turn your 'side hustle' into opportune ventures and, most of all, how to find a job in which you'll be happy. This book is a must-read for your weekly dose of motivation!
*
6 Secrets Smart Students Don't Tell You
How do smart students succeed?
Do they have any tricks up their sleeves?
Chandan Deshmukh's 6 Secrets Smart Students Don't Tell You gives you everything it promises in the title – an achievable and accessible answer to all these questions!
Full of real-life anecdotes, tips, advice and extensive research from smart students – this is a funny but highly informative – not to mention, crucial – read for students and parents alike.
*
Republic of Religion
Thanks to our colonial past, we derive many of our laws and institutions from England. How did India aspire to become a secular country?
Thought-provoking and impeccably argued, Republic of Religion reasons that the secular structure of the colonial state in India was imposed by a colonial power.  This one will get you thinking about the country, nation-building, and our history through new perspectives and insights.
*
Fateful Triangle
How did China shape US-India Relations during the Cold War?
A key question today is whether India and the United States should develop closer ties as a way of countering China's desire to be the dominant power in the broader Asian region. In Fateful Triangle, Tanvi Madan argues that history shows that such a partnership is neither inevitable nor impossible.
Madan gives us a nuanced, engaging historical context to explore the past and potential interactions between the three countries, and in turn, India's position within the Asian region.
*
Made in India
What makes Milind Soman tick?
There's more to Milind Soman than meets the eye (although, as his legions of female fans will agree, what meets the eye is pretty delish).
On the twenty-fifth anniversary of 'Made in India' –  the breakout pop music video of the 1990s that captured the zeitgeist of post-liberalization India and made him the nation's darling across genders and generations – Milind talks about his fascinating life-controversies, relationships, the breaking of vicious habits like smoking, alcohol, rage, and more-in a freewheeling, bare-all memoir.
*



Ambedkar's Preamble
What role did Ambedkar really play in drafting our Constitution?
Although Dr Ambedkar is universally regarded as the chief architect of the Constitution, the specifics of his role as chairman of the Drafting Committee are not widely discussed.
Ambedkar's Preamble establishes how and why the Preamble to the Constitution of India is essentially an Ambedkarite preamble. It is clear that its central concepts come from Ambedkar's writings and speeches. In doing so, it spotlights fundamental facts about modern Indian history – which makes this a highly relevant read today.
*
The Minority Conundrum
What does it mean to be a minority in majoritarian times?
Following from the highly relevant Vision for a Nation last month, The Minority Conundrum gives us the second volume in the series titled Rethinking India – which goes further into exploring what the idea of a 'nation' means for India today.
Edited by Tanweer Fazal, this volume identifies vulnerabilities that hinder the quest for the realization of substantive citizenship by minority groups. The essays explore educational attainments; employment prospects; possibilities of equal opportunity; violence of the state and vigilante groups; and emerging questions of citizenship and employment. This one is another powerfully relevant read for today's times.
*
Sarojini's Mother
Will Science be enough to settle the puzzle of motherhood for Sarojini?
Sarojini-Saz-Campbell comes to India to search for her biological mother. Adopted and taken to England at an early age, she has a degree from Cambridge and a mathematician's brain adept in solving puzzles.
Handicapped by a missing shoebox that held her birth papers and the death of her English mother, she has a few leads to carry out her mission and scant knowledge of Calcutta, her birthplace. And there are two equally likely candidates.
*
Bahawalpur
What is Bahawalpur?
In the seventy or so years since Independence, much less has been written about the Princely States which acceded to Pakistan than those that remained in India. The name of the once great State of Bahawalpur is no longer remembered.
This book is based on conversations with Salahuddin Abbasi, grandson of the last ruler of Bahawalpur and born a year before Partition. His memories reveal a lifetime of first-hand experience of the political life of Pakistan.
Author Anabel Loyd uses the stories of Bahawalpur to present a clearer picture of the macrocosm of Pakistan and its rich history.
*
Chats with the Dead
Who is Malinda Albert Kabalana? How did he die?
Renegade war photographer Maali Almeida has to solve his own murder. Does that sound fun? It's not as though anyone alive actually seems to miss him. On top of that, there are all those goddamn memories of war, constantly interrupted by the overly chatty dead folks breezing through the afterlife.
He's so busy solving his ethical dilemmas that there's barely any time to solve his own murder.
Bestselling author of Chinaman, Shehan Karunatilaka brings to you a story of life and death – with a brilliant twist!
*
Kohra Ghana Hai
A read that is both pressing and relevant for our times, Kohra Ghana Hai presents us a powerful collection of poems by Naveen Chourey on mob lynching, Kashmir and on our soldiers.
It is infused with Naveen's youthful energy and a hopeful vision for the future of our country. Highly readable and accessible, his poetry will definitely leave you thinking.
*
Pataakha
Will they ever learn to live with or without each other?
Based on Charan Singh Pathik's eponymous story, Pataakha is a translation which includes both the original novella and the screenplay that film-maker Vishal Bhardwaj developed for his 2018 movie. Not only does the book get you to meet sisters Badki and Chhutki again on the page – it also makes for a unique glimpse into the art of adapting a literary work into film.
*
Happy for No Reason
Have we cracked true happiness yet?
In this deeply honest and personal memoir, Mandira Bedi presents to us the regular can't-get-out-of-bed girl behind the fitness icon –  who is still trying to crack what 'true happiness' means. She hasn't cracked it yet, but tells us in this memoir that she is headed in the right direction by learning to find peace in everything.
Being happy for no reason is both important and achievable. This book is about that.
*
Jaipur Journals
Namita Gokhale pens a part-love letter and part-satire against the rich backdrop of Jaipur Literature Festival.
From a lonely woman who does not want to publish her completed semi-fictional novel to a burglar who is passionate about poetry; from a child prodigy to an author who receives a threatening anonymous letter; the world of Jaipur Journals is filled with a diverse cast of characters that are as vibrant as the Festival itself!
The novel is an ode to the millions of aspiring writers who wander the earth with unsubmitted manuscripts in their bags.
*
Going Public
As chief of the Securities and Exchange Board of India (SEBI), Upendra Kumar Sinha guided the regulatory body through some of its most crucial years. Successive governments appointed him on this crucial post, making him one of the longest-serving heads of the organization. Under his leadership, SEBI successfully fought a long legal battle with Sahara, and led the crackdown on institutions like PACL, Rose Valley, Saradha and the MPS groups which conducted unauthorized deposit collections.
Going Public: My Time at SEBI is a historic and inspiring memoir about Sinha's journey through India's changing financial landscape.
*
Excellence Has No Borders
As a fledgling doctor, what would you choose: practising medicine in rural India or going abroad in search of financial security?
In an inspiring personal narrative of his entrepreneurial journey, CEO of HealthCare Global (HCG), Dr. B.S. Ajaikumar details how he has made cancer treatment accessible to all and created a chain of world-class cancer hospitals across India.
Full of insurmountable challenges, survival and powerful life-lessons, this one is a must for anyone looking for inspiration!
*
Trending in Love
What really is 'Happily Ever After'?
Sanam is a carefree, but headstrong young girl. A spat with a politician's son pushes her to take up the challenge of becoming an IAS. At the same time, a small-town boy, Aamir, is nudged into studying for the civil services too. Both become rank holders.
They meet at the IAS Training Academy, Mussoorie. They fall in love and all hell breaks loose. Their religious differences come to the fore, things take a dangerous turn and there is an explosion on social media.
A heady mix of dreams and desire, this is a story of undying love in the face of our society's most dangerous beliefs.
*
From Oberoi to Oyo
How did the Taj, the Oberoi and the ITC hotels come to dominate the Indian hotel landscape? And what are the challenges thrown by the foreign chains, OYO, the online travel agents and the young start-ups?
Based on Chitra Narayan's  years of observation of the industry and interactions with key stakeholders, this book takes you through the tumultuous history and evolution of the Indian hotel industry. It is packed with exciting profiles, insights, and strategies; and how the future of the hotel industry could look like.
*
Sixteen Stormy Days
Sixteen Stormy Days narrates the riveting story of the First Amendment to the Constitution of India. It talks about one of the pivotal events in Indian political and constitutional history, and its first great battle of ideas.
Passed in June 1951 in the face of tremendous opposition within and outside Parliament, the subject of some of independent India's fiercest parliamentary debates, the First Amendment drastically curbed freedom of speech; enabled caste-based reservation; circumscribed the right to property and validated abolition of the zamindari system; and fashioned a special schedule of unconstitutional laws immune to judicial challenge.
Drawing on parliamentary debates, press reports, judicial pronouncements, official correspondence and existing scholarship, the book challenges conventional wisdom on iconic figures such as Jawaharlal Nehru, B.R. Ambedkar, Rajendra Prasad, Sardar Patel and Shyama Prasad Mookerji, and lays bare the vast gulf between the liberal promise of India's Constitution and the authoritarian impulses of her first government.
*
The Magnificent Diwan
The Magnificent Diwan is the definitive biography of arguably India's most influential and powerful statesman of the nineteenth century; one decisively shaped Hyderabad's political and economic history for nearly three decades.
It was Salar Jung who, by his reforms of the medieval oligarchy that was Hyderabad, ushered the state into the modern era.
The book is not is not merely a chronicle of his life but also a history of Hyderabad-both social and governmental-and gives the reader an encompassing view of the man who has been called the founder of modern Hyderabad.
---
Which one(s) will you be picking up? Let us know in the comments below!