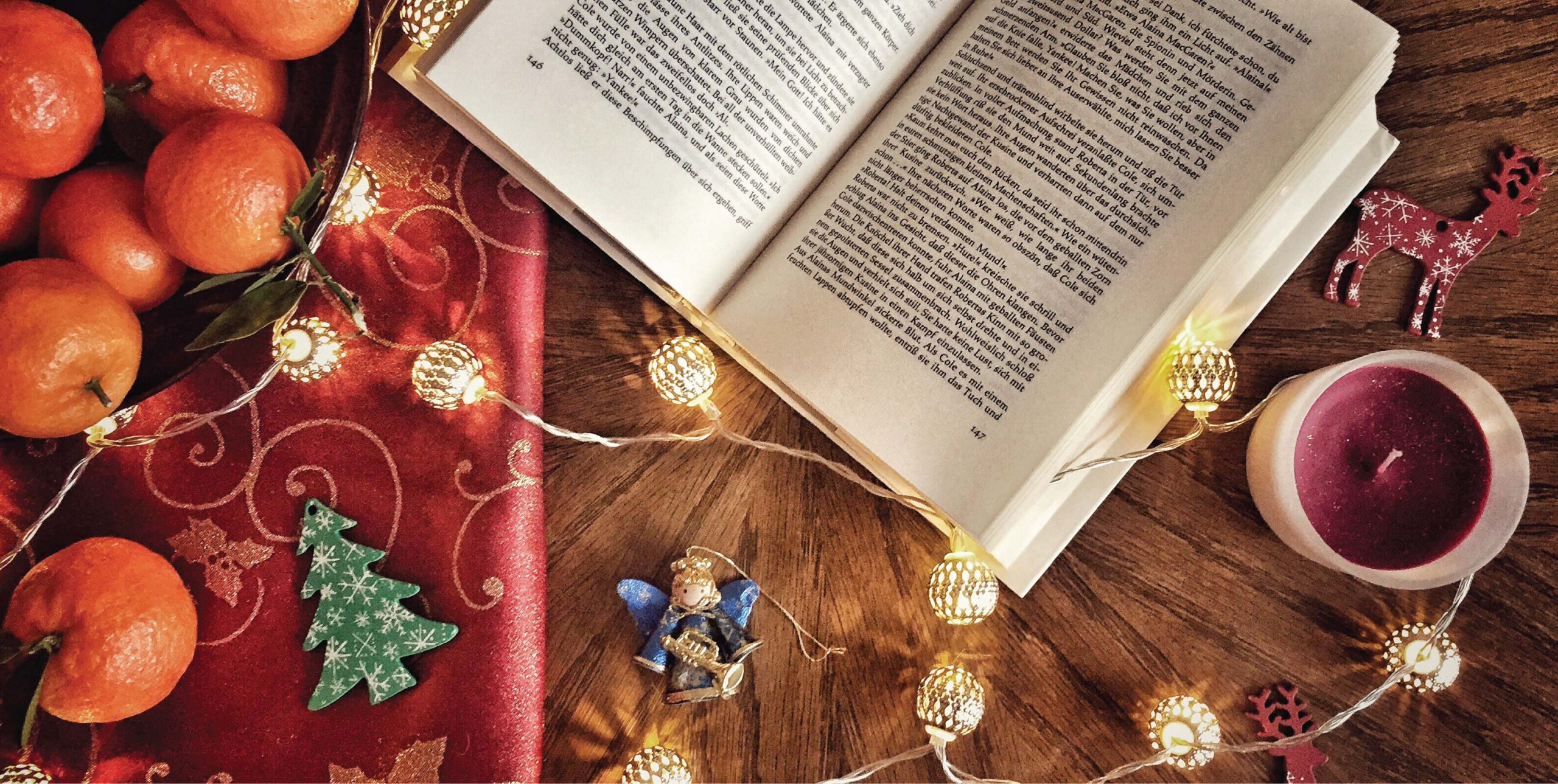 Christmas is right around the corner and we're all scrambling to find some good reads before the year ends! Take a look at some of our recommendations for December below:
How to Be a Likeable Bigot
In this collection of satirical essays in her deft, inimitable style, Naomi Datta tells you how to survive various situations-from how to befriend tiger moms to how not to get a pink slip- simply by being 'ordinary'.
How to be a Likeable Bigot celebrates conformity and tells you how to be perfectly regular, to blend in and be largely forgettable.
New Rules of Business 
How did Apple teach its employees to become sales consultants?
How did Tanishq pivot to unlock growth?
Businesses are reinventing themselves and how they deal with employees, customers and other stakeholders. The New Rules of Business unfolds the mysteries of these new ways of doing business which most companies try to keep as secret. Compellingly written with several anecdotes, this is a gripping book full of incredible insights.
In Service of the Republic
This authoritative book is like nothing you have read before on the state of public policy in India.
In Service of the Republic is a meticulously researched work that stands at the intersection of economics, political philosophy and public administration. This highly readable book lays out the art and the science of the policy making that we need, from the high ideas to the gritty practicalities that go into building the Republic.
I've Never Been (Un)Happier
Alia Bhatt's older sister, screenwriter and fame-child, Shaheen Bhatt, now invites you into her head.
Shaheen was diagnosed with depression at eighteen, after five years of already living with it. In this emotionally arresting memoir, she reveals both the daily experiences and big picture of one of the most debilitating and critically misinterpreted mental illnesses in the twenty-first century.
Commentaries on Living
Challenge the limits of ordinary thought with J. Krishnamurti's Commentaries On Living series, a three-volume series, which records J Krishnamurti's meetings with individual seekers of truth from all walks of life.
The series invites readers to take a 'voyage on an unchartered sea' with Krishnamurti in his exploration of the conditioning of the mind and its freedom.
The Power of Opportunity: Your Roadmap to Success
They all started with nothing, and leveraged the power of opportunity to achieve success.
And now so can you.
In this book, Richard Rothman shows you why opportunity is the most important and indispensable element necessary to achieve business and career success.
So All is Peace
When twin sisters Layla and Tanya are found starving in their upmarket apartment, there is frenzy in the media. How often does one find two striking, twenty-something women, one half-dead, the other not speaking, living in a state of disrepair and chaos, for no apparent reason?
A richly atmospheric, deeply claustrophobic story with a stunning denouement, of two women confronting the everyday realities of their city and country, So All is Peace provides an unflinching insight into love, lust, fear, grief, and the decisions we make, through a cast of sharply drawn characters brought together by an unspoken wrong.
Uparwali Chai
The ultimate teatime cookbook, with an Indian twist!

From Saffron and Chocolate Macarons to Apricot and Jaggery Upside Down Cake to a Rooh Afza Layer Cake, Uparwali Chai is an original mix of classic and contemporary desserts and savouries, reinvented and infused throughout with an utterly Indian flavour. A beautifully curated set of recipes full of nostalgic flavours and stories, this is a book every home cook will be referring to for generations to come.
Vision For A Nation
What is the nation? What is the idea of India? Whose India is it, anyway?
This inaugural volume in the series titled Rethinking India aims to kickstart a national dialogue on the key questions of our times.
The essays in the book are meaningful to anyone with an interest in contemporary Indian politics, South Asian studies, modern Indian history, law, sociology, media and journalism.

1971

Navigating the widely varied terrain that is 1971 across Pakistan, Bangladesh and India, Anam Zakaria sifts through three distinct state narratives, and studies the institutionalization of the memory of the year and its events.
Using intergenerational interviews, textbook analyses, visits to schools and travels to museums and sites commemorating 1971, Zakaria explores the ways in which 1971 is remembered and forgotten across countries, generations and communities.
A Good Wife
At fifteen, Samra Zafar had big dreams for herself. Then with almost no warning, those dreams were pulled away from her when she was suddenly married to a stranger at seventeen and had to leave behind her family in Pakistan to move to Canada.
In the years that followed she suffered her husband's emotional and physical abuse that left her feeling isolated, humiliated and assaulted. Desperate to get out, she hatched an escape plan for herself and her two daughters.
A Good Wife tells her inspiring story.
Breath of Gold
Fights, action, music, romance, secret trysts-renowned classical musician Pandit Hariprasad Chaurasia's life reads almost like a film script. Wrestler in the morning, student during the daytime and flute player in secret, he lived more than a double life through his early years, till he broke away from his father's watchful eye to join All India Radio as a flautist.
Hariprasad Chaurasia and his Breath of Gold will inspire and amaze everyone who reads the life story of this much-loved flautist.
A Chequered Brilliance 
A portrait of Krishna Menon, one of the most controversial figures in India's recent history.
Menon continues to command our attention not just because he was Jawaharlal Nehru's confidant and soulmate but also for many of his own political and literary accomplishments.
Meticulously researched, this book reveals all his capabilities and contradictions.
Chhotu
The year is 1947. The British are slowly marking their departure from the country. And while Partition looms large over India, Chhotu, a student-cum-paranthe-cook in the dusty gullies of Chandni Chowk, has other things on his mind-like feeling the first flushes of love of his crush, Heer, the new girl at school.
Set against the backdrop of Partition and the horrors that followed, Chhotu is a heartwarming coming-of-age graphic novel set against the backdrop of India's Partition.
Mapping The Great Game
Ever wondered if there's a story behind maps? When was the first definitive image of the subcontinent created and by whom? Would you believe that there's a correlation between espionage and cartography?
Find out the answer to these and more in Mapping The Great Game
The Ramcharitmanas (Vol 1, 2 and 3)
The most popular retelling of the legend of Ram is now fully translated!
Rohini Chowdhury's exquisite translation brings Tulsidas's magnum opus vividly to life, and her detailed introduction sheds crucial light on the poet and his work, placing them both in the wider context of Hindi literature.
Roses Are Blood Red
A gripping coming-of-age thriller!
Aarisha Shergill's life is about to get ripped apart because she should have known some things should be left alone.
Novoneel Chakraborty is back with Roses Are Blood Red, a chilling story of love, deception and passion.
Sridevi
Hailed as the first pan-Indian female superstar in an era which literally offered actresses crumbs, Sridevi tamed Hindi cinema like no other.
Charting five decades of her larger-than-life magic, Sridevi: The Eternal Screen Goddess celebrates both the phenomenon and the person Sridevi was. This is her journey from child star to one of our greatest movie luminaries who forever changed the narrative of Indian cinema.
Unleashing the Vajra
A must-read for anyone who wants to understand Nepal's position in the global economy.
 Nepal's great advantage is its location between India and China, particularly now as these two Asian giants are set to be the world's leading economies in 2050.
Sujeev Shakya argues that it is imperative to understand history and learn from it to shape events for a better future. Unleashing the Vajra outlines the factors that will determine Nepal's destiny in the years to come.