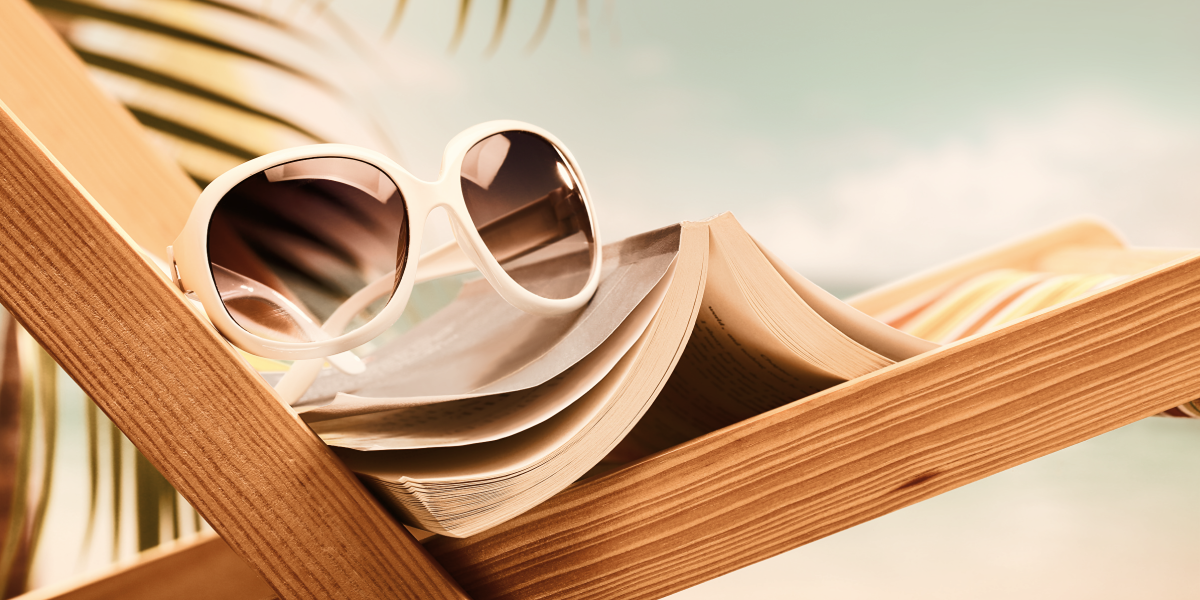 The only thing that makes the most sense is that a new month calls for new books! While you look to ace your summer look, don't forget to carry a book. We're here to help you find your perfect book match with our list of new releases. So, scroll through these titles that come highly recommended by us.
Small Wins Every Day by Luke Coutinho
Nothing is as daunting as a goal. Many of us struggle with achieving them – be it in life, health, love and career. When you set unrealistic goals and keep failing, your intelligently designed brain tries to protect you from the pain and negative emotions that come with failure.
In Small Wins Every Day, Luke Coutinho presents a simple premise with powerful results, teaching you to rewire your brain for success. The hack? Break down your goals into small wins that you can achieve every day. Stacked over time, these contribute to significant lifestyle changes, good health and happiness.
Simple and bite-sized but packed with a punch, here are 100 wins to change your life.
Faf Through Fire by Faf Du Plessis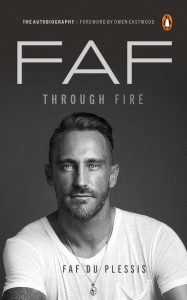 Faf through Fire is far more than just a book about cricket. It is the story of a man who happened to play the sport at the highest level.
This brutally honest, fascinating, introspective work provides a unique insight into the mind and heart of one of South Africa's most interesting and charismatic cricketers. There is the public persona-the tattooed, fashion-conscious, mentally tough, immensely popular and yet, at times, misunderstood Du Plessis. And then there is the authentic Faf. It took him years to connect with this side of himself, but when he did, it shaped his relationships with people and, ultimately, his captaincy of the Proteas.
In this book, Du Plessis lays bare the story of his growth, from a youth with a questionable moral compass outside of cricket to a leader known for his integrity, values, honesty and empathy for his teammates. He reflects on how influential leaders, such as Gary Kirsten, Stephen Fleming, Doc Moosajee, Graeme Smith, A.B. de Villiers, Owen Eastwood, Russell Domingo, Ottis Gibson and M.S. Dhoni, helped mould him into a man who leads with grit, purpose and a love of people.
The Roof Beneath Their Feet by Geetanjali Shree
, 

Rahul Soni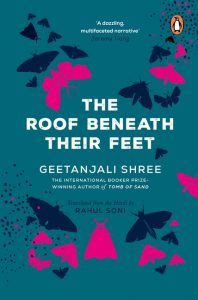 In this beautifully crafted novel, roofs have a special place; they are meant for wild things, for romance and for play, they are places to dry pickles and grains while exchanging gossip about quiet caresses. But above all, they are realms of freedom. In The Roof Beneath their Feet, Chachcho and Lalna use their roofs to build a friendship that transcends time and memory. Suddenly one day, Lalna has to leave, to return only after Chachcho's passing. Amidst rumors and gossip in the neighborhood, Chachcho's nephew tries to piece together his memories of the two women, one of whom is his mother. The truth he is searching for could destroy him forever, but to not find out is no longer an option. A story of twists and turns, The Roof Beneath Their Feet, translated from the original Hindi by Rahul Soni, is easily one of the best contemporary novels you have read in a long time.
India's Finance Ministers by A.K. Bhattacharya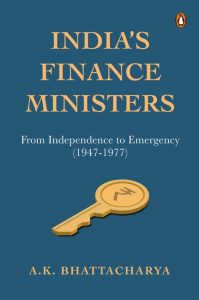 Independent India has so far witnessed twenty-eight finance ministers. But only a handful of them could leave their mark on the exchequer or North Block, the headquarters of the Indian finance ministry. From Independence to Emergency: India's Finance Ministers 1947-1977 is the story of India's unforgettable finance ministers who shaped India's economy in the first thirty years after Independence. The book highlights the significant difference that these finance ministers made to the management of the Indian economy and to the policy evolution of the government, and who thus left an indelible mark on the psyche of Indian citizens. It attempts to measure the impact these decisions left, not only on India's economic system but also on its political system, and looks at to what extent the decisions were influenced by the socio-economic backgrounds of the finance ministers.
The Penguin Book of Modern Tibetan Essays by Tenzin Dickie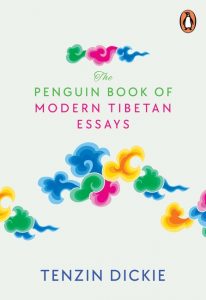 The Penguin Book of Modern Tibetan Essays is a groundbreaking anthology of modern Tibetan non-fiction. This unprecedented collection celebrates the art of the modern Tibetan essay and comprises some of the best Tibetan writers working today in Tibetan, English, and Chinese.
There are essays on lost friends, stolen inheritances, prison notes, and secret journeys from-and to-Tibet, but there are also essays on food, the Dalai Lama's Gar dancer, love letters, lotteries and the Prince of Tibet. The collection offers a profound commentary not just on the Tibetan nation and Tibetan exile, but also on the romance, comedy and tragedy of modern Tibetan life. For this anthology, editor and translator Tenzin Dickie has commissioned and collected 28 essays from 22 Tibetan writers, including Woeser, Jamyang Norbu, Tsering Wangmo Dhompa, Pema Bhum and Lhashamgyal.
Lost to the World by Shahbaz Taseer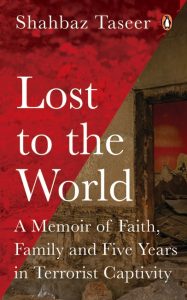 In late August of 2011, Shahbaz Taseer was driving to his office in Lahore, Pakistan when he was dragged from his car at gunpoint and kidnapped by a group of Taliban-affiliated terrorists. Just seven months earlier, his father, Salman Taseer, the governor of Punjab Province, had been shot dead by his guard for speaking out against Pakistan's blasphemy laws.
For almost five years Shahbaz was held captive, moved ever-deeper into the lawless Hindu Kush, frequently tortured and forced to endure extreme cruelty, his fate resting on his kidnappers' impossible demands and the uneasy alliances between his captors, the Taliban and ISIS.
Lost to the World is the remarkable true story of Taseer's time in captivity, and of his astonishing escape. It is a story of extraordinary faith, bravery and sorrow, with moments of kindness, humour and empathy, offering a hopeful light in the dark years of his imprisonment. While deeply harrowing, this tale is also about resilience. Taseer countered his captors' narrative of a holy war by immersing himself in the Quran in search of hope and a means to see his own humanity under even the most inhumane conditions, and ultimately to find a way back to his family.
The Case for Nature by Siddarth Shrikanth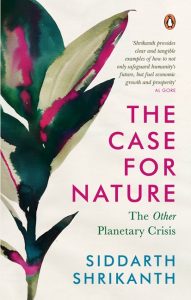 Our planet is facing not one but two crises.
In a world where carbon emissions and climate financing are rightly rising up the agenda, there exists another catastrophe that is often overlooked but just as dire-the global collapse of our ecosystems. Siddarth Shrikanth's The Case for Nature presents a compelling vision for tackling this other crisis by rethinking our relationship with nature in economic, social, and even personal terms. Shrikanth argues that we can create flourishing economies and societies by preserving and restoring our planet's 'natural capital' and introduces the pioneers of this nature-positive revolution with vivid examples from across the world. But he also calls on readers to reflect on the roots of this crisis, drawing upon indigenous world views to show that nature must be woven into our modern societies, not set apart.
By offering a hopeful yet deeply pragmatic perspective on how we can exist in harmony with our living planet, The Case for Nature is a must-read for anyone seeking to understand how nature can help us forge a more sustainable future and what they can do to contribute to this vision.
Greening the Earth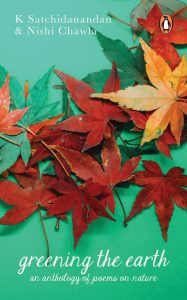 Greening the Earth is a rare anthology that brings together global poetic responses to one of the major crises faced by humanity in our time: environmental degradation and the threat it poses to the very survival of the human species. Poets from across the world respond here in their diverse voices-of anger, despair, and empathy to the present ecological damage prompted by human greed, pray for the re-greening of our little planet and celebrate a possible future where we live in harmony with every form of creation.
Subversive Whispers by Manasi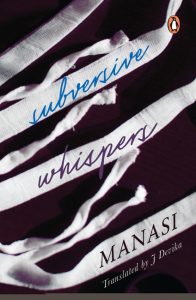 Manasi is a stalwart of Malayalam literature. With her unparalleled feminist writing and powerful voice, she has mastered the art of telling radical short stories. Through Subversive Whispers, a collection of some of her best work, she continues to defy patriarchy, question Brahminical hegemony and push narratives that subtly yet fervently challenge the status quo. The book introduces readers to the irreverent 'Sheelavathi', which explores the Madonna-Whore complex in a uniquely local context, 'Devi Mahathmyam', which sheds light on the price that women pay for being goddesses in mere name and stories such as 'Spelling Mistakes', 'Square Shapes' and 'The Walls', all of which explore romantic love with a piercing realism.
In stark and urgent murmurs that build up a fever pitch, these stories channel women's voices that open up their inner worlds, struggling to capture the minutiae of their suffering. It is this whisper-like quality of Manasi's storytelling that J Devika deftly conveys in translation, bringing the author's prose to the English reader in an incendiary collection that is sure to cast light on the darkened chambers of patriarchy and the hidden recesses of women's minds.
My Poems Are Not for Your Ad Campaign by Aruni Kashyap
,

 Anuradha Sarma Pujari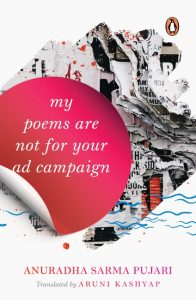 In a recently liberated economy characterized by speed, the commodification of women's bodies, and consumerist culture, Bhashwati is an increasingly disillusioned misfit who has, ironically, just started working in an advertising firm. But her life changes one day when she finds out about the mysterious Mohua Roy – a former copywriter of the company, whose desk Bhashwati now uses. The company employees remain tight-lipped about Mohua – who left abruptly for reasons unknown. Upon finding a poem written by Mohua, Bhashwati decides to search for her. This takes Bhashwati to Calcutta's lanes where she meets people who sacrificed immensely for the same values that she finds eroded in a developing India. Who is Mohua Roy and why is there a net of silence around her very existence? Will Bhashwati find Mohua? Will she leave her job, just like Mohua?
First published in 1997 in Assamese, Hriday Ek Bigyapan, was an instant bestseller, selling thirty-two reprints in the next ten years. By taking a close look at the newly globalized India of the nineties from a feminist lens, it poses questions about modern urban life that few Indian novels have been able to, questions that are still relevant today. Aruni Kashyap's seamless translation from the Assamese makes this a must read.
My Father's Brain by Sandeep Jauhar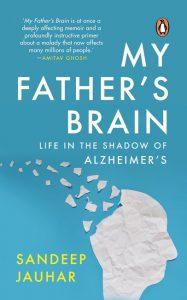 There may be up to 10 million Indians living with Alzheimer's disease or related dementias, and that number is expected to increase dramatically in the next few decades. What is it like to live with and amid this increasingly prevalent condition-an affliction that some fear more than death? In My Father's Brain, the distinguished physician and author Sandeep Jauhar sets his father's descent into Alzheimer's alongside his own journey toward understanding this disease and how it might best be coped with, if not cured.
In an intimate memoir rich with humour and heartbreak, Jauhar relates how his immigrant father and extended family felt, quarrelled, and found their way through the dissolution of a cherished life. Along the way, he lucidly exposes what happens in the brain as we age and our memory falters and explores everything from the history of ancient Greece to the most cutting-edge neurological-and bioethical-research. Throughout, My Father's Brain confronts the moral and psychological concerns that arise when family members must become caregivers, when children's and parents' roles reverse, and when we must accept unforeseen turns in our closest relationships and in our understanding of what it is to have a self. The result is a work of essential insight into dementia, and into how scientists, caregivers, and all of us in an aging society are reckoning with the fallout.
Sovereigns of the Sea by Seema Alavi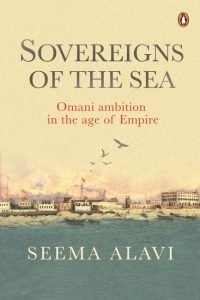 This definitive book on the Sultans of Oman is a thrilling historical account of their action-packed battles, daring expeditions, epic triumphs and ingenious politics in the long nineteenth century. It puts the optic of 'micro-history' on their fascinating lives as they navigated the geopolitics of their time and propelled the politics of the Western Indian Ocean. It offers a comprehensive and in-depth examination of the ambitions of the Omani patriarch Sultan Sayyid Saiid and his four sons and shows how integral they were to the political culture of the region.
Keeping a sensitive finger on the specific temporal and spatial moments in the maritime space that they navigated, it explores their key role in shaping the politics of the Ocean and nurturing the Omani Sultanate on their terms. The groundbreaking narrative sheds light on the role of the Sultans as agents of change, challenging the Eurocentric narrative that views the Indian Ocean as framed in the history of western imperialism and capitalism alone.
In addition to its academic rigour, the book is easy to read and engaging, making it an ideal resource for students, scholars and anyone with an interest in the history of the Indian Ocean, the Middle East and South Asia. Its fresh perspective and insightful analysis make it an invaluable contribution to the fast-growing field of Indian Ocean Studies.
The Feluda Journal by Satyajit Ray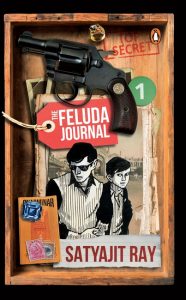 Felu, the super sleuth, is the nickname of Pradosh C. Mitter. Although Satyajit Ray wrote Feluda stories for the largely younger readers, soon it was found that they were being read by their parents as well. Soon longer stories followed-novelettes-taking place in a variety of picturesque settings.
From the historical setting of Lucknow-to solve the mystery of diamond ring, which once belonged to the Mughal emperor Aurengzeb-to the Blue Beryl of Kailash Chowdhury, this is the first-ever Feluda journal, which opens a window to unseen archiving materials, illustrations and rare publicity stills created by Ray.
A companion journal to scribble your thoughts, this collector's edition brings to light the ever-popular adventures of Satyajit Ray's enduring creation, Feluda!
Shiva Purana Volume 1 by Bibek Debroy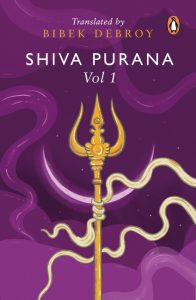 The Shiva Purana is the fifth book in an eighteen-part series on the sacred Hindu texts known collectively as the Puranas. Translated with great rigor and precision, Bibek Debroy recounts the tales of creation and the many myths that surround Lord Shiva in twenty-four thousand shlokas and an introduction that simplifies the myth and history of the Puranas.
Brimming with insight and clarity, this translation presents readers with an opportunity to truly understand classical Indian texts. Previous translations by Bibek Debroy include the Bhagavata Purana, the Markandeya Purana, the Brahma Purana, and the Vishnu Purana.
Shiva Purana Volume 2 by Bibek Debroy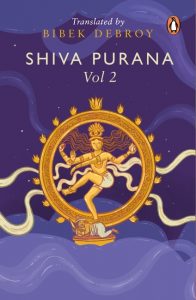 The Shiva Purana is the fifth book in an eighteen-part series on the sacred Hindu texts known collectively as the Puranas. Translated with great rigor and precision, Bibek Debroy recounts the tales of creation and the many myths that surround Lord Shiva in twenty-four thousand shlokas and an introduction that simplifies the myth and history of the Puranas.
Brimming with insight and clarity, this translation presents readers with an opportunity to truly understand classical Indian texts. Previous translations by Bibek Debroy include the Bhagavata Purana, the Markandeya Purana, the Brahma Purana, and the Vishnu Purana.
Shiva Purana Volume 3 by Bibek Debroy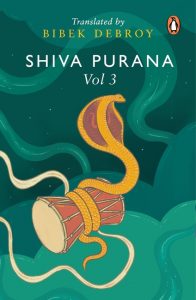 The Shiva Purana is the fifth book in an eighteen-part series on the sacred Hindu texts known collectively as the Puranas. Translated with great rigor and precision, Bibek Debroy recounts the tales of creation and the many myths that surround Lord Shiva in twenty-four thousand shlokas and an introduction that simplifies the myth and history of the Puranas.
Brimming with insight and clarity, this translation presents readers with an opportunity to truly understand classical Indian texts. Previous translations by Bibek Debroy include the Bhagavata Purana, the Markandeya Purana, the Brahma Purana, and the Vishnu Purana.
Silver Lining by Kamal Shah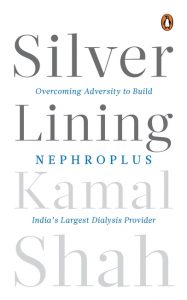 In 1997, Kamal Shah's world turned upside down. On his way to study in the US, Shah was completing the formalities for a student visa, which included preventive vaccinations for hepatitis, typhoid, measles, mumps and rubella. He developed a slight fever following his shots, which he dismissed as a normal side effect. Within twenty-four hours, Shah was forced to rethink. His condition deteriorated overnight, prompting an emergency rush to the hospital. Further tests revealed the unimaginable: an atypical hemolytic uremic syndrome (AHUS). Kamal needed a kidney transplant.
A year of painful haemodialysis later, Kamal underwent a renal transplant. His mother had donated her kidney to her son, in the hope that he could survive. The surgery was unsuccessful. In the last decade and a half, Kamal has switched between peritoneal and home dialysis. It has been a painful, terrifying journey, documented painstakingly on his personal blog. That blog was the kernel for NephroPlus, a company that was born from Kamal's desire to ensure that dialysis became accessible for every patient. Kamal Shah is still on dialysis, but it has not dimmed his hope or his belief that being diagnosed with terminal kidney disease is not the end of life, nor can it prevent you from living the life you want to live. That hope has been the driving force behind NephroPlus.
Today, NephroPlus is one of Asia's leading dialysis networks with 320+ centres across 4 countries, including India, Nepal, the Philippines and Uzbekistan. This is a unique business memoir, with a strong, moving touch of the deeply personal. Kamal writes with raw honesty about pain and fear and the darker side of healthcare in India. Yet this is also a story of faith, of grit and determination and, ultimately, of success.
Naam, Namak, Nishaan by Anurakshat Gupta
,

Arnabh Sengupta

, 

Hitesh Mahato, Anmol Dhawan

, 

Sagnik Sarkar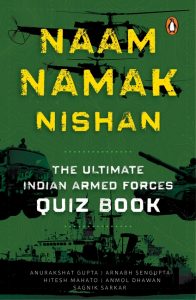 Do you know why the Indian Navy counts 'One, Two, Six' instead of 'One, Two, Three' while doing group tasks?
Or that the Intelligence Bureau was set up in response to an assassination?
Or that a Frenchman who had served three nations before turning thirty eventually rose to become the most powerful general of the Marathas?
Or that an army man gave his name to the highest mountain without ever having set foot on it?
Find out the answers to these and more as a team of quizzer-doctors from the Armed Forces Medical College (AFMC) Pune takes you on a journey across 250 questions, exploring trivia that connects the Indian Armed Forces to topics ranging from mythology, history, and art to geography, fashion, and sport.
This and more in a quiz book will help you see the Indian Armed Forces through a lens you might never have seen before.
A New Idea of India by Harsh Madhusudan
, 

Rajeev Mantri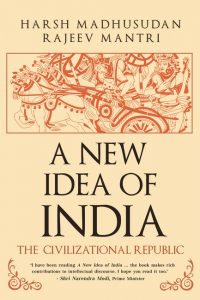 For the better part of seven decades after independence, the Nehruvian idea of India held sway in India's polity, even if it was not always in consonance with the views of Jawaharlal Nehru himself. Three key features constituted the crux of the Nehruvian way: socialism, which in practice devolved to corruption and stagnation; secularism, which boxed citizens into group membership and diluted individual identity; and non-alignment, which effectively placed India in the Communist camp.
In the early Nineties, India began a gradual withdrawal from this path. But it was only in 2019, with Narendra Modi's second successive win in the general elections, that this philosophy is finally being replaced by a worldview that acknowledges India as an ancient civilization, even if a young republic, and that sees citizens as equal for developmental and other purposes.
A New Idea of India constructs and expounds on a new framework beyond the rough and tumble of partisan politics. Lucid in its laying out of ideas and policies while taking a novel position, this book is illuminated by years of research and the authors' first-hand experiences, as citizens, entrepreneurs and investors, of the vagaries and challenges of India. This revised edition builds on some of the arguments of the earlier edition and brings things up-to-date.