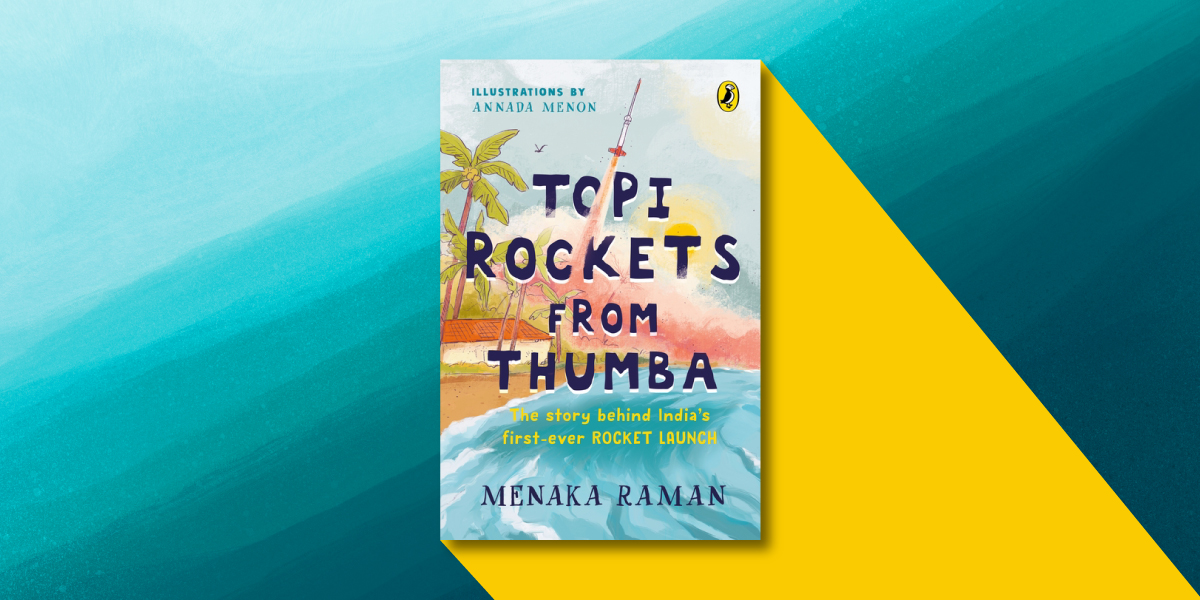 Menaka Raman's fascinating book about the launch of India's first ever rocket, Topi Rockets From Thumba, has charmingly beautiful illustrations made by Annada Menon.
In a delightful chat, the duo shared about their ideas, inspirations, and experiences of writing and illustrating the book.
Questions for Menaka Raman, Author
What inspired you choose this theme and instance from history?
The iconic photograph of the two scientists pushing the nose cone of the rocket on the back of a bicycle the starting point of this book for me. I just found something so moving about the image and when I started reading the story behind it I was hooked. I had to no more!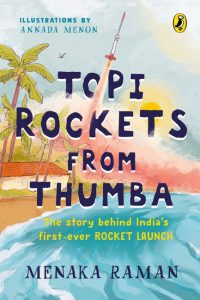 What research went into writing this book?
So much research! This was my first attempt at creative nonfiction and I was so nervous. I wanted to make sure I got all the facts straight and the timelines right. Plus, the more I read about Dr. Sarabhai and the amazing team of scientists behind this historic moment, the greater a sense of responsibility I felt I wanted to convey what Dr Sarabhai was like, why people were so drawn to him and of course his infectious enthusiasm. My starting point was Amrita Shah's biography of Dr Sarabhai and then I went on to read Lavanya Karthik and Shamim Padamsee's children's biography of Dr APJ Kalam, ISRO A Personal History by R.Aravamudan and From Fishing Hamlet to Red Planet by Dr. UR Manoranjan Rao. Articles, papers and interviews with people who worked at ISRO were all key to my research. I also wanted to get things like the names of the characters right, so I reached out to friends for help and advice on that!
Of course at the end of it all I had so much research notes that I had to decide what to keep in the story! That was hard!
How did you decide to compare the 'nose cone' of rocket with 'topi dosa'?
When I first saw the photograph of the nose cone on the cycle, it really struck me 'Wow! This looks like a topi doas!' I must have been hungry at the time!
Are you planning to write another book on similar theme?
I would absolutely love to! Now that I've had a taste of it, my antennae are up for other great stories like this!
Questions for Annada Menon, Illustrator
What intrigued you about the story of Topi Rockets from Thumba at first? What made you illustrate it?
When I was offered to illustrate for the book I already was in the zone of being intrigued by the topic of outer space. I follow and have also read a book by the astronaut Chris Hadfield. He increased my curiosity of space and to this day does. Though I was aware of Dr. Sarabhai , I didn't know details of his endeavours. His story and drawing it from the perspective of Mary, the charatcer in the book, was a lovely way to celebrate his work. I guess apart from that the idea of drawing rockets excited me. It poked the child in me to have fun on the journey of illustrating the book.
How did you finalise the style of art for this book? What other styles were your options?
This was actually finalised with the help of my art director, Antra. We actually wanted to go for a very textured yet slightly detailed approach to the illustrations. I like that the book has 2 spreads that are based on Mary's imagination. The pages consist of what a rocket would like according to Mary to how a rocket is fighting a storm. I had to make sure these pages stood out from the raw look of the other pages to show the simplistic environment of Thumba. I actually didn't ponder over too many style options. From the author to the editor, they wanted some of my existing approaches if drawing to flow into it. Hence I just went with my gut to execute it.
How different or similar was the first draft to the final version?
Well, the ideas from 90% of the sketch / draft stage were carried forward to the final stage. I think anything that changed while illustrating are mostly the technical aspects of the book. Since it is a STEM book we had to make sure scientific elements were accurate . I also had to make sure that the people of Thumba and the place itself looked close to what it may have been during the 1960s . There aren't too many image references to these from the mentioned time. The tricky part is most of these images are black and white so representing or reimagining them in color was a fun experience.
What do you think is special about the illustrations in this book?
I actually don't know if this a 'blow one's own trumpet' kind of question (chuckles). Well, I guess what I can say about the illustration that it has been drawn with a lot of innocence and curiosity. The book is meant to subtly introduce a child to the beauty of space and a brief introduction to Dr. Sarabhai's contribution to India's space program. Since it is a light read the illustrations are meant to compliment the same. Also, in a subtle way the illustrations are an ode to nature's elements water, earth , wind and fire (3 elements depicting Thumba and 1 depicting a rocket). I guess for me these little things make it special.