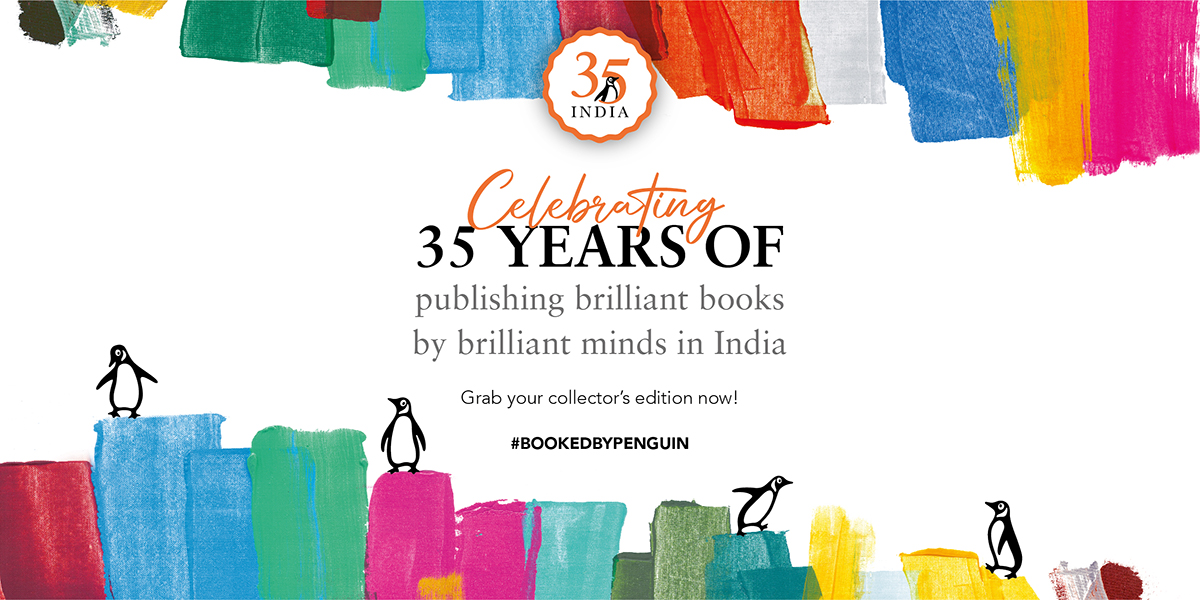 Penguin turns 35 years in India! Over the years, Penguin Random House has fortified the future of books and reading in India and continues to strive on our mission to publish diverse voices. And today on our milestone anniversary, we celebrate our authors, readers and customers who have helped us establish our publishing legacy.
It is particularly gratifying to be celebrating this milestone when so many of our books are being recognised on a national and international scale. Tomb of Sand, written by Geetanjali Shree, translated by Daisy Rockwell, and first published in India by Penguin, won the International Booker Prize this year, making it the first Indian language translation to receive this honour since its launch 17 years ago. The Booker Prize for Fiction 2022 shortlisted Shehan Karunatilaka's The Seven Moons of Maali Almeida, which was published originally in India by Penguin as Chats With The Dead in 2020. In 2021, Anuk Arudpragasam's A Passage North was in the running to win the Booker Prize. This is the first time that books originating from an Indian publisher have been nominated for the Booker Prize twice in a row.
As the region's most successful publisher, it is our mission to bring quality and affordable books to readers across India and South Asia and take local voices to global markets. We keep strong on this commitment by discovering and publishing authors from the region. We ensure our readers have access to our global catalogue of over 50,000 titles. And we make sure that our readers can choose to read some of the finest writings from the world in print books, e-books or audiobooks, any format convenient for them to integrate reading into their lives seamlessly.
Creativity, entrepreneurship, and innovation have been the pillars through which we navigate the unpredictability of our publishing business. We believe in investing in our authors and fortifying our infrastructure to keep up with the growing demand for books. We have also been innovative with data to transform our sales and marketing efforts and gain distinctive competitive advantages. In these dynamic times, we have strengthened our printing and distribution capabilities too. Our growth in publishing has allowed us to give back to the community and help build a generation of readers from all strata of society. We sponsor and support reading fluency programmes that help disadvantaged young readers adopt reading into their lives. We donate books to community libraries and government schools and form partnerships in the process to further spread the message of reading books.
Looking back on our long and illustrious publishing history in India, I would like to thank all our authors for choosing to publish with us and for allowing us to present their brilliant works to the world. I acknowledge the trust our readers extend to us each time they choose a Penguin book to fire up their imaginations and to stay informed and entertained. We are fortunate to have customers and partners who work tirelessly to ensure the availability and access of our titles. And finally, I express my gratitude to my brilliant teams without which none of the above would be possible. Our biggest strength lies with the talented, dedicated, and passionate people in our company.
As we enter a new phase when the world is looking a little bit different, we know that books are going to continue to be an important part of our country's cultural fabric and our lives. Setting our sights on the future, we are looking forward to bringing more iconic books by gifted writers to our beloved readers with the support of our talented team.
– Gaurav Shrinagesh
CEO of Penguin Random House India and South East Asia