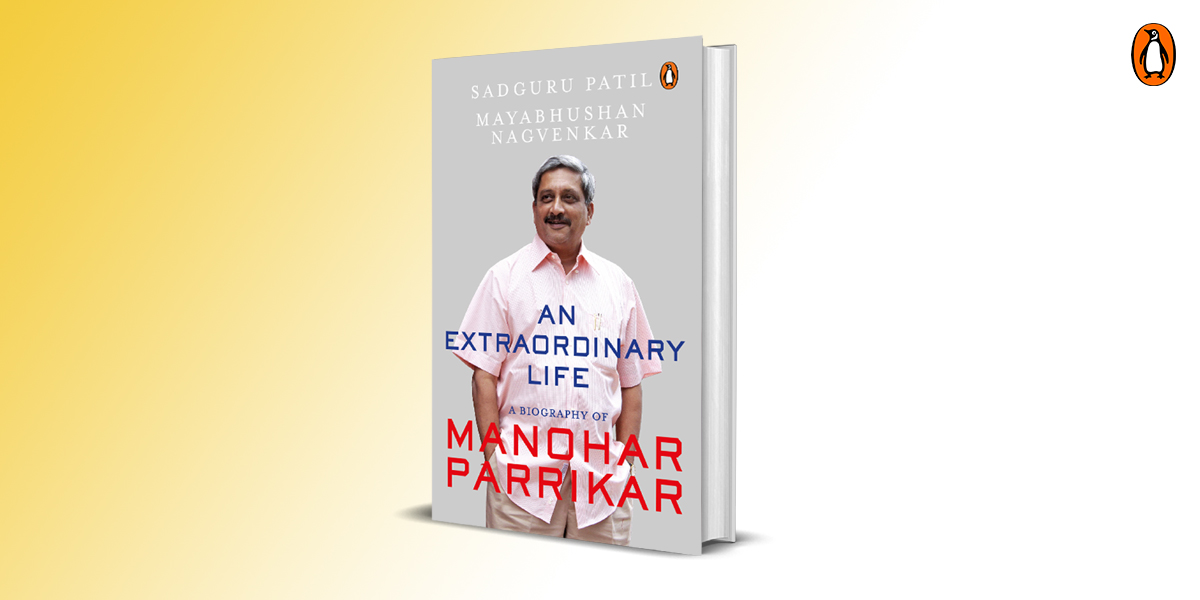 Over the last two decades, the exploits of one man, an IIT-Bombay alumnus, changed the way mainstream India looked at Goa and the political goings-on in the country's smallest state. An Extraordinary Life traces the life and times of Manohar Parrikar through the informed voices of his relatives, friends, foes, bureaucrats and IIT contemporaries. The daily battles of a gifted individual are brought to the fore as he encounters love and vices. But more importantly, it showcases his rise in politics from the son of a grocery store owner in a nondescript town, a sanghachalak in Mapusa town, an Opposition MLA and leader, to a chief minister (on multiple occasions) and, finally, to a defence minister.
Read below an interview with the authors:
---
Writing a biography needs an author to write without bias. How difficult is that and how did you make sure of it?
The battle with bias is a constant one. A biography is less about relaying everything about a person's life. It involves a process of curating a selection of events, personality traits and portrayal of relationships, so as to convey an account of one's life, which is as accurate as it can get. The key is of course getting the selection right. It's like a well curated menu, which has the right balance of hors d'oeuvres, main courses and desserts. You simply can't make do with desserts alone. 
Could you share a moment while writing this book which made you pause in awe of Manohar Parrikar's life?
The account in the book narrated by a Rashtriya Swayamsevak Sangh functionary Ratnakar Lele. He talks about a young Parrikar drawing water from a well when everyone else was asleep, using a coir-rope tackle and a pitcher for four hours from 11 pm to 3 am, because an electric water pump malfunctioned at an RSS camp attended by hundreds of swayamsevaks.  After he was told about Parrikar's feat, Lele even checked the calluses on his swayamsevak's palms to verify the story. 
To make sure you cover all angles while writing biography involves extensive research; could you share with us the research process?
Manohar Parrikar as a subject wasn't a new one for us. As journalists we had covered developments involving him and the BJP extensively for our respective media publications. There was a blind spot though; his family. We laid a lot of emphasis to weave his family, including all his siblings and children, into the biography's narrative. Their stories helped add fresh facets of his personality and familial relationships which were rarely discussed before, to the manuscript. 
The discipline of research involved meeting up with Sadguru and drawing up multiple questionnaires for resource persons we had identified. The questionnaires would be constantly updated ahead of second, third visits. Sadguru did a bulk of the information-gathering for the biography. Every time we met, we would discuss the day's draft which needed to be written which was my responsibility. This research was complimented with both short and long deadlines to complete the daily quota of writing and for finalising individual chapters and eventually the manuscript. 
Do you have any advice for writers wanting to delve into the biography genre?
If you are diligent enough, the obvious won't be missed. But one still has to look for the scattered pearls. And sometimes, you need to know which oyster to shuck open to get to that missing pearl. 
The life of a politician involves tremendous sacrifice; which one incident from Manohar Parrikar's life did you think made him rethink how to balance work and personal life?
Just to set the context right, the word 'sacrifice' tends to read with a positive overtone. Something about it does not seem to be in harmony with the word 'politics', the way we see it in India in general. As far as Parrikar's life goes, there appeared to be an imbalance between his family life and his political mission. The latter seems to have overwhelmed his time, leaving little for the former. But there is one incident, where Parrikar, who was rarely known to indulge own sons when they were young, made time during an official trip as Defence Minister to China, to buy a toy excavator and a truck from a shopping mall, for his grandson Dhruv. 
Do you think there should be more representation of youth in positions of power?
For the sheer need to break the status quo of stagnant political thought, yes. 
 You've covered politics extensively over the past years; any suggestions for people of this generation who wish to join politics?
If you are looking for tips from writers vis a vis joining politics, then maybe you don't have it in you to make it there. If you feel you are cut out for it, just take the plunge. You will either learn to swim or be cast ashore by the tide. 
---
Get your copy of An Extraordinary Life here