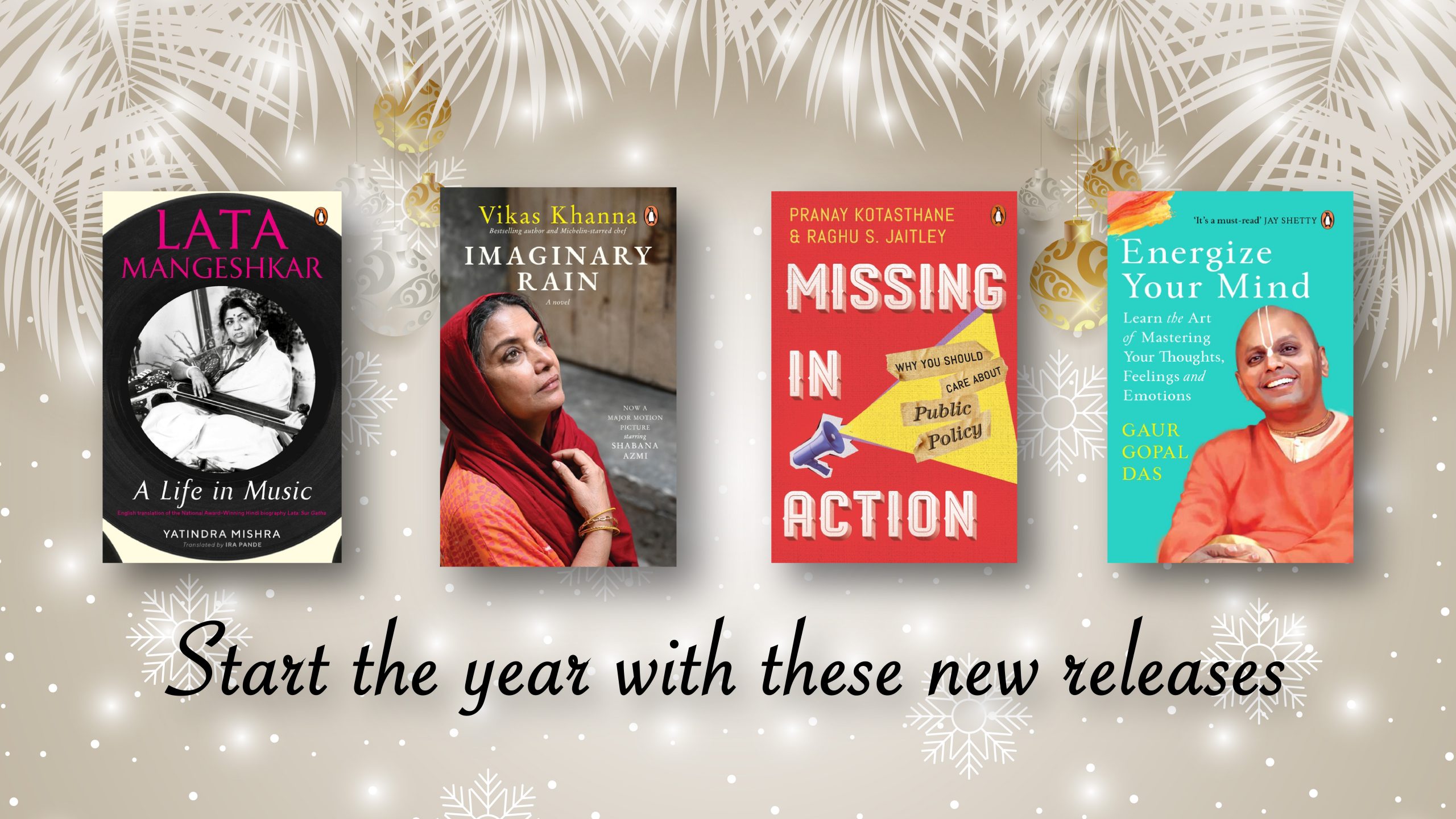 As one year melts into a new one, we remember the things we are grateful for. All the people we met and held close, all the things we got to experience and most of all, the stories we call our own. Celebrate this New Year with these new books releasing this month – fresh, exciting and intriguing stories from different personalities from different fields to refresh your palette and make it ready for all the incredible things 2023 has to offer! This New Year, don't build a sky-high TBR. Instead, take things slow, one book at a time.
And to help you with selecting you first few, here are some new books replete with self-help, historical fiction, intriguing biographies and more!
Presenting to you, the very first new releases from 2023: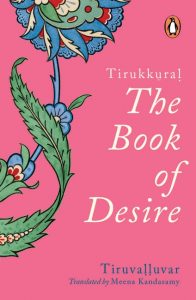 Tirukkural
The Book of Desire
Meena Kandasamy
,

Tiruvalluvar

Written by the poet Thiruvalluvar, the Kamattu-p-pal is the third part of the Tirukkural – one of the most important texts in Tamil literature. The most intimate section of this great work – it is also, historically, the part that has been most heavily censored. Although hundreds of male translations of the text have been published, it has also only ever been translated by a woman once before. Tirukkural is award-winning writer Meena Kandasamy's luminous translation of the Kamattu-p-pal.

Meena Kandasamy delves into this classic, and provides the first feminist interventionist translation into English-remaining true to the desire throbbing through the lifeblood of the text, while retaining the drama that pervades the quintessential Tamil world of exaggerated hurt, lover's quarrels and evenings lost to longing.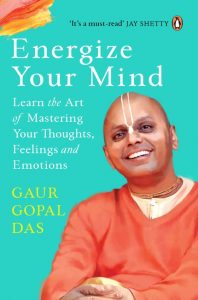 Energize Your Mind
Learn the Art of Mastering Your Thoughts, Feelings and Emotions
Gaur Gopal Das
In this book, bestselling author and life coach Gaur Gopal Das decodes how the mind works. He combines his anecdotal style with analytical research to teach us how to discipline our mind for our greater well-being. Throughout this book, he provides interactive exercises, meditation techniques and worksheets to help us take charge of our mind.
This book is an essential read for anyone who wants to work towards a better, more fulfilling future for themselves.
Missing In Action
Why You Should Care About Public Policy
Pranay Kotasthane
,

 Raghu S Jaitley

In Search of an Adarsh Indian State

In India, public policies are all around us. Despite this pervasiveness, yeh public sab nahin jaanti hai (the public doesn't know it all).

Questions are rarely asked of the Indian State-the institution that makes rules, bends them and punishes others for breaking the laws it creates. The privileged can afford not to think about the State because we have given up on it. The not-so-privileged have resigned themselves to a State that provides short-term benefits. Either way, we seldom pause to reflect on why the Indian State works the way it does.

Missing in Action aims to change such perceptions through sketches from everyday experiences to illustrate India's tryst with public policymaking. It acquaints the reader with some fundamental concepts of the public policy discipline. It explains the logic (or the lack of it!) of the Indian State's actions, shortcomings, constraints, and workings.

Jargon-free and accessibly written, the book achieves the difficult task of both entertaining and educating.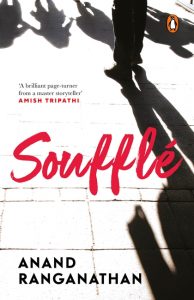 Souffle
Anand Ranganathan
One sultry Mumbai night, business tycoon Mihir Kothari takes a bite of a soufflé and drops dead. According to the CCTV footage, celebrity chef Rajiv Mehra is the killer. It seems like an open-and-shut case.
Or is it?
A catastrophic accident on the day the chef is to be hanged allows him to escape and, driven by an inner calling, pursue a new life. Chased by shadows he thought he had left behind, torn by spurned love, the chef
returns in search of the real killer so that he can prove his innocence. But there is a problem. Unknown to him, the killer has chosen his next target: the chef himself!
Soufflé is a rich, layered thriller that explores life, love and the passions that motivate people to do unexpected and impossible things.
The Company We Keep
Insights Into Indian Corporate Culture
Divya Khanna
There are many challenges facing business corporations today-the pandemic we have barely moved on from, economic recession, rapid changes in consumer behaviour and technological and competitive disruptions. These challenges stick out like the visible tip of an iceberg, while culture, the biggest challenge, is like the slow-moving, gigantic mass that lurks deep under the surface. We cannot deal sufficiently with superficial problems if we do not understand the depths that drive them.
'Culture eats strategy for breakfast' is a widely accepted saying in the business world, often attributed to Peter Drucker. This is as true for corporate India as it is for its consumers. Yet, we spend more time and money studying our consumers and their cultures than we do ourselves. The Company We Keep is a market research-based exploration of Indian corporate culture. It looks beyond the glamour and jargon of the business world to individual stories that share real personal insights into the aspirations, vulnerabilities, pressures and possibilities of corporate careers and lives. These are urgent conversations we need to keep having as we reflect, review and decide where we can go from here.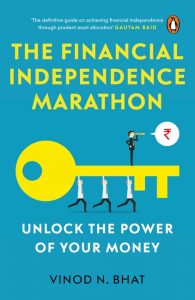 The Financial Independence Marathon
Unlock the Power of Your Money
Vinod N. Bhat
'Time is money'. But the opposite is also true, i.e., 'money is time'. Money, if used wisely, gives us the free time to do what makes us happy. It is crucial to understand the concept that money creates time because time is a non-renewable resource. And becoming financially independent is akin to finding a hidden treasure of time. It's similar to discovering a gold mine, because it gives us the ability to live life on our own terms.
The key is not to think of financial independence as a goal but as a marathon, which we need to enjoy. This book is an easy, entertaining and actionable guide to becoming financially independent and avoiding any pitfalls on the journey.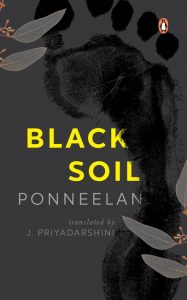 Black Soil
Ponneelan
,

 J. Priyadarshini

Kannappan is posted to Perumalpuram as the new schoolteacher. The village lies in the black soil region of Tamil Nadu where the river Tamirabarani flows. He's an outsider in this village with Veerayyan, a local farmer, as his only guide and friend.
Once settled in his role, Kannappan observes the everyday brutality faced by the farmers at the hands of the sadistic, all-powerful landlord-the Master. Child marriage is common in the village and so is the appalling practice of marrying young lads to older women who then serve as their father-in-law's consort. Through his gentle yet probing conversations with the villagers, Kannappan tries his best to show the villagers a better way of life. The farmers who had begun protesting the excesses meted out to them by the upper-caste landlord soon find an ally in Kannappan. The schoolteacher's sympathies for their cause bolster their waning spirits and replenishes their resolve to fight back.
Ponneelan's first novel is a tour de force. Now translated for the first time, Black Soil lays bare the atrocities faced by the farmers and the human cost of building a better tomorrow.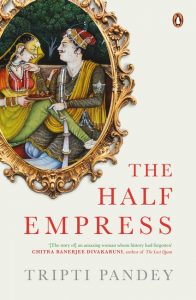 The Half Empress
Tripti Pandey
Among the rulers of Jaipur, Maharaja Sawai Jagat's name is taken with contempt, because of his affair with a tawaif, or courtesan, Raskapoor, the daughter of a Muslim mother and a Brahmin father. The Maharaja defied all norms and bestowed upon her the title of 'Half Empress'. With little experience, Raskapoor resiliently navigated her way through the cobwebs of the royal life. But, pitched against a fleet of plotters in an atmosphere filled with deceit, she finally fell into their trap and was imprisoned. There are many stories about how her life ended-the compassionate prison chief allowed her to flee or she flung herself on to the pyre of Jagat Singh. But today, she is best remembered by the guides who routinely mention her as a celebrity prisoner at the famous Nahargarh Fort.
In her historical novel The Half Empress, Tripti Pandey transports the reader to the royal corridors of nineteenth-century Jaipur and brings to life the story of a formidable woman who has been deliberately omitted from history.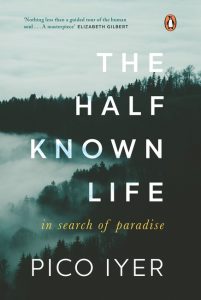 The Half Known Life
In Search of Paradise
Iyer Pico
Paradise: that elusive place where the anxieties, struggles, and burdens of life fall away. Most of us dream of it, but each of us has very different ideas about where it is to be found. For some it can be enjoyed only after death; for others, it's in our midst-or just across the ocean-if only we can find eyes to see it.
Traveling from Iran to North Korea, from the Dalai Lama's Himalayas to the ghostly temples of Japan, Pico Iyer brings together a lifetime of explorations to upend our ideas of utopia and ask how we might find peace in the midst of difficulty and suffering. Does religion lead us back to Eden or only into constant contention? Why do so many seeming paradises turn into warzones? And does paradise exist only in the afterworld – or can it be found in the here and now?
For almost fifty years Iyer has been roaming the world, mixing a global soul's delight in observing cultures with a pilgrim's readiness to be transformed. In this culminating work, he brings together the outer world and the inner to offer us a surprising, original, often beautiful exploration of how we might come upon paradise in the midst of our very real lives.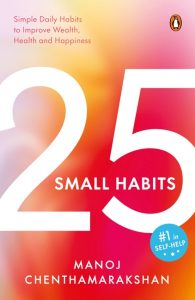 25 Small Habits
Simple Daily Habits to Improve Wealth, Health and Happiness
Manoj Chenthamarakshan
We all know that our habits shape our lives, but when we try to incorporate a new habit into our lifestyle, we understand how difficult it can get. Most people fail to retain a new habit past the first week. This book doesn't teach you how to develop habits; instead, it offers you a set of twenty-five small habits that take very little time and can be held on to without much effort.
The habits in this book are designed to give you holistic growth in terms of self-development, community, career, relationship, and physical and mental health. You can choose the habits that you are able to fit into your daily schedule.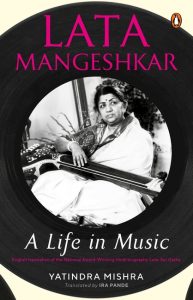 Lata
A Life in Music
Yatindra Mishra
An ode to the majestic life of the late Lata Mangeshkar, Lata: A Life in Music celebrates art in its totality and tells the life story of India's most loved vocal artists. The result of Yatindra Mishra's decade-long dialogue with the great singer, it also explores the lesser-known aspects of the great artist, introducing the readers to Lata Mangeshkar as an intellectual and cultural exponent and providing a rare glimpse into the person behind the revered enigma.
At the confluence of cinema, music and literature, this is the most definitive biography of the voice of the nation that also documents sociocultural changes from the late British era through post-Independent India right up to the twenty-first century. This is the story of the various myths, mysteries, truths and contradictions which make a human an icon and also make an icon incredibly humane.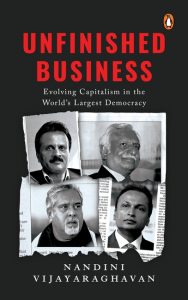 Unfinished Business
Evolving Capitalism in the World's Largest Democracy
Nandini Vijayaraghavan
Unfinished Business is a chronicle of contemporary Indian corporate history, narrated through the professional trajectories of four high-profile businessmen: Anil Ambani, Naresh Goyal, V.G. Siddhartha and Vijay Mallya.
By no means unique in their proclivity for debt and penchant for politics, these four men belonged to a rarefied club of entrepreneurs, who could raise a sizeable quantum of financing with ease despite their businesses not generating adequate cash flows and/or possessing sufficient collateral.
So, what competitive advantage(s) did this guild of Indian entrepreneurs have? What caused their enterprises to struggle, while other similar organizations whose CEOs shared these attributes survived and even flourished? How did the Indian business ecosystem, regulatory norms, lenders' underwriting practices and investor due diligence influence the organizations helmed by this quartet?
Following these four entrepreneurs' careers and professional decisions, Unfinished Business throws light on the evolution of Indian capitalism during the first two decades of the twenty-first century, set against the backdrop of a dynamic political, regulatory and business climate in India. And, with great insight, clarity and analysis, Nandini Vijayaraghavan explores the takeaways for entrepreneurs, regulators, lenders and investors in this compelling, illuminating read.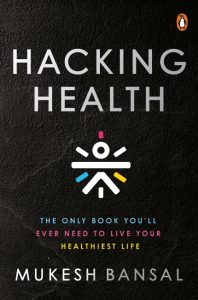 Hacking Health
The Only Book You'll Ever Need to Live Your Healthiest Life
Mukesh Bansal
We live in a world where there is a new fad diet, superfood, supplement or nutrition theory every month. There are so many tricks to optimizing workouts, peak performance, burning fat, living longer, sleeping better and biohacking your immune system. Wellness has become a part of mainstream discourse like never before, and the result is an overwhelming barrage of seemingly contradictory information.
But here's one simple truth: good health impacts every aspect of life, be it productivity at work, interpersonal relationships or a balanced family life. In Hacking Health, Mukesh Bansal takes on the mammoth task of demystifying the science, simplifying the research and tracing the story of our relationship with our body. Through a combination of personal experience and cutting-edge science, this is a book that draws from ancient wisdom and also debunks unscientific myths to help you make smart choices in pursuit of good health. From nutrition and fitness to sleep and immunity, weight management and mental health to ageing and longevity, this book delves into the breadth and depth of holistic health and helps you navigate the lines between science and pseudoscience.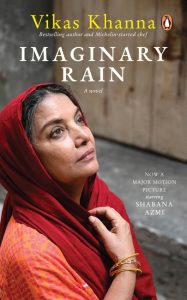 Imaginary Rain
Vikas Khanna
Prerna, a woman now in her fifties, has been running an Indian restaurant in downtown Manhattan for two decades. She is on the cusp of a midlife crisis, and her life indeed unravels when she suddenly loses her son, her lease, and with these, her passion for cooking as well. Caught in the grip of newly awakened emotions, Prerna finds herself confronted by many haunting questions from her past, which take her back to her motherland, India. And so begins an intensely personal struggle that will lead Prerna to forgive herself, escape her past and rediscover her true passion for cooking.
This novel is a celebration of life as well as an immigrant's story of survival, forgiveness and moving on.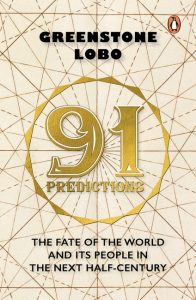 91 Predictions
The Fate of the World and Its People in the Next Half Century
Greenstone Lobo
Is Pluto a planet? Or a dwarf planet? The controversy rages. But this planet, on the fringes of our solar system, has immense astrological significance, unexplored by the Vedic and Western astrologers. Author and scientific astrologer Greenstone Lobo believes Pluto symbolises destruction and regeneration-as the mythological Rudra Shiva.
In a scary and uncertain world-on the edge because of a pandemic, economic crises, ecological disasters and pandemonium in politics, Lobo looks towards Pluto to make sense of the past, present and the future.
He describes the planet's journey over the last 250 and the next fifty years, as well as the grand scale on which it can operate. Exploring its character and impact, Lobo discusses his techniques for predictions, the cyclical nature of Pluto, how it changed the world order and its relationship with astrological signs.
From his unique insider's perspective-as someone familiar with the ways of Pluto through his research-Lobo predicts what to expect and how to prepare for it through 91 predictions. What will the next fifty years bring? When will the world see the last of the pandemic? Who will lead India next? Can India win the next Cricket World Cup? What does the future hold for Ranbir Kapoor and Alia Bhatt? What lies in store for star kids Suhana Khan, Hrehaan Roshan, Aarav Akshay Kumar and Aaradhya Bachchan? What about Messi, Angelina Jolie, Rihanna, Beyoncé and others who hold our imagination today?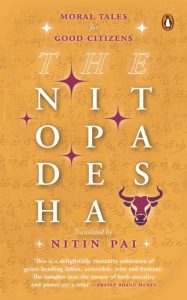 The Nitopadesha
Nitin Pai
In the distant land of Gandhara, there once was a janapada called Chakrapuri. Its elders were a worried lot. Their children were uninterested in the welfare and upkeep of the janapada. Most of them were consumed by self-interest and avarice, seeking personal gains, even at the cost of their fellow citizens. Realizing that the young must learn the arts and crafts of citizenship, the Sabha of Chakrapuri decided to employ Nitina of Takshashila, whose wisdom was said to be unparalleled, to teach their children. So it came to pass that the unconventional scholar was entrusted with the charge of these boys and girls for the next ninety days.
Thus begins the Nitopadesha. A labyrinth of stories in the style of the Panchatantra and the Jataka tales, this is a book about good citizenship and citizen-craft that will speak to the modern reader. Covering aspects such as what citizenship means, the ethical dilemmas one faces as a citizen and how one can deal with social issues, Nitin Pai's absorbing translation is an essential read for conscientious citizens of all ages.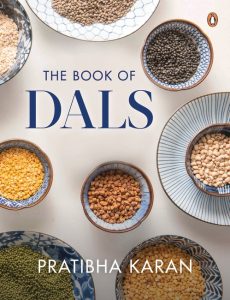 The Book of Dals
Pratibha Karan
Dals have been an essential part of the human diet for centuries and they are an integral part of Indian cuisine. There are many enticing varieties of dals to choose from.
Pratibha Karan, in The Book of Dals, takes you on an incredible journey to different regions of the country and shows how locally available spices and herbs, vegetables and fruit impact the food of that region. The variety of dals and dal-based dishes that you can make with these are phenomenal and mind-boggling.
This book offers many varieties of beautiful, fragrant and beguiling dals that will have anyone savouring them in raptures. From the southern India, you will find Telangana Sambar, Khatti Dal and Dalcha with Vegetables and Meat. They are made using delicious combinations of chillies, tamarind, cloves, cardamom, pepper, coconut, curry leaves and drumsticks. It also has recipes such as Kootu from Tamil Nadu and the famous Bisi Bele Huliyana from Karnataka. This book is not limited by borders. It includes exotic dal recipes from the neighbouring countries like Nepal and Sri Lanka, and some delicious and wholesome dal-based soups too.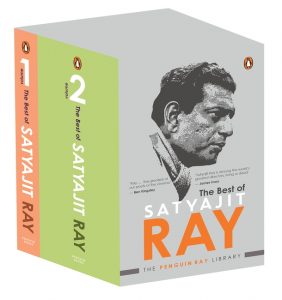 The Best of Satyajit Ray (Boxset, Volume 1 & Volume 2)
Ray Satyajit
While Ray's films are fairly well-known, his writings-fiction and non-fiction-written in Bengali and English continue to attract attention. His illustrations, design works, comic strips, science fictions, detective stories are gems of Indian literature. Ray's non-fictions are gems, which bring to lights his thoughts on film-making, film appreciation, composition of music, art, design and screenplay, among others. 'The Penguin Ray Library' is an endeavour to open a window to the master's writings to a wide spectrum of readers.
From the ever-popular adventures of Ray's enduring creation, the professional sleuth Feluda to the chronicles of Professor Shonku; short stories; writings on filmmaking; and thoughts on world as well as Indian cinema, among others, this anthology, a two-volume boxset, The Best of Satyajit Ray is not only a treat for the Ray enthusiasts but also a collector's edition.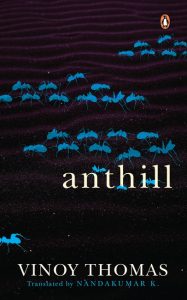 Anthill
Vinoy Thomas
,

Nandakumar K.

Bounded by dense Kodagu forests on the south and west, and rivers on the north and east, Perumbadi, at the border between Kerala and Karnataka, has hidden itself from the world. Its very isolation has attracted varied settlers from south Kerala over the years. The first settler on this land, Kunji Varkey, was fleeing the opprobrium of getting his own daughter pregnant. Those who followed had similar shameful secrets.

Anthill, the exquisite translation from the Malayalam of the Kerala Sahitya Akademi-winning novel Puttu, is the story of common people who tried to wriggle out of the shackles of family, religion and other restraining institutions, but eventually also struggle to civilize themselves-from their beginnings of a hillbilly existence and life as a promiscuous community.

As Perumbadi moves into modernity and feels the need for refined justice, Jeremias comes to be known by the moniker President and becomes the unchallenged adjudicator of Perumbadi, thanks to his equanimity and sense of fairness. However, even as he resolves local disputes, he is troubled by developments in his own home and by his own moral failure.

Which is going to be your new pick this New Year 2023?