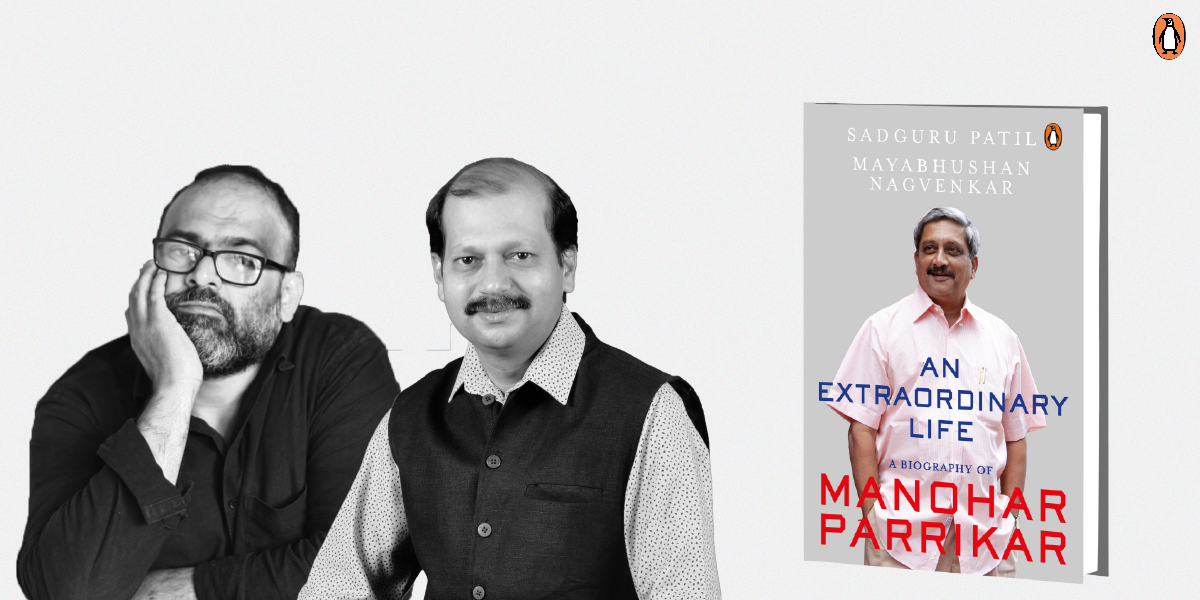 Former Defence Minister and four-time Goa Chief Minister late Manohar Parrikar was one of the most reported personalities in India's smallest state. But the privilege of researching for his biography 'An Extraordinary Life: A biography of Manohar Parrikar' gave us several fresh insights about his personality. And some lesser known nuggets too.
Listed below are ten lesser known facts about Parrikar. And no, this piece doesn't mention his fetish for fish curry… For that nugget and more, read the book!
By Sadguru Patil and Mayabhushan Nagvenkar
Lucky number 13
Shunned and feared by many, Parrikar, a passionate contrarian, considered '13' as his lucky number. Born on December 13, the number, he would often say, brought him good luck in politics. The registration plate of his last official ride, a Hyundai Santa Fe, bore the number 1313. His mobile phone numbers ended in 1313 and 131213. In 2000, he formed a government and was sworn-in as Chief Minister of Goa for the first time with the help of 13-non BJP MLAs. In 2017, he cleverly manoeuvred his way to the top post yet again with the help of… you guessed it right: 13 BJP MLAs!
Never a full term
Despite being sworn-in as Chief Minister of Goa on four different occasions from 2000-02, 2002-2004, 2012-2014 and 2017-2019, Parrikar never completed a full five-year term in office. Anxious about a revolt brewing within his government, Parrikar got the state assembly dissolved in 2002. In 2004, he was ousted by a resurgent Congress. In 2014, he was handpicked by Prime Minister Narendra Modi to join the central cabinet as Defence Minister. And in 2019, he died in office, after just two years in office as CM.
Accidental electoral debut
This fact has managed to duck attention altogether. After his initial grooming in the RSS, Parrikar's initial role in the BJP was that of an organizer, as one of the secretaries of the party's state unit. In 1991, BJP leader late Pramod Mahajan entrusted him with the responsibility of selecting a candidate for the North Goa Lok Sabha seat in the general elections. Parrikar could not shortlist a single credible candidate for his party, because contesting a popular election on a BJP ticket at the time was considered synonymous with certain defeat, and a poor defeat at that. With no candidate available, Mahajan directed Parrikar to contest the election. Parrikar's defeat in the 1991 Lok Sabha polls was the only electoral loss in his political career.
Bookworm
Parrikar was known to read just about everywhere. In the front seat of his official car, in hotel lobbies, at the airport and even on the seat of his loo. He devoured books like he customarily devoured his political opposition. In 2013, at a book release event, he confessed that his house had two toilets. "I am currently reading a book on the Mahabharata. It's in one toilet. There's another book in the other toilet," Parrikar said then.
Music to the soul
Amid spasms of pain while undergoing treatment for pancreatic cancer in New York, Parrikar looked to Hindustani classical singer Jitendra Abhisheki for solace. He loved to listen to Marathi bhavgeets (devotional songs) too. His favourite singers were Sudhir Phadke, Bharat Ratna Bhimsen Joshi, Pandit Abhisheki and Rahul Deshpande. Phadke's 'Dehachi Tejori' (God's vault) and Veer Savarkar's 'Sagara Prana Talmala' (O Ocean, my heart is restless) topped his list of favourite songs. In his later years, he liked listening to Rahul Deshpande, whose songs were downloaded to his Ipad.
Mercedes mania
As a young businessman, when his political journey was still some distance away, Parrikar ambition was to own a Mercedes car. Once he walked the political path however, he realised that owning a Mercedes would impair public perception of him.  After all he was beginning to be known for his 'common man' identity. So he dropped the idea altogether.
Control-freak
Parrikar's style of governance was marked by a chronic disregard for existing administrative systems, with excessive power wrested in his person. Ministers were mere puppets in his abrasive style of governance, as Parrikar, his few handpicked bureaucrats and upper caste coterie members pulled all the strings. There was a key reason why Parrikar kept stalling his departure to Delhi as a cabinet minister. Because Modi mirrored his traits, when it came to governance-style and control. "I was a king in Goa. In Delhi, I am just one of the many princes," Parrikar lamented to his friends.
Tech travails
For an IIT alumnus, Parrikar shied away from using new technology for communication. Apart from using a mobile phone to make and receive calls, he had no other use for the instrument. According to those close to him, accessing emails reluctantly was as far as Parrikar would go, when it came to embracing technology.
Money management
For a man, who is often lauded for planning and vision, Parrikar was pretty much financially broke when he returned to Goa, soon after passing out of IIT-Bombay and marrying Medha. He was so short on money, that his mother, Radhabai, paid some of his insurance premiums for a while.
Swachch Goa
India woke up to the 'virtues' of co-branding Mahatma Gandhi's birth anniversary with a cleanliness gig, as part of Prime Minister Narendra Modi's Swachch Bharat Mission in 2014. But the initiative was first launched by Parrikar as Chief Minister of Goa on October 2, 2002. He preferred to call it 'Clean Offices Day', when government servants were called to their respective offices on the national holiday and directed to spruce up the premises and immediate surroundings.
*