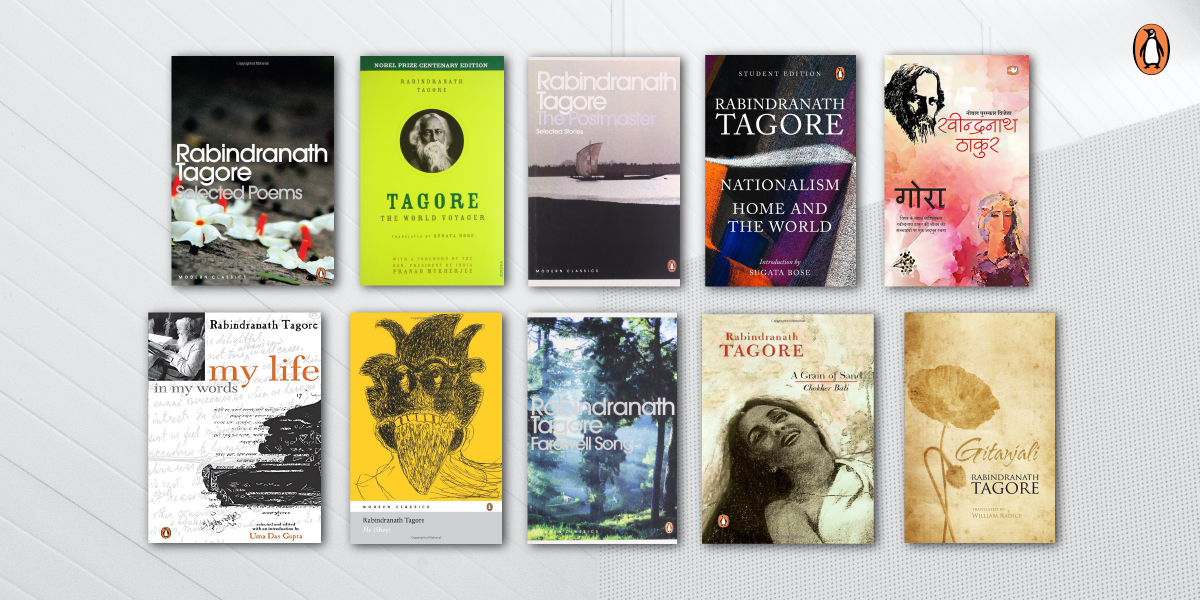 7th May commemorates the birth anniversary of Rabindranath Tagore. His eminence as India's greatest modern poet remains unchallenged to this day. Tagore was a pioneering literary figure, renowned for his ceaseless innovations in poetry, prose, drama, music and painting, which he took up late in life. His works include novels; plays; essays on religious, social and literary topics; some sixty collections of verse; over a hundred short stories; and more than 2500 songs, including the national anthems of India and Bangladesh.
Born in 1861, Rabindranath Tagore was a key figure of the Bengal Renaissance. He started writing at an early age and by the turn of the century had become a household name in Bengal as a poet, a songwriter, a playwright, an essayist, a short story writer and a novelist.
In 1913 he was awarded the Nobel Prize for Literature and his verse collection Gitanjali came to be known internationally. At about the same time he founded Visva-Bharati, a university located in Santiniketan, near Kolkata. Called the 'Great Sentinel' of modern India by Mahatma Gandhi, Tagore steered clear of active politics but is famous for returning his knighthood as a gesture of protest against the Jallianwala Bagh massacre in 1919.
Here is a compilation of some of his work, to celebrate the man.
*
The Magic of Tagore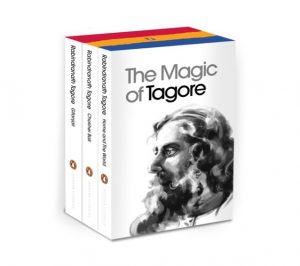 A special limited-edition collection of the most beloved works of Nobel laureate Rabindranath Tagore, one of the greatest writers of the Indian subcontinent, featuring two classic novels of profound depth and beauty, and Tagore's ground-breaking work of poetry. These classic works have been reissued by Penguin Random House India on the occasion of Tagore's birth month.
*
Nationalism and Home and the World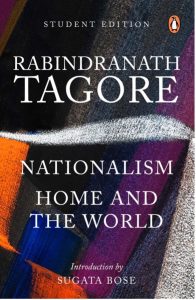 Combining two classic texts by Rabindranath Tagore, this special edition features a new Introduction by eminent scholar Sugata Bose. Nationalism is based on Tagore's lectures, warning the world of the disasters of narrow sectarianism and xenophobia. Home and the World is a classic novel, exploring the ever-relevant themes of nationalism, violent revolution and women's emancipation.
Tagore: The World Voyager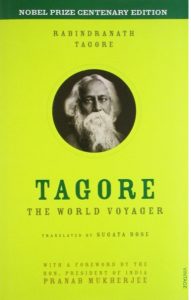 For long considered untranslatable, Tagore's songs express most profoundly his romantic and religious perceptions. Prof. Bose aims to convey the artistic value of Tagore's songs beyond the limits of his province. The first part, 'Oceanic Songs', introduces the lyrics and tunes of the songs to a foreign audience through a narrative of Tagore's travels during which he communicated with the wider world. Since Tagore wrote only forty of his nearly 2500 songs on his journeys abroad, the second part presents a selection of 'songs in five genres'. This book endeavours to reach Tagore's songs to people beyond the borders of India, transcending the barriers of language on the wings of music.
The Postmaster: Selected Stories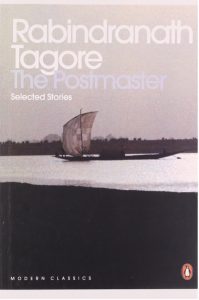 Poet, novelist, painter and musician Rabindranath Tagore created the modern short story in India. Written in the 1890s, during a period of relative isolation, his best stories—included in this selection—recreate vivid images of life and landscapes. They depict the human condition in its many forms: innocence and childhood; love and loss; the city and the village; the natural and the supernatural. Tagore is India's great Romantic. These stories reflect his profoundly modern, original vision. Translated and introduced by William Radice, this edition includes selected letters, bibliographical notes and a glossary.
Rabindranath Tagore: Selected Poems
The poems of Rabindranath Tagore are among the most haunting and tender in Indian and world literature, expressing a profound and passionate human yearning. His ceaselessly inventive works deal with such subjects as the interplay between God and mortals, the eternal and the transient, and the paradox of an endlessly changing universe that is in tune with unchanging harmonies. Poems such as "Earth" and "In the Eyes of a Peacock" present a picture of natural processes unaffected by human concerns, while others, as in "Recovery14," convey the poet's bewilderment about his place in the world. And exuberant works such as "New Rain" and "Grandfather's Holiday" describe Tagore's sheer joy at the glories of nature or simply in watching a grandchild play.
My Life in My Words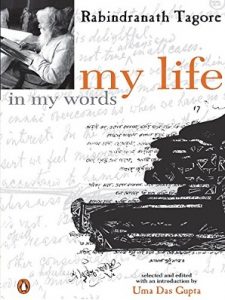 A unique autobiography that provides an incomparable insight into the mind of a genius. The Renaissance man of modern India, Rabindranath Tagore put his country on the literary map of the world when he won the Nobel Prize for Literature in 1913. My Life in My Words is, quite literally, Tagore on Tagore. The result is a rare glimpse into the world of Tagore: his family of pioneering entrepreneurs who shaped his worldview; the personal tragedies that influenced some of his most eloquent verse; his ground-breaking work in education and social reform; his constant endeavour to bring about a synthesis of the East and the West and his humanitarian approach to politics; and his rise to the status of an international poet. Meticulously researched and sensitively edited, this unique autobiography provides an incomparable insight into the mind of a genius.
A Grain of Sand: Chokher Bali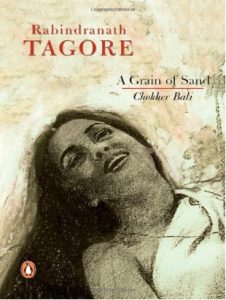 Chokher Bali is Nobel Prize-winning author Rabindranath Tagore's classic exposition of an extramarital affair that takes place within the confines of a joint family. A compelling portrayal of the complexity of relationships and of human character, this landmark novel is just as powerful and thought-provoking today as it was a hundred years ago, when it was written.
Gora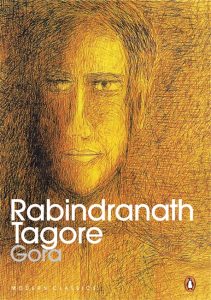 When Gora had no name, caste, and religion, the circumstances gave him the name – goramohan, caste – Brahmin, and religion – Hindu. While he turned out to be a true advocate of Hinduism, the religion rejected him calling him an outcaste and an untouchable. In this classic masterpiece, Tagore represents the tragedy of Gora in the form of problems faced by all Indian religions.
He: (Shey)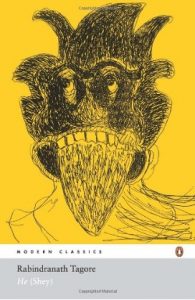 Tagore wrote Shey to satisfy his nine year old granddaughter's demands for stories. Even as Tagore began to create his fantasy, he planned a story that had no end, and to keep the tales spinning he employed the help of 'Shey', a "man constituted entirely of words" and rather talented at concocting tall tales. So we enter the world of Shey's extraordinary adventures, encountering a bizarre cast of characters, grotesque creatures and caricatures of contemporary figures and events as well as mythological heroes and deities – all brought to life through a sparkling play of words and illustrations in Tagore's unique style.
Farewell Song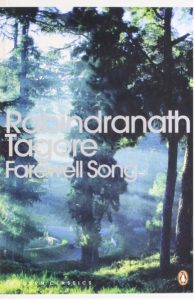 Rabindranath Tagore reinvented the Bengali novel with Farewell Song, blurring the lines between prose and poetry and creating an effervescent blend of romance and satire. Through Amit and Labanya and a brilliantly etched social milieu, the novel addresses contemporary debates about 'good' and 'bad' writing, the nature of love and conjugality, and the influence of Western culture on Bengali society. Set against the idyllic backdrop of Shillong and the mannered world of elite Calcutta society, this sparkling novel expresses the complex vision and the mastery of style that characterized Tagore's later works.
Gitanjali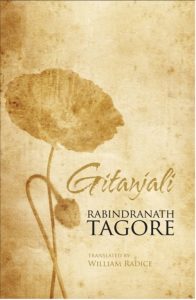 Gitanjali (Penguin Hardback Classics) is a collection of poems by Rabindranath Tagore. This is the English translation of the original Bengali poems. Gitanjali became immensely popular across the globe and was eventually translated into several languages. The book is known for its unmatched style of presentation, fresh poetic structure and spiritual musings.
**
Share this with someone who is fond of – or needs an introduction to – Rabindranath Tagore's work!