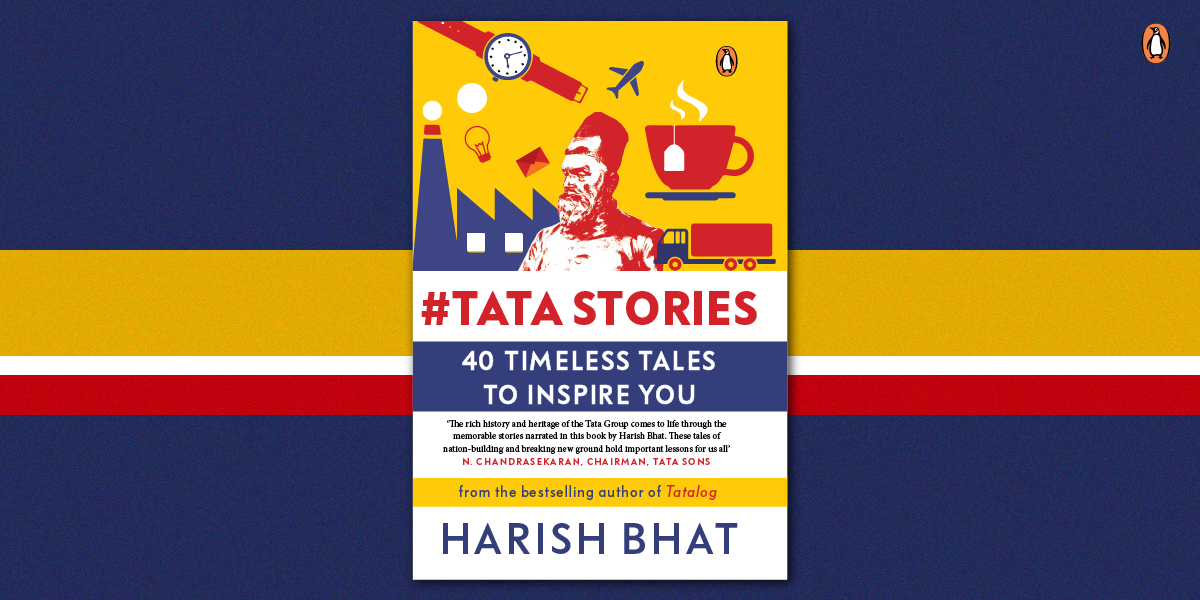 The Tata Group, in the Indian imagination is far more than a corporate group, it is institution whose inception and growth mirrors that of the modern India and whose value systems are as legendary as its success. Dancing across more than a century of greatness are beautiful, astonishing #TATASTORIES, many of which can inspire and provoke us, even move us to meaningful action in our own lives. Harish Bhat's vivid glimpses into some of the distinctive cultural legacy of the Tata Group bring to life the extraordinary longevity, vibrancy and success of Tata. But at their essence, they are simple, moving stories of great teams, men and women, which hold deep lessons for all of us.
Read on for one such truly poignant moment, when the great man who would go onto become The Father of the Nation visited Jamshedpur, the beating heart of the institution that shaped, and continues to shape the growth of a nation.
The steel city of Jamshedpur was teeming with excitement in August 1925. Mahatma Gandhi was coming to visit the town where India's first integrated steel plant had been established by Jamsetji Tata. This would be a unique event—the man who was leading the charge for Indian independence visiting an industrial city which had taken a step towards economic independence. Mahatma Gandhi knew of Jamsetji Tata's enterprise. Indeed, in 1905, soon after Jamsetji's passing, he had written in the Indian Opinion newspaper, 'In whatever he did, Mr Tata never looked to self-interest. He never cared for any titles from the Government, nor did he ever take distinctions of caste or race into consideration…His simplicity was remarkable. May India produce many Tatas!'
The Mahatma had been keen to visit the steel city himself, and now he was responding to a special invitation from Dinabandhu C.F. Andrews, who was at that time a labour leader in Jamshedpur. He had sought Gandhiji's guidance to resolve some labour issues. Interestingly, many years later, Subhash Chandra Bose would also head the Tata Steel Workers' Union in Jamshedpur, but that is the subject of another story. Gandhiji arrived in Jamshedpur and was shown around the steel factory. I can imagine how eagerly workers in the factory would have milled around to see the great man walk briskly by their furnaces that had begun proudly producing steel for the nation. He also visited the township and wrote later in his journal: 'This town owes a debt of gratitude to the courage of Jamsetji Tata.' But he went on to say: 'However, what can one see of such a large factory in two days?' At the Director's Bungalow, he completed talks with R.D. Tata (father of J.R.D. Tata), and three outstanding labour matters were resolved after some discussion. It is remarkable that Gandhi took the time and effort to travel all the way to Jamshedpur to help bring these matters to a successful conclusion. Then, in the evening, he addressed a mass meeting on the maidan behind the TISCO Institute, now called the United Club. This was a huge gathering, attended by over 20,000 people. A sea of humanity stood waiting for the Mahatma to arrive, and he did not disappoint them. In fact, Gandhiji delivered a fine and spirited speech, which was both moving and inspiring. Here are some excerpts.
It was my ambition to see one of the greatest—if not the greatest—Indian enterprises in India, and study the conditions of work there. But none of my activities is onesided, and as my religion begins and ends with truth and non-violence, my identification with labour does not conflict with my friendship with capital. And believe me, throughout my public service of thirty-five years, though I have been obliged to range myself seemingly against capital, capitalists have in the end regarded me as their true friend. I am told that though so many Europeans and Indians live here (together), their relations are of a happy character . . . It is the privilege of both of you to be associated in this great enterprise, and it is possible for you to give Indians an object lesson in amity and goodwill . . . you will carry your amity outside your workshops and both of you will realize that you have come to live and work here as brothers and sisters, never regarding another as inferior, or oneself as inferior. And if you succeed in doing that, you will have a miniature Swaraj.
Gandhiji also narrated to the audience an anecdote about how his connection with the Tatas began.
In South Africa, when I was struggling with the Indians there, in the attempt to retain our self-respect and to vindicate our status, it was the late Sir Ratan Tata who first came forward with assistance. He wrote me a great letter, and sent a princely donation—a cheque for Rs 25,000 and a promise in the letter to send more, if necessary.
This was a reference to the spontaneous donation that Sir Ratan Tata, younger son of Jamsetji Tata, had made in the year 1909.