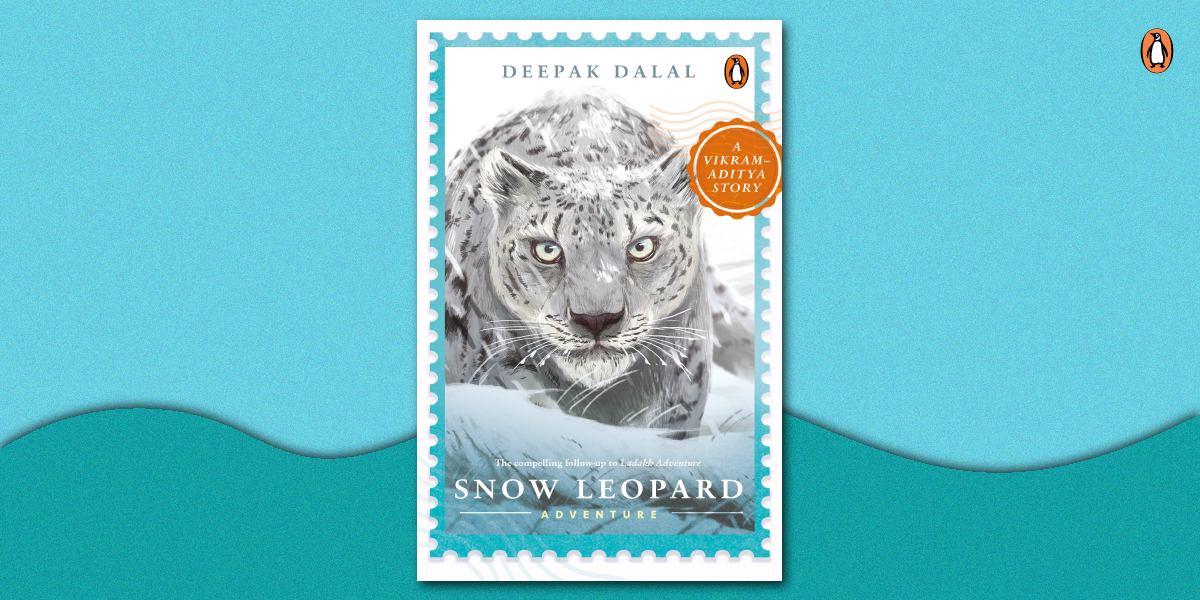 In Deepak Dalal's new book, The Snow Leopard Adventure, Vikram and Aditya are back in magnificent Ladakh. Having finally freed their young friend Tsering from the hands of dangerous men, they've set themselves up for an even greater challenge: to track down the grey ghost of the Himalayas, the snow leopard.
But things don't always go according to the plan during their trek. Here is an excerpt from the book that highlights one of the more challenging events of the trek.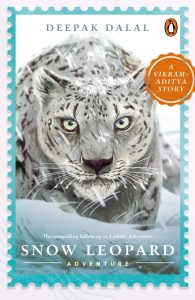 I didn't see exactly what happened because I was looking down at the gravel-strewn track as I ran. I heard a scream, and when I looked up, I saw a pair of hands grabbing desperately at the edge of the outcrop. I wasn't far behind Caroline and scarcely a few seconds must have elapsed between her falling and my flinging myself to the ground and locking my fingers around her wrists. I had barely grasped them when her scrabbling fingers slipped, and her entire weight was transferred on to me. I was dragged forward and my chest hit the rock at the edge of the cliff with a thud.
We were both stuck, Caroline dangling from my hands and I pressed against the cliff edge, pinned down by her weight. Caroline is three inches taller than my 5 feet 7 inches and also heavier than me (sixty-five kilos to my sixty, she told me later). I could feel myself being pulled towards the edge. Disaster appeared to be a certainty, but Tsering intervened, saving us by clinging to my thighs and adding his weight to mine.
Now, on reflection, I don't think any of us would have died if we had gone over. The cliff we clung to was not a large one. The fall was only a few metres. But the area at the base of the cliff was not flat, it sloped downwards at an alarming angle. Our injuries could have been serious. We would have broken several bones, but we would have survived.
My breath came in rapid gulps and sweat must have flowed from my every pore. Yet, even though I was terrified, a part of my mind admired the vista that spread before me. I could see the river valley below and the mountain slopes opposite. I spotted flecks of colour in the distance—our camp mates. I wondered if they could see us.
I am ashamed to admit that I lost control of myself up there. My hands shook and my chest hurt terribly. My heart kicked and pummelled my chest, and my senses swam about me. I kept assuring myself that there was no reason to panic and that nobody would go over.
I had no idea then that I was speaking my thoughts aloud (Caroline and Tsering informed me later). I told myself that we only had to wait it out. Somebody would come . . . Tina and Kathy would return and untangle us.
Luckily, a heaven-sent determination infused Caroline as she dangled in the sparse Ladakh air. While I was rambling, she spotted fissures and cracks on the rock face she was suspended against. She willed her legs to grope beneath her and she found secure anchors in the stony crevices. Her fingers and palms gripped rock at the cliff edge. With me still holding on to her wrists, she pulled herself up a few inches.
I heard her breathing. She was gasping and panting far louder than I was. Soon her face was level with mine and our eyes met. Hers glittered with cold determination. There was a vacant expression in mine, she told me later. She was probably right, because she had to shout several times before I paid attention to what she was saying. She wanted me to release her wrists, which I did mechanically. Now sure of herself, Caroline dragged herself up and without further incident she flopped beside me. We lay inert on the rock, Tsering looking down on us.
After a long time we continued our walk to the crest. The rest of the morning was a blur. None of us were in any state to look for bharal or search for leopards. Kathy, Tina and Yuan turned up, exhausted, after an hour. They had found more sign of the leopard they were following but had not been able to locate it. We turned back for camp shortly thereafter. Caroline had extracted a promise from
Tsering and me not to speak about the morning's drama to anybody. She smiled gratefully when it became clear that we were not going to say a word, and she turned distinctly friendly when we maintained our silence at camp too.
Aditya was aghast when he learnt that I had not pursued the leopard with the others. 'How could you let such an opportunity go?' he wanted to know. 'You were so close to the leopard!'
Does Aditya eventually see the Snow Leopard? Grab your copy for Snow Leopard Adventure to find out!