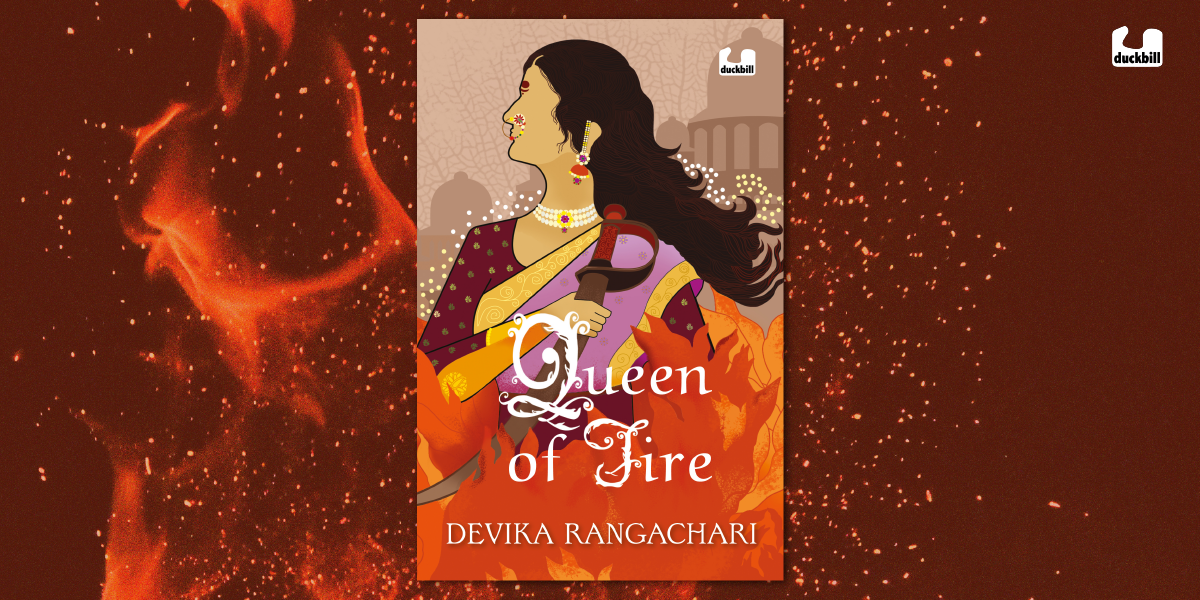 Devika Rangachari is an award-winning author of several historical fiction books for children. Her book Queen of Fire came out in April this year. It brings to vivid life the interior life of Lakshmibai, the nineteenth-century queen of Jhansi, thrust into a position she does not desire but must assume, and of her son, who is cowed by the challenges he has to face but determined to live up to his mother's courage.
We recently got the chance to ask her some questions about her enthusiasm for writing for children and the challenges involved, how she decides on her protagonists and her favourite historians. Read on to find out her answers!
Queen of Ice, Queen of Earth, and now, Queen of Fire, we are sensing a pattern here. Is there a specific reason why we see you writing about queens in Indian history? How do you decide who's going to be the protagonist of your next book? 
A word about these three books, to begin with. Queen of Ice is the story of Didda who ruled Kashmir in the tenth century for around fifty years despite being physically lame. Her rule formed part of my doctoral research on gender in early medieval north India. Didda's powerful and competent rule notwithstanding, she has been virtually removed from historical narratives of Kashmir due to the gender bias that exists in the writing of history. Alternatively, she has been vilified for daring to challenge patriarchal stereotypes and follow her ambition. Queen of Earth, on the other hand, deals with Prithvimahadevi who ruled the Bhaumakara dynasty of Odisha in the ninth century. Her reign formed part of my post-doctoral research on gender in early medieval Odisha. Prithvimahadevi
managed to hold her own over a rival populace and, additionally, employed clever tactics to justify her rule, indicating her political shrewdness and sagacity. In a similar vein to Didda, however, she has either been made invisible in historical accounts of Odisha or criticised for her rule. I wanted to enable my young readers to know about these important women from the past whom they are unlikely to get to know about through their textbooks or any other source.
Queen of Fire, which deals with Rani Lakshmibai of Jhansi, is slightly different because it aims to resurrect the real woman behind the name. In most accounts of this valorous queen, she is treated almost like a goddess and no weight is given to her emotions, thoughts or fears. Nor is her relationship with her adopted son, Damodar, given any importance. I have, however, examined both these aspects in my book.
While the stories of all these women are extremely inspiring, there is no specific reason for my current focus on queens. It is just something that happened organically. If I decide that the story of a particular woman from history, culled from my academic research, is interesting and engrossing, then she becomes the protagonist of my next book. At least, that is how it has been so far!
Writing historical fiction involves a lot of research, and the task gets more complex when the subject needs to be adapted for a younger audience. What has been your experience like writing historical narratives for children? Could you also shed some light on your research process? 
The challenge in writing historical fiction for children is that history is a subject that most of them dread, in any case, and, therefore, I have to make my writing enjoyable and gripping while, at the same time, maintaining a balance between historical fact and fiction. The aim is to draw my readers into the world of history and enable them to discover for themselves how exciting it really is. In addition, I have to ensure that I do not drown the narrative in facts and what could be construed as dry details. Historical accuracy is essential but the writing should convey the elements of the past in a painless and palatable manner. I have, however, immensely enjoyed the process of writing historical narratives for young readers.
My research process involves studying the original sources pertaining to the historical period or personality I am writing on. These could range from texts and inscriptions to coins, buildings and other archaeological material. For instance, the Rajatarangini, a Sanskrit text written by a poet, Kalhana, in the twelfth century is pivotal as a source for Didda's reign, along with some coins and inscriptions that she issued. In Prithvimahadevi's case, the sources are even more meagre, principally featuring two inscriptions that she issued and some references to her in contemporary sources. In Rani Lakshmibai's case, though, there is plentiful information, ranging from memoirs to letters to archival documents. Historical sources become more difficult to come by the further back in time one goes. There are significant gaps in our knowledge of the early medieval queens, for instance, and a lot of guesswork is involved in order to fill these.
Are there some women in Indian history whom you feel particularly moved by, but have not written about yet?
There are several—royal and non-royal—who played important roles in the polity and society of the early medieval period but have not received the acknowledgement that they deserve in the historical narrative. Apart from some powerful women in Kashmir, there are others in the south who have not really been the subject of much research or writing so far. I would like to write about many of these.
When you are not writing and researching, what would we find you occupied with?
 I love reading, so I would be curled up with a book.
Who are your favourite historians on Indian history?
 There are several but I will mention only two of them. Prof. Nayanjot Lahiri, my doctoral supervisor, is a well-known archaeologist who has, in addition, managed to encapsulate her research—such as on the Indus valley civilisation and on the discipline of history, as a whole—into extremely readable books for the general reader. Another historian that I greatly admire is Prof. Upinder Singh who has also successfully managed to write about the Indian past in a very accessible, engrossing manner for the layman reader, particularly on the ancient and early medieval time spans.
What are some of your favourite historical retellings?
I grew up reading Jean Plaidy who has written an enormous range of historical fiction. Her works made me develop a real love for history. I also enjoyed Hilary Mantel's works of historical fiction, especially her trilogy on Thomas Cromwell and the Tudor court under Henry VIII of England, and Philippa Gregory's writing.