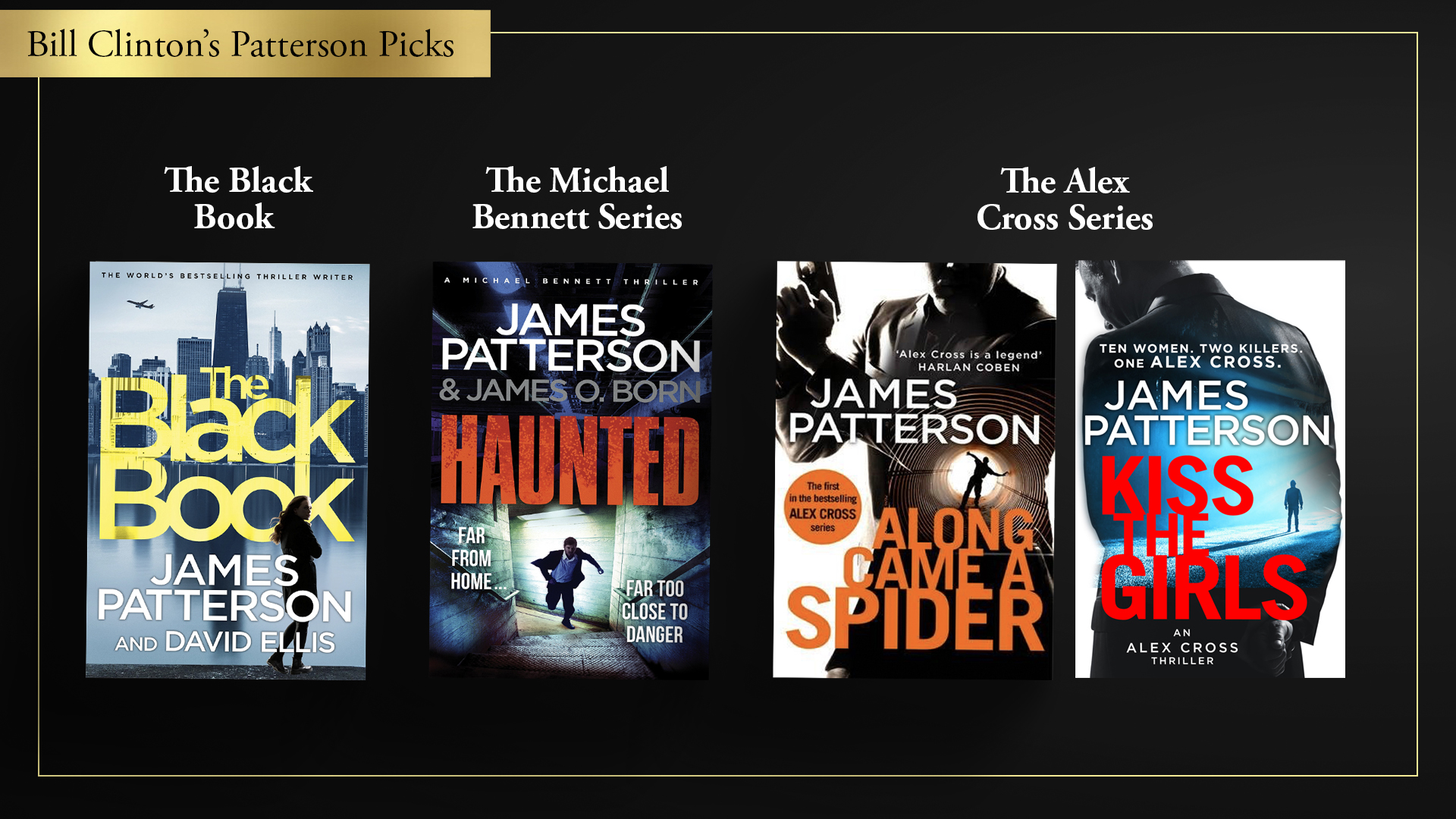 Ahead of the release of their eagerly anticipated thriller, The President is Missing, President Bill Clinton shared his favourite James Patterson novels with us.

Along Came a Spider – an Alex Cross book
Two children have been kidnapped from an elite private school in Washington DC, and Alex Cross is charged with finding them. The kidnapper is their maths teacher, a man named Gary Soneji. As Cross gets pulled deeper into the strange world of the kidnapper, it becomes clear he is not what he seems…

Kiss the Girls – an Alex Cross book
Alex Cross's niece, Naomi, is missing. Cross fears the disappearance could be linked to a string of recent abductions and murders. Two brilliant and twisted killers, operating on opposite sides of the country, are collaborating and competing, encouraging each other to perpetrate increasingly horrific crimes. Cross must hunt down these two brutal masterminds – not only to rescue his niece, but also to save the lives of the many others still in danger…

Both Along Came a Spider and Kiss the Girls were made into Hollywood blockbusters starring Morgan Freeman as Alex Cross.

The Black Book
Being a cop runs in Billy Harney's family. The son of Chicago's Chief of Detectives whose twin sister, Patti, also followed in their father's footsteps, Billy would give up everything for the job – including his life. After a brutal shooting, Billy is left for dead alongside his tempestuous former partner and an ambitious assistant district attorney. But somehow Billy survives – and is charged with double murder.

Billy remembers nothing about the shooting. Retracing his steps to find proof of his innocence, he discovers the existence of a little black book that he suspects contains the truth that will either set him free, or confirm his worst fears…

Haunted – a Michael Bennett book
Detective Michael Bennett is ready for a vacation after a series of crises push him, and his family, to the brink. He settles on an idyllic small town in the beautiful Maine woods. But just when Bennett thinks he can relax, he gets pulled into a case that has shocked the tight-knit community. Kids are disappearing with no explanation – until several bodies turn up in the woods.

Far from the city streets he knows so well, Bennett is fighting to protect a town, the law, and the family that he loves above all else.