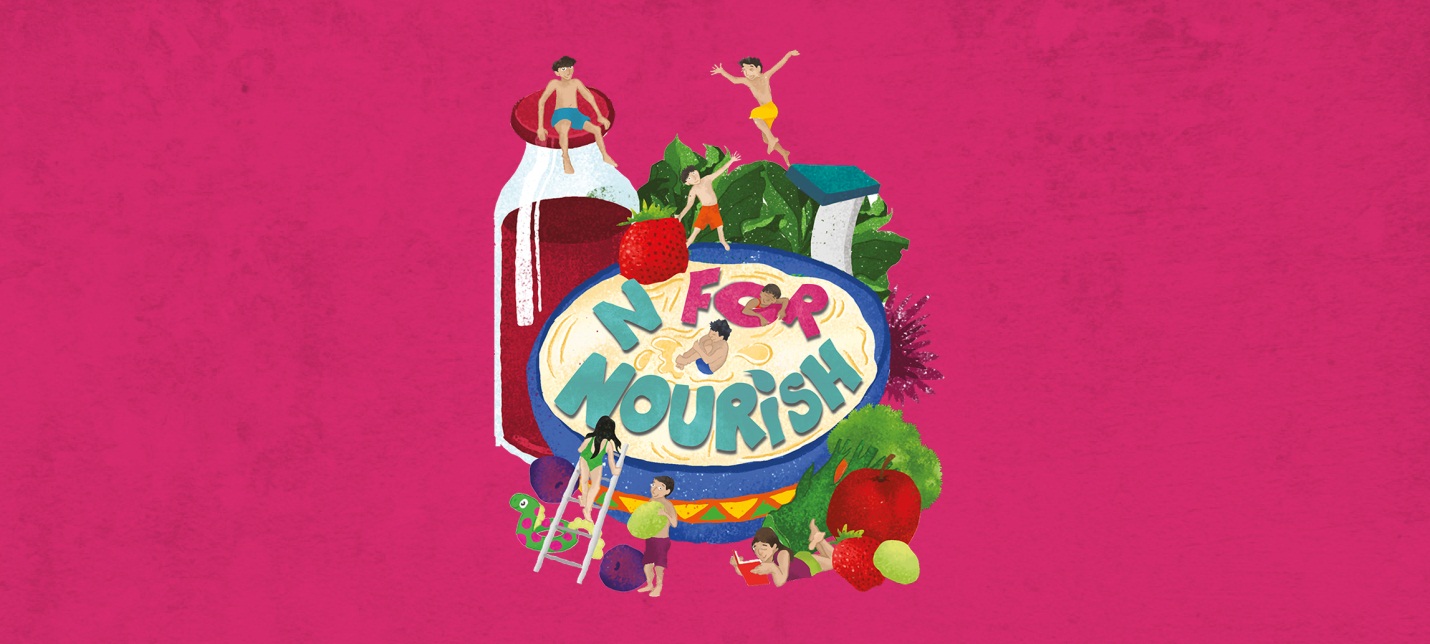 Do you know why eating right is so important? Because it's food that makes your kids zip through classes, tear across the football field or win that game of chess. The right diet influences your mood, your thoughts and even your child's ability to have fun.
With the aid of innovative models and striking visuals, N For Nourish will help you and your child understand the components of a healthy diet, what makes the five fingers of nutrition (and how they turn into a power-packed punch) and the importance of sleep, water and exercise in your day-to-day life. Not only does this contain the ABCs of nutrition but also a series of amazing facts about how food can change your life.
Here are 6 ways this book will help children take charge of their health and wellbeing.
---
A – Aim to achieve
Food is instrumental in achieving success in all aspects of life- whether it is excelling at academics, building stamina for sport or accomplishing any other goal your child aspires to.
'Food is the foundation of your future. If you eat right, you are more likely to score better, run faster, jump higher and be happier.'
B- Bring out the best in you
The 5 components we need for a balanced diet are carbohydrates, proteins, fats, vitamins and minerals. These, when consumed in the right proportion, give us the fuel we need for our bodies to grow and function at an optimal rate.
'To be the best you can be, you need both macronutrients and micronutrients every single day. But how do you know how much you need of each nutrient? Well, to solve that problem, [Pooja Makhija] has come up with a concept she likes to call the Five Fingers of Nutrition, because it is an easy way for you to remember all the five nutrients in food.'
C- Combine fitness with fun
Pooja Makhija employs an engaging technique to ensure that her young readers not only understand nutrition but also practice healthy eating in their daily lives. N for Nourish is dotted with activities where readers need to identify nutritious foods and discuss concepts with their parents. These activities are labelled with icons that run throughout the book.
'N for Nourish is packed with games, worksheets, quizzes and more, which you can spot with the help of icons. Every activity has been designed to deepen your understanding of what you've read or to just help you have fun with the serious topic of nutrition.'
D- Develop a relationship between your body and mind.
In our increasingly digitalised environment, both adults and children are continually glued to gadgets. In this comprehensive guide to good health, Pooja draws attention to the importance of physical activity and its effect on mental health.
'Did you know that exercise changes your brain? And here's how: When you exercise, the brain switches its attention from the part that is always worrying about your problems to the part that is involved in things like co-ordination and focus. This means that exercising changes the way you think and makes you more focused. This is better for your concentration levels and therefore, performance in school.'
E- Embrace how food and body work together
A balanced diet empowers the human body by building a defence mechanism against diseases. Pooja labels protein as the 'silent warrior' that helps build immunity, repair damages and enables the body to heal itself.
'The right foods influence your brain, your body and your ability to take part in your own life. They affect your moods, your outlook, your thoughts. And your ability to have fun.'
F – Focus on mindful eating
Food isn't just fuel for the body. Eating can be one of the most gratifying sensory experiences for human beings as the various tastes and textures can delight our palate. To experience the joy of eating, Pooja recommends taking a break from technology to focus on food and conversation.
'By junking your tablet or TV, you learn to eat with thought, chew what you are eating, taste the flavours, eat according to your stomach size and not merely sync your meal with the length of the show.'
---
N for Nourish will make you and your little champions look at yourselves and what you eat in an absolutely new light!