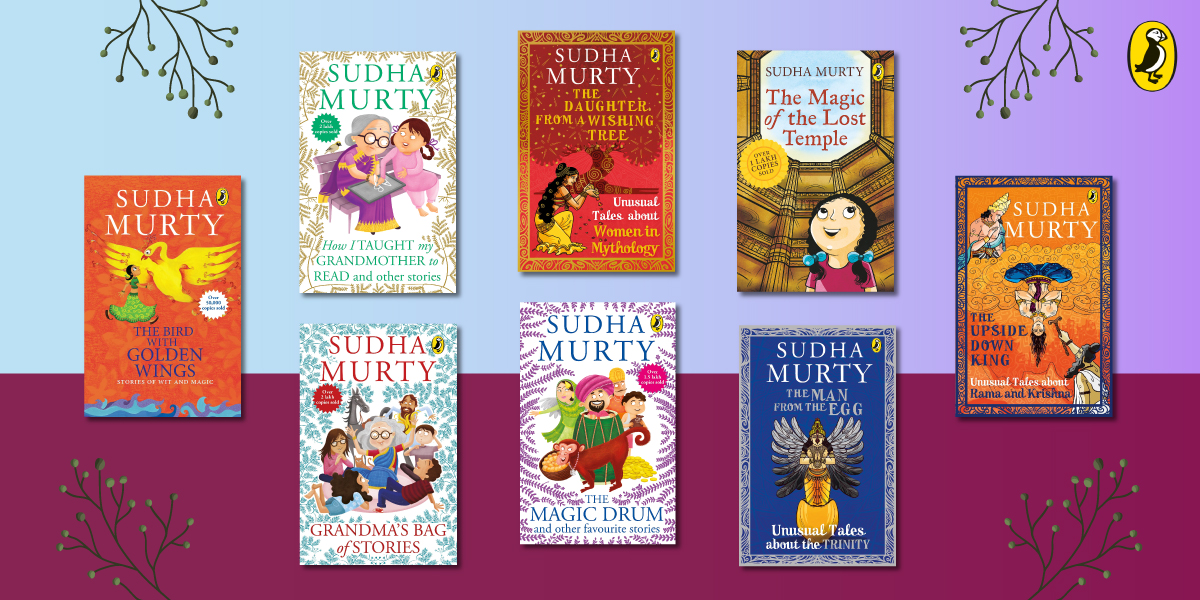 Sudha Murty is loved by children and adults alike. Many of us grew up reading her and would love for our children to enjoy her work as well.
Not only a beloved writer, Sudha Murty is a very accomplished and inspiring woman. She did her MTech in computer science (and was the only girl in her class!) and is now the chairperson of the Infosys Foundation.
If you've not really ever read her work, but would like your young ones to start – this is the right article for you! We have put together some of her most loved books below. Let's celebrate her together!
Grandma's Bag of Stories                   
Memories of a grandparent spinning tales around animals and mysterious characters have kept many of us rapt till date. Sudha Murty's Grandma's Bag of Stories is simply delightful.
Though unlikely in combination, stories makes perfect sense when Grandma is the one narrating them. This book is ideal for young children and those who are 5+ in age. Stories are accompanied by colourful illustrations and morals. Lucid and simple language of the book, makes reading a pleasure.
The Magic of the Lost Temple            
Nooni is a city girl who is very surprised at the unexpected pace of life in her grandparent's village in the state of Karnataka. Not being fazed with the turn of events, she engages herself in many of the odd jobs that are available in the village. She resorts to doing work like Papad making, organising enjoyable picnics, learning to ride a cycle and a long list of activities with her new found friends.
How I Taught My Grandmother to Read         
What do you do when your grandmother asks you to teach her the alphabet? Or the President of India takes you on a train ride with him? Or your teacher gives you more marks than you deserve? These are just some of the questions you will find answered in this delightful collection of stories recounting real life incidents from the life of Sudha Murty teacher, social worker and bestselling writer.
The Magic Drum and Other Favourite Stories
A princess who thinks she was a bird, a coconut that cost a thousand rupees and a shepherd with a bag of words kings and misers, princes and paupers, wise men and foolish boys, the funniest and oddest men and women come alive in this sparkling new collection of stories. The clever princess will only marry the man who can ask her a question she cannot answer the orphan boy outwits his greedy uncles with a bag of ash and an old couple in distress is saved by a magic drum.
The Bird with the Golden Wings: Stories of Wit and Magic            
A poor little girl is reward  with lovely gifts when she feeds a hungry bird all the rice she has. What happens when the girl's greedy, nosy neighbour hears the story and tries to get better gifts for herself? Why did the once sweet sea water turn salty? How did the learned teacher forget his lessons only to be aided by the school cook? And how did the king hide his horrible donkey ears from the people of his kingdom?
For answers to all this and more, delve right into another fabulous collection of stories by Sudha Murty.
The Upside-Down King: Unusual Tales              
The tales in this collection surround the two most popular avatars of Lord Vishnu-Rama and Krishna-and their lineage. Countless stories about the two abound, yet most are simply disappearing from the hearts and minds of the present generation.
Bestselling author Sudha Murty takes you on an arresting tour, all the while telling you of the days when demons and gods walked alongside humans, animals could talk and gods granted the most glorious boons to common people.
The Man from the Egg
The Trinity, consisting of Brahma, Shiva and Vishnu, is the omnipresent trio responsible for the survival of the human race and the world as we know it. They are popular deities of worship all over India, but what remain largely unknown are some of their extraordinary stories.
Award-winning author Sudha Murty walks by your side, weaving enchanting tales of the three most powerful gods from the ancient world. Each story will take you back to a magical time when people could teleport, animals could fly and reincarnation was simply a fact of life.
The Daughter from a Wishing Tree
The women in Indian mythology might be fewer in number, but their stories of strength and mystery in the pages of ancient texts and epics are many. They slayed demons and protected their devotees fiercely. From Parvati to Ashokasundari and from Bhamati to Mandodari, this collection features enchanting and fearless women who frequently led wars on behalf of the gods, were the backbone of their families and makers of their own destinies.