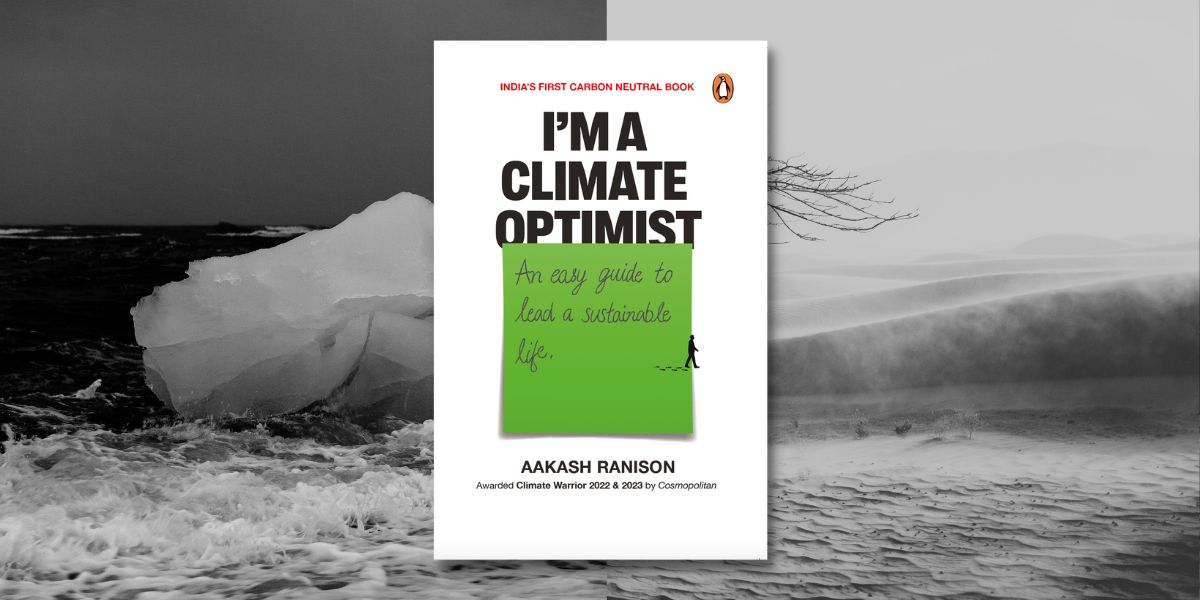 I'm a Climate Optimist is set to release on the upcoming World Environment Day
On World Earth Day, Penguin Random House India is proud to announce the acquisition and publication of a thought-provoking non-fiction book on the environment and climate by Climate Change Activist and Social Entrepreneur, Aakash Ranison. Inspired by the philosophy author follows and this popular social media moniker, 'Climate Optimist', the book is aptly titled I'm a Climate Optimist and covers various industries like Food & Beverages, Textiles & Clothing, Transportation, Tourism / Hospitality, Digital / Technology, Home & Households, Beauty & Cosmetics, and Plastic & Packaging where author share his 9 years journey of experiments and experiences of living a sustainable life along with, case studies, data, solutions, & resources specific to the Indian context. Releasing on World Environment Day, June 5, under the Ebury Press imprint, it is currently available for pre-ordering on all major e-commerce websites.
I'm a Climate Optimist is Ranison's humble answer to all the "What can I do about Climate Change?" The book is designed keeping day to day Indian life and sustainable alternatives as solutions to help bridge the gap between the ongoing narrative and the actual solution. The book features more than 100 Indian businesses working in the sustainable alternative space along with 45 experts from various industries including, Piyush Pandey (Ogilvy), Dia Mirza (UNEP), Nithin Kamath (Zerodha), Rahul Mishra (Fashion Designer), Santosh Iyer (Mercedes-Benz), Ashish Singhal (CoinSwitch), Samarth Bedi (Forest Essentials), Shriti Malhotra (The Body Shop), Shradha Sharma (YourStory), Ritesh Malik and many more.
Ranison's message of sustainability and kindness is well-known, and he has been honoured with several awards for his contributions and continued efforts for the environment. With I'm a Climate Optimist, Ranison is making a strong statement. The book is printed using vegetable ink & the author's 100% royalties from the book will be donated to the Climate Charity, Greener Earth Foundation to offset carbon footprints of the project, making it India's first Carbon Neutral book.
Premanka Goswami, Associate Publisher & Head of Backlist, Penguin Random House India, says, 'I'm a Climate Optimist by Aakash Ranison is an amazingly accessible book to understand how we can—in these challenging times of climate change and global warming—consciously live in a responsible manner. Offering a clear roadmap for this in each chapter, this book is a ready reckoner for those who wish to live a sustainable life. The work is a testament to Aakash's commitment to making our planet a more liveable place for the days to come.  We're proud to publish the book from Penguin.'
Milee Ashwarya, Publisher, Penguin Random House India, says, 'I'm a Climate Optimist by Aakash Ranison is a very important book for our times. As the world around us is changing fast, and we navigate through everyday issues of pollution, extremes and unpredictability of climate conditions, and global warming, there is an urgent need to understand and participate in discussions around sustainability.  I welcome Aakash to Penguin Random House India, and hope the book finds readers across the globe.'
Author bio:
Listed under Forbes' India's Top 100 Digital Star 2022, Awarded Climate Warrior Of The Year 2022 and 2023 (Editor Choice) by Cosmopolitan Magazine, and Sustainable Changemaker Of The Year 2022 (Popular Choice) by Exhibit Magazine.
Aakash has delivered 5 TEDx Talks and authored his first book on Climate Change in 2020, and has created three Climate Art Installations, covered by over 230 national and international media publications. Aakash is also a contributing author for Forbes India, Times of India, & YourStory.
On the road for eight years, Aakash lives a vegan, nomadic & minimalist life and spends his time travelling the length and breadth of India by walking, cycling, hitchhiking or public transport with his trusty backpack and camera, spreading his message of love, kindness, and sustainability.