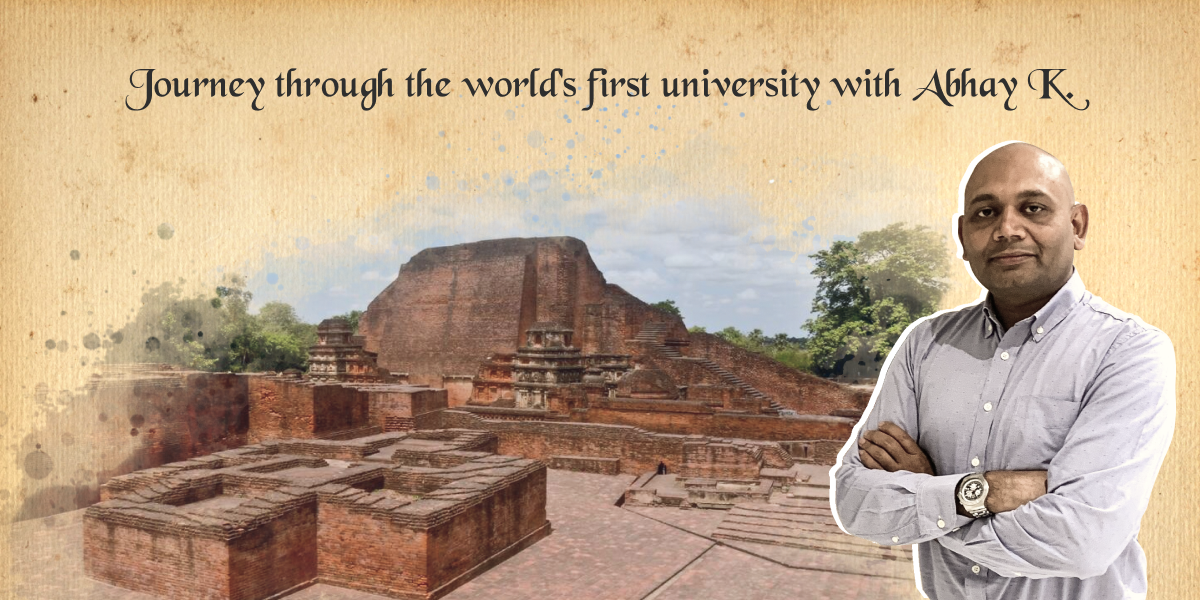 The new book takes readers to one of the world's greatest centres of knowledge and learning.
Penguin Random House India is thrilled to announce the acquisition of renowned and award-winning poet and writer Abhay K.'s new book, titled Nalanda. This highly anticipated book delves into the captivating history of Nalanda, the Ancient Seat of Learning in Bihar, India, and is set to take readers on an enlightening journey through time and history. The book is scheduled to release in October next year in 2024 from the Vintage imprint.
Nalanda offers a vivid and passionate account of the remarkable story of one of the world's greatest centres of knowledge and learning. Abhay K. masterfully weaves together historical facts and a narrative flair to transport readers to the prehistoric city of Rajgir, the birthplace of Brihadratha and Jarasandha, which later evolved into the powerful empire of renowned Magadh.
With meticulous research and engaging storytelling, Abhay K. invites readers to discover the incredible journey of the legendary Mahavihara of Nalanda—the world's first university. From its inception to its unfortunate destruction and its subsequent resurrection in the 21st century as Nalanda University, the book unravels the extraordinary tale of this iconic institution. Furthermore, it also explores the invaluable contributions made by luminaries from Nalanda who revolutionized various fields, such as mathematics, philosophy, poetry, logic, and more.
While the book will resonate with readers from all domains, offering them a fascinating glimpse into the past, it will also delight history enthusiasts interested in ancient civilizations, and individuals eager to delve into the fascinating story of Nalanda and its significance in the world's educational and intellectual history.
Author, Abhay K., says, 'I'm truly delighted that Penguin Random House India is going to publish my book on Nalanda, a place very close to my heart, a place where I was born and grew up, and often go back to draw inspiration and recharge myself. Nalanda played a vital role as an ancient centre for learning in spreading knowledge across the world. This book introduces one to an incredible journey of Nalanda from its birth to destruction and rebirth. I'm grateful to Milee Ashwarya for all her support in publishing this book.'
Milee Ashwarya, Publisher, Penguin Random House India, says, 'Abhay K. has grown up in Nalanda amidst its stories, legends, history, culture, and ethos. He will bring these together in Nalanda to make it a unique and valuable book for readers across the world. I look forward to working with Abhay on the book and publishing it next year.'
About the Author
Abhay K. (b.1980, Nalanda, Bihar) is the author of several poetry books, including Celestial, Stray Poems, Monsoon, The Magic of Madagascar and The Alphabets of Latin America. He is also the editor of half a dozen books including The Book of Bihari Literature. His poems have appeared in over a hundred literary magazines, including the Poetry Salzburg Review and Asia Literary Review. His poem 'Earth Anthem' has been translated into over 150 languages. He received the SAARC Literary Award (2013) and was invited to record his poems at the Library of Congress, Washington, DC, in 2018. His translations of Kalidasa's Meghadutam and Ritusamharam from Sanskrit won him the KLF Poetry Book of the Year Award (2020–21).