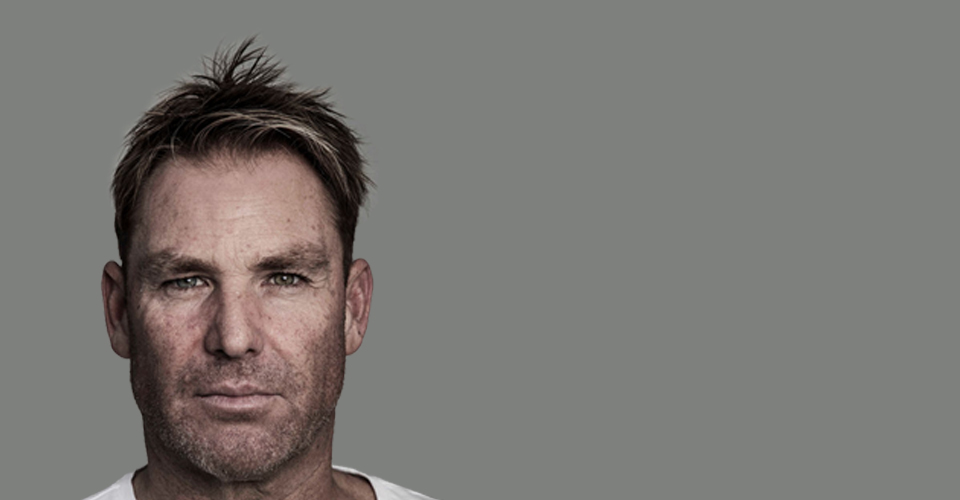 In No Spin, Shane offers a compelling insight into how a boy from Black Rock changed the face of cricket forever. An excerpt from the book below!
---
I said, 'Simone's a wonderful girl, mate – let's get it done.'
It felt great on the surface but deep down I'd begun to feel I shouldn't be doing this. Or maybe I should. Or shouldn't? Perhaps it's the way everyone feels in the days before they get married, I thought. Who knows? It was nothing to do with Simone. She looked so beautiful on the day, and in the year and a bit since we'd got engaged she'd easily become my best friend. We were good together, she understood me and me her. But I could feel my life changing at frightening speed and I just wasn't sure it was the right time.
Shaun Graf, my Victorian mentor and team-mate, was MC in the marquee. We had 200 people and Simone did a great job, decking it out magnificently and making sure the detail was spot on. Everyone got plastered. We stayed at the Como Hotel – a fantastic place. My brother was best man, with the groomsmen being Merv Hughes and a good mate from my Academy days, Stephen Cottrell. Simone had her sister, Lisa, and best friend, Sharon, and her cousin Tanya.
A guy called Tuffy, who used to play guitar in a Hawaiian shirt at a place called City Rowers in Brisbane, did the entertainment – he was better than brilliant, playing all the great covers, many of them with Steve Waugh and Mark Taylor on stage. 'Tugga' loved 'Khe Sanh' and Tubby loved 'Bow River', the two Cold Chisel classics. We all had such a happy night. I remember thinking it had been the best day of my life. What was all the worry about?!
On a slightly different subject, I can hear the question, 'Steve Waugh was at your wedding?' Well, he was. I was close with Tugga back then. We toured Zimbabwe together in 1991 and he asked me to come and play club cricket with him at Bankstown – he even spoke to the club about getting me a job behind the bar. We hung out a lot in those days and I did consider going to play in Sydney to try to get into the New South Wales team but, as I've mentioned, Simon O'Donnell set me straight on that one! Tugga wasn't in the Test side when we got to know each other well; he'd been left out for a while but came back against West Indies in 1992/93, batting at number three. Then he settled into the middle order, which suited him best.
He became a completely different person when he took over as captain. All that worship of the baggy green – some of the guys went with it, like Lang, Haydos and Gilly, but it wasn't for me. I think he turned into a more selfish player when he had his second run in the Test team, which changed him. My philosophies on the game were more aligned with Tubby than with Steve; though, in fairness, Steve was a successful cricketer – if in a very different way to AB and Tubs, whose style and direction I much preferred. It's no secret that Tugga and I don't see eye to eye these days.
Simone
Simone and I have three amazing children. We spent 13 great years together, created a beautiful home in Middle Crescent, and even though we went through a few dramas, we look back now and can have a laugh.
My relationship with her is fantastic. We have brought up Brooke, Jackson and Summer together. We think differently about parenthood – I'm a lot stricter in many ways – which has been a good thing for them as they've seen different points of view. She understands me, I understand her and we get along fine and are friends.
There's a perception out there that every relationship is driven by the same rules – society's white picket fence, if you like. Mum, Dad, wife and kids, good job, solid home – and above all loyalty to your partner. But reality isn't like that. Simone and I made our marriage work. The intimate details of how are not for the public domain. Do people really think we'd still be such good friends if it was all as bad as people make out?
As I've said, my life was going nuts. I think maybe we were more sister and brother – we loved going to the movies, playing pool, seeing concerts, hanging out at the pub, but perhaps we didn't have that emotional lock-in. My respect for her remains to this day.
In the early years together we were really happy, enjoyed creating homes and sharing day-to-day life with friends and family – all the normal stuff that young couples do as they grow together. The trouble with cricket is that it invades your space, occupying everything from conversation to consistency in a relationship.
---
Honest, thoughtful, fearless and loved by millions, Shane is always his own man and this book is a testament to his brilliant career.