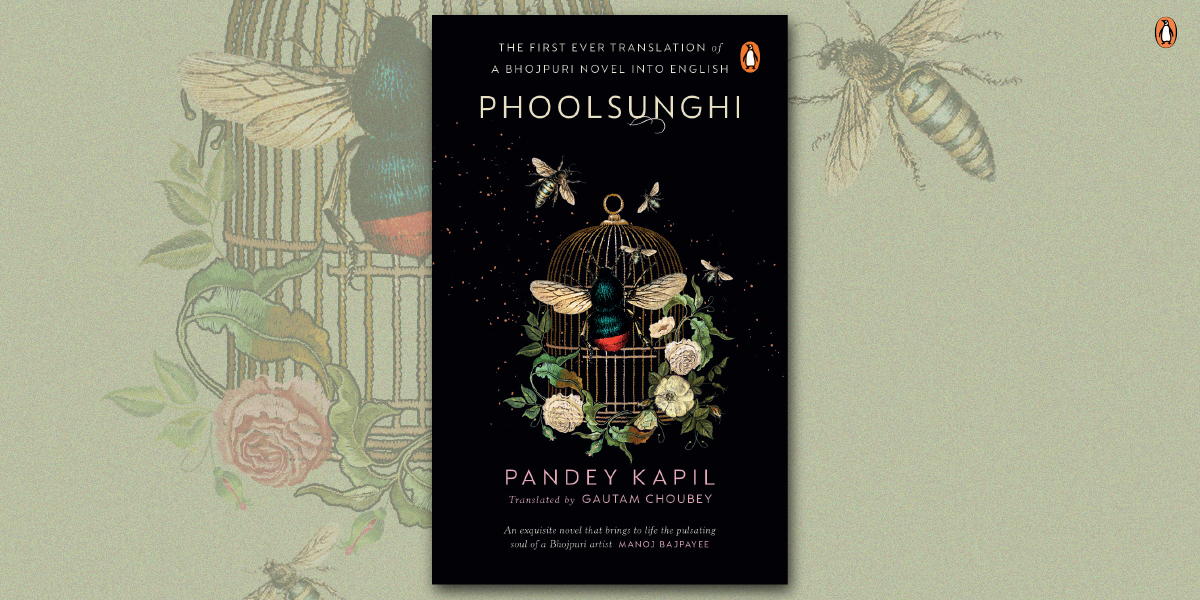 Phoolsunghi (1977) is arguably the most loved of all Bhojpuri literary works. A historical novel, it traverses a period of ninety years in colonial India, roughly between 1840s and 1931.
Pandey Kapil's translated version – The first ever translation of a Bhojpuri novel into English – transports readers to a forgotten world filled with mujras and mehfils, court cases and counterfeit currency, and the crashing waves of the River Saryu.
Here we understand what the translation truly means for the community, through a note from the book.
Drawing upon his experience as the series editor for People's Linguistic Survey of India (2012), G.N. Devy concluded that 'Bhojpuri has not only stayed alive . . . in the whole world, Bhojpuri is the most rapidly developing language.' According to various estimates, there are close to 200 million Bhojpuri speakers living in India and overseas. While the majority of them live in Poorvanchal—a geographical unit comprising parts of Bihar and Uttar Pradesh—a sizeable Bhojpuri-speaking population lives in Jharkhand, Madhya Pradesh, Chhattisgarh and Nepal. Further, as a result of 'girmitiya' or indentured migration during the colonial period (1832–1914), the language is also spoken extensively in Fiji, Mauritius, Suriname, South Africa and parts of the Caribbean. The word Bhojpuri derives its name from Bhojpur, an ancient feudatory located near Arrah in Bihar. The feudatory, in turn, derives its name from Bhoj, the ancient king from Ujjain (Malwa) whose descendants ruled the province.
Literary Bhojpuri claims a fairly old ancestry. It has been suggested that the earliest literary specimen with Bhojpuri expressions date back to the medieval devotional compositions of the Nath sect. The tradition of writing in Bhojpuri begins with Kabir (fifteenth century)—often considered the 'Adi Kavi' or the first poet of Bhojpuri— and includes the devotional compositions of saint-poets such as Dharamdas (sixteenth century), Dharni Das (seventeenth century), Shiv Narayan (eighteenth century), Dariya Sahib (eighteenth century), Lakshmi Sakhi (eighteenth century) and Bulakidas (eighteenth century). By late nineteenth century, Bhojpuri had produced its first literary prose. According to George Abraham Grierson, Ravidutt Shukla's play 'Devakshar Charitra' (1884) is the earliest recorded specimens of literary prose in Bhojpuri. A year later, in 1885, a Banaras based wrestler, Teg Ali, published Badmash Darpan, Bhojpuri's first published work. Yet, a literary culture, so long and diverse, remains largely neglected. If one was to draw a list of factors that may have led to this neglect, two causes stand out: the perception that Bhojpuri is a folk language, spoken by illiterate villagers, and the near absence of its interaction with the other literary cultures, through translations or otherwise. Hopefully, the present translation will change some of that.
For close to seven decades, Pandey Kapil championed the cause of Bhojpuri with an indefatigable zeal—leading literary associations, editing periodicals and bearing with grace the burden of being a Bhojpuri author, consigned to anonymity outside the Bhojpuri belt. Get your copy of Phoolsunghi now!