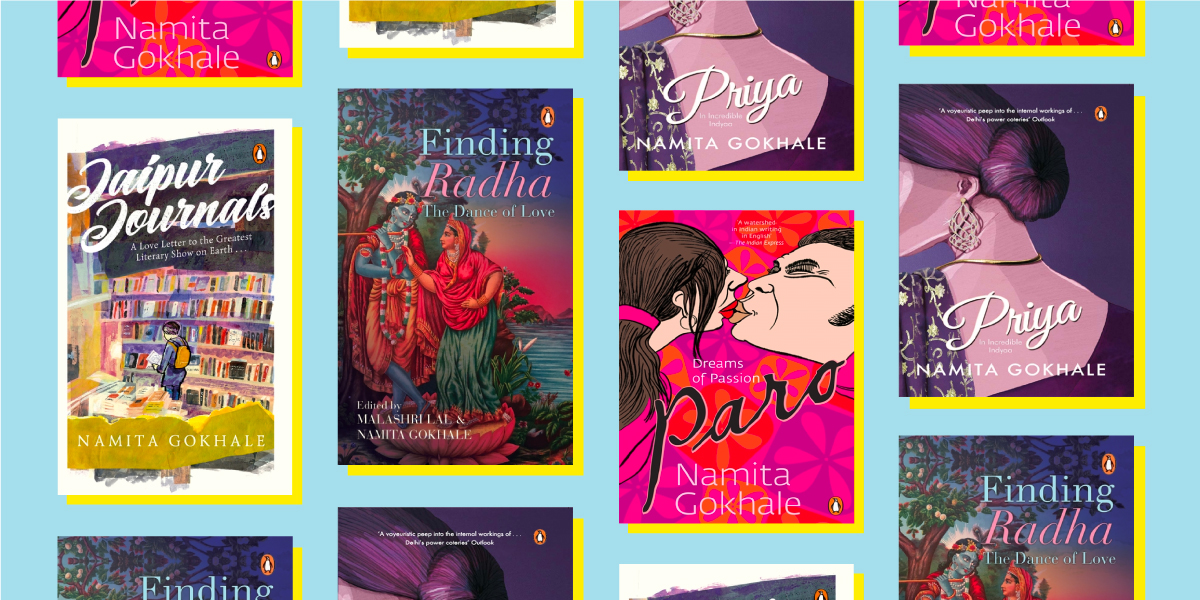 Few authors capture the oddities of a zeitgeist, not just the soaring spirit but the awkwardness, the tiny contradictions that make life both messy and loveable as charmingly as Namita Gokhale— social commentator extraordinaire. Her books are as diverse as her host of unforgettable characters—from incisively witty dissections of individuals against a range of social backdrops to retellings and examinations of Indian mythology.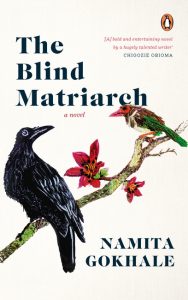 Adding to this behemoth of a bibliography is her latest novel, The Blind Matriarch, which sketches a vivid portrait of an Indian joint family against the backdrop of the first and second waves of the pandemic, of the world in flux that we have inhabited for the last two years.
Before you read The Blind Matriarch here's a quick list to help you acquaint yourself with some of Namita Gokhale's oeuvre. Go ahead and fill up your to-read list for the month!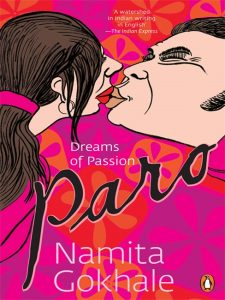 Paro: Dreams of Passion
First published in 1984, to both notoriety and critical acclaim, Paro remains a social comedy without parallel in contemporary Indian writing. Paro, heroic temptress, glides like an exotic
bird of prey through the world of privilege and Scotch that the rich of Bombay and Delhi inhabit, amidst her motley court of admirers including Lenin, the Marxist son of a cabinet minister; the fat and sinister Shambhu Nath Mishra, Congress Party eminence grise; Bucky Bhandpur, test cricketer and scion of a princely family to name but a few!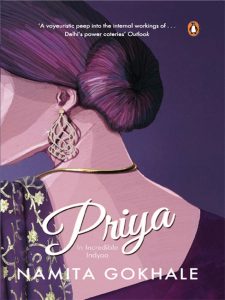 Priya
India is shining, and Suresh Kaushal, the stout lawyer -of sober habits', has propelled himself up the political ladder to become Minister of State for Food Processing, Animal Husbandry, Fisheries and Canneries. His wife Priya can't believe their luck and, determined to ensure it doesn't run out,  struggles valiantly with -social vertigo, infidelity and menopause. In this wickedly funny, occasionally tender, book, Namita Gokhale resurrects some unforgettable characters from her 1984 cult bestseller Paro, and plunges them neck-deep into Delhi's toxic waste of power, money and greed.
 Shakuntala: The Play of Memory
On the ghats of Kashi, the most ancient of cities, a woman confronts memories that have pursued her through birth and rebirth. In the life she recalls, she is Shakuntala of the northern mountains-spirited, imaginative, but destined like her legendary namesake to suffer 'the samskaras of abandonment'. Stifled by social custom, hungry for experience, she deserts home and family to travel far and wide with a Greek horse merchant she meets by the Ganga.  But an old restlessness compels her to forsake this life as well-and court tragedy.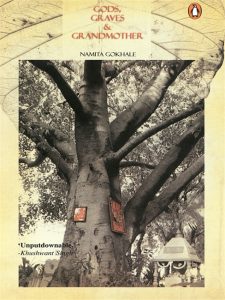 Gods, Graves and Grandmother
'Before mother left, in a long-ago time, we had been very rich. My grandmother had been a great singer, a kothewali whose voice was more liquid and beautiful than Lata Mangeshkar's. Eleven nawabs and two Englishmen were besotted with the love of her.' From these great heights, Gudiya's world plunges into the depths of almost complete penury when she arrives in Delhi with her ancient grandmother, Ammi, fleeing small-town scandal and disgrace. Just when all seems lost, Ammi works a miracle: a slab of green marble stolen from a building site, and five rounded pebbles from a sahib's garden, are transformed by the power of her singing voice into an inviolable place of worship. As we follow the twists and turns of Gudiya's story, we see unfold before us the peculiar dance of chance and will that is human existence.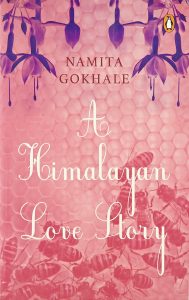 A Himalayan Love Story- Book I of the Himalayan Trilogy
A study in unrequited love, with its terrible irony and tragic urgency, told through the tale of two exiles. Parvati is young, beautiful and seemingly doomed; blooming early yet unable to find lasting love. Orphaned in adolescence and adopted by her headmaster uncle, Parvati escapes the constraints of this temporary home but, like many young women before her, finds a new prison in marriage. So when Mukul Nainwal, the local boy who has always loved her, returns to Nainital, he finds Parvati changed—she is a new challenge to his ideals, despite all his worldly success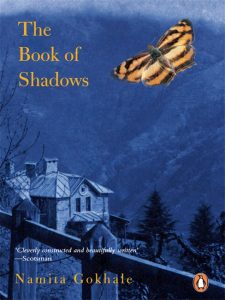 The Book of Shadows— Book II of the Himalayan Trilogy
Part ghost story, part erotic romance, The Book of Shadows is an ambitious book that investigates the nature of reality, love and faith. Scarred by her lover's suicide and an acid attack that has left her permanently disfigured, Rachita Tiwari has sought refuge in a remote house in the Himalayan foothills. In this rambling house, built by a foolhardy missionary over a hundred years ago, she lives alone with an ancient and mysterious manservant, Lohaniju. As she retreats into herself, battling for her sanity and fearful of a world she no longer trusts, a different dimension claims her and the tremendous history of the house is played out before her.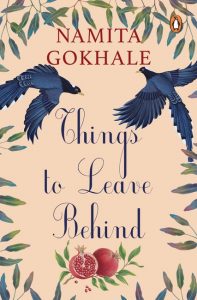 Things to Leave Behind— Book III of the Himalayan Trilogy
Kumaon, 1856. History has already begun its steady march. Six native women clad in black and scarlet pichauras huddle around Naineetal Lake, attempting to cleanse it of ominous influences. Amidst a theatre of British impunity, feisty young Tilottama Dutt, whose uncle is hung when he protests the reigning order, and her daughter, Deoki, confront change as Indians and as women. Here is a fascinating historical epic illuminating with painstaking detail the mixed legacy of the British-Indian past.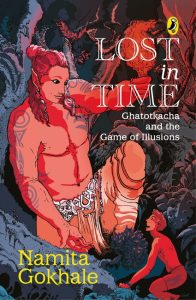 Lost In Time: Ghatotkacha And The Game Of Illusions
Young Chintamani Dev Gupta, on holiday in a bird camp near Lake Sattal, is transported via a wormhole to the days of the Mahabharata. Trapped in time, he meets Ghatotkacha and his mother, the demoness Hidimba. But the gentle giant, a master of illusion and mind-boggling rakshasa technology, wields his strength just as well as he knows the age-old secrets of the forest and the elemental forces. And in his enlightening company, Chintamani finds himself in the thick of the events of the most enduring Indian epic. This unusual take on YA literature offers an intense yet tender look at a rare friendship as well as the abiding puzzles of the past.
The Puffin Mahabharata
'Told and retold a million times, the story of the Mahabharata is about defeat as much as victory, about humility as much as courage. It is the greatest story ever told.'
Like a modern-day suta or storyteller, Namita Gokhale brings alive India's richest literary treasure with disarming ease and simplicity. She retells this timeless tale of mortals and immortals and stories within stories, of valour, deceit, glory, and despair, for today's young reader in a clear, contemporary style.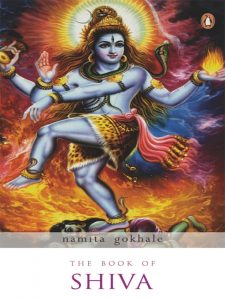 The Book Of Shiva
Shiva: Destroyer and Protector, Supreme Ascetic and Lord of the Universe. He is Ardhanarishwara, half-man and half-woman; he is Neelakantha, who drank poison to save the three worlds-and yet, when crazed with grief at the death of Sati, set about destroying them. Shiva holds within him the answers to some of the greatest dilemmas that have perplexed mankind. Who is Shiva? Why does he roam the world as a naked ascetic covered with ash? What was the tandava? What is the story behind the worship of the linga and what vision of the world does it signify? Namita Gokhale examines these questions and many others that lie within the myriad of stories about Shiva. Even as she unravels his complexities, she finds a philosophy and worldview that is terrifying and yet life-affirming—an outlook that is to many the essence of Indian thought.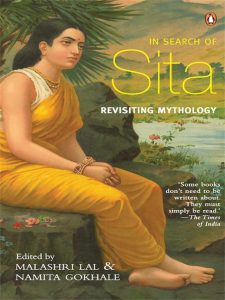 In Search Of Sita: Revisiting Mythology (Edited by Malashri Lal and Namita Gokhale)
Sita is one of the defining figures of Indian womanhood, yet there is no single version of her story. Different accounts coexist in myth, literature and folktale. Canonical texts deify Sita while regional variations humanize her. However, she is remembered, revered or written about, Sita continues to exert a powerful influence on the collective Indian psyche. In Search of Sita presents essays, conversations and commentaries that explore different aspects of her life-offering fresh interpretations of this enigmatic figure and her indelible impact on our everyday lives.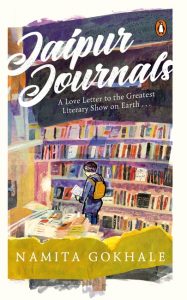 Jaipur Journals
Partly a love letter to the greatest literary show on earth, partly a satire about the glittery set that throngs this literary venue year on year, and partly an ode to the millions of aspiring writers who wander the earth with unsubmitted manuscripts in their bags, Jaipur Journals is a light-footed romp that showcases Gokhale's unsparing eye for the pretensions and the pathos of that loneliest tribe of them all: the writers. Told from multiple perspectives, set against the backdrop of the vibrant multilingual Jaipur Literature Festival, Jaipur Journals features diverse stories of lost love and regret.