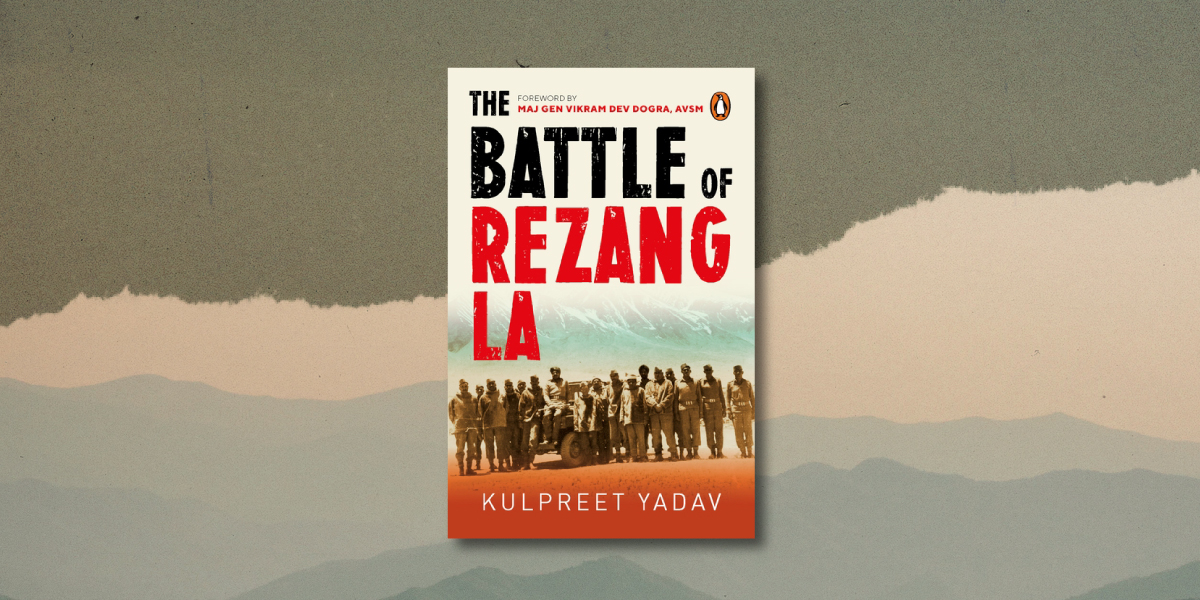 Kulpreet Yadav's The Battle of Rezang La documents the bravery, gallantry, and patriotism of the soldiers who fought for India in 1962 war. The soldiers chose to hold their ground to the end, despite the fearful odds, defending their nation.
Here's an excerpt from the book about the time when the speed of preparation of the bunkers and trenches in Rezang La gets a boost and the new recruits make up for the shortfall in manpower.
*
On 30 October 1962, the Charlie Company received a message that forty-seven new recruits had landed at Chushul airfield at ten in the morning on 29 October 1962 and that day, after they had been addressed by Lt Col H.S. Dhingra, they would be escorted to Rezang La…
The first person Maj. Shaitan Singh saw there was Naik Ram Kumar who was the section in-charge of the 3-inch mortar post located 140 yards behind the company headquarters on a downward slope. Ram Kumar was an exceptional soldier and the major trusted him completely even though Ram Kumar had been demoted from Havildar to Naik due to a recent incident related to convoy discipline.
Ram Kumar stopped working as he saw his commander approach, saluted him and cheerfully said, 'Ram ram sahab.
Welcome back to the unit.'
'Thank you, Ram Kumar. You must be missing kabaddi here.'
'Yes, sir. Here, we are spending our energy only on building our defences. Kabaddi bahut khel liya.'
The major smiled and asked, 'How's Mishri devi? Got any letters from home?'
Mishri devi was the name of Ram Kumar's wife who was back in his village Bahrampur in the Rewari district of Haryana.
'Yes, sir. She is doing good.'
He patted Ram Kumar's shoulder and said, 'That's good to know . . . '
After a pause of a few seconds, in which the major looked around and acknowledged the Ram-Rams of others working in the vicinity, he continued, 'Ram Kumar, let's finish the laying exercise of the 3-inch mortar today.'
'Yes, sir. Today, the visibility is good too.'
'Yes, and that is why it is the right time for us to conduct the mortar survey. You come with me. The others in your section can go ahead with the fortification of the mortar post.'
Nk Ram Kumar laid down his tools and started to walk alongside the major. After a few steps, the major said, 'So, how does it feel to become a naik once again from havildar? Anyone making fun of you?'
'Sir, they still think I'm a havildar, because that's what I think in my head.'
The major laughed, 'You know what, among the officers too, we have a few who behave as if they are colonels even when they are actually majors. Such officers go very far, Ram Kumar.'
'Are you one of them, sir?'
The major turned to look at Ram Kumar, a mysterious twinkle in his eyes, 'What do you think?'
'I'm not sure, but I'm sure of one thing, sir.'
'And what is that?'
'Since you are so calm and composed all the time, I'm sure you will become a general one day.'
Maj. Shaitan Singh laughed, 'If I become a general, Ram Kumar, you will be a subedar major and I will get you to whichever place I'm posted.'
'Thank you, sir.'
They walked in silence for a few minutes.
'Ram Kumar, though you hold the rank of a naik now and the 3-inch commander should ideally be of havildar rank, I have still positioned you there. Do you know why?'
'Because you trust me, sir.'
'Exactly. I have seen you handling the 3-inch mortar . . . let's do a proper survey today, find out the probable enemy approaches and range our mortar.'
'Yes, sir.'
By now, they had crossed the platoon 9 position on the forward slope and stood looking east, in the direction the Ops had been reporting the enemy's position. Both turned as they heard a sound right behind them. It was Naib Subedar Surja Ram.
'Sahab, Ram Ram!'
'Ram Ram, Surja sahab.'
'Sahab, what's the order?'
'Surja sahab, Ram Kumar and I are here to identify enemy approaches and mark them. Where do you think they will come from?'
Surja scratched his chin and said, 'Sahab, I think they will come in the night through the nullahs. Somewhere between three and four, early morning.'
Ram Kumar said, 'Sahab, from what we have learned so far from the NEFA and Srijap attacks is that the Chinese use human waves.'
The major's face was now taut with seriousness, 'Yes, and one more thing, they use surprise as a strategy, like they had used in Korea.'
'Sir, we will defeat every attack of the Chinese. They might have the numbers, but we have Dada Kishan ka ashirwad.'
'Absolutely.'
They were quiet for a few seconds. Then the major asked, 'Suggest a few names for the target positions, Ram Kumar.'
Ram Kumar replied, 'Sir, let's use the name of birds, like tota, maina, bulbul, kabutar, mor, chidiya wagarah.'
**
Read The Battle of Rezang La for a detailed account of the events of the 1962 war.