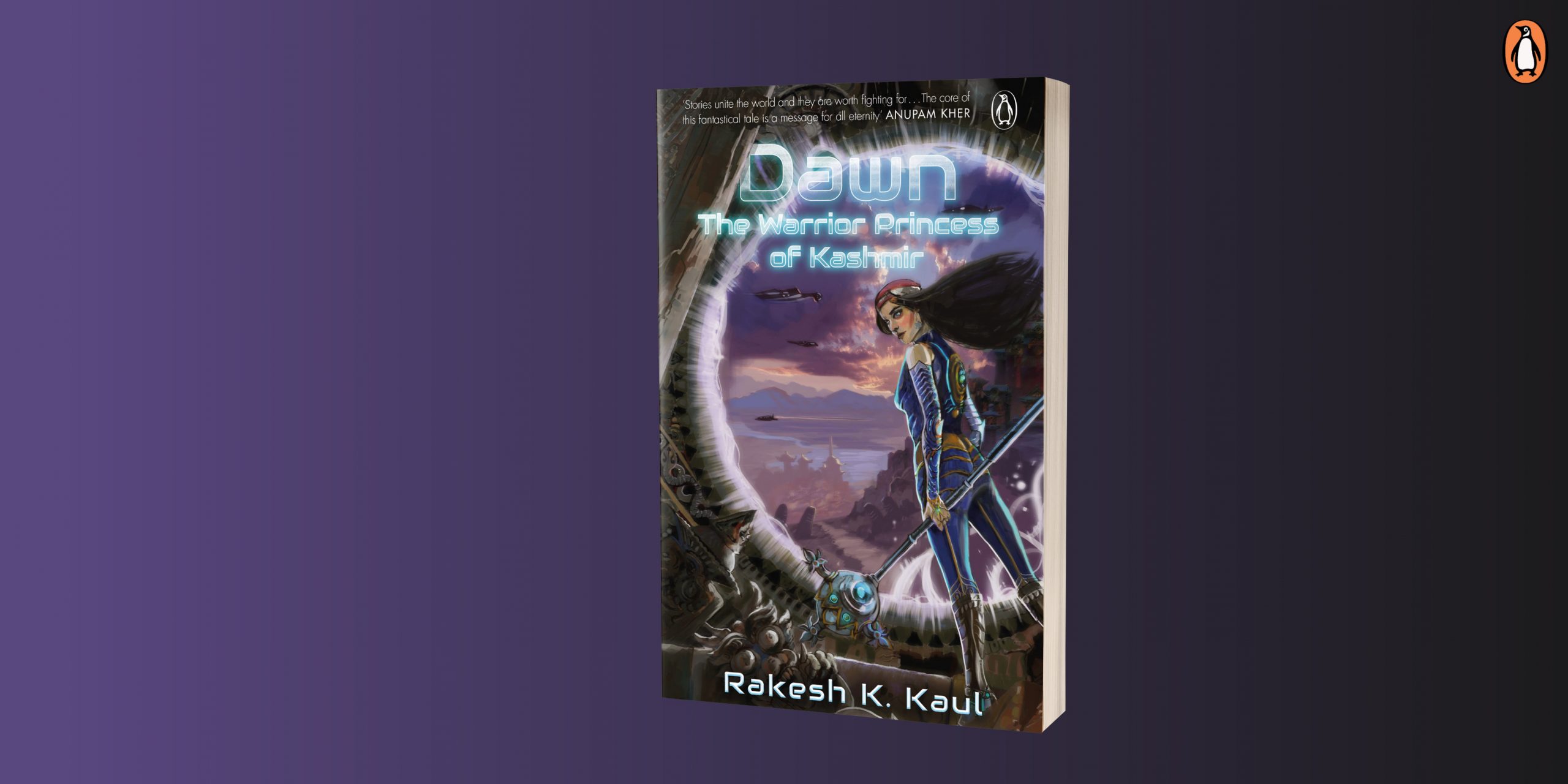 It is A. D. 3000. Dawn faces great peril. To fight a primeval enemy that is greater than all of humanity, a young Dawn needs the ultimate weapon sheathed inside the lost but timeless Niti folktales of Kashmir. Kernels of wisdom nestle deep inside these mysterious Niti tales and must be teased out by her and her band of outlaws. In search of Niti technology, Dawn  sets off on a tumultuous quest into the unknown in Time and Space. Facing long odds, she has to have the courage of Mahasahasa, the Great Audacity.Dawn is guided by the Elephant-headed Yuva who shares the secrets of Niti. He begins by stating, 'Imagination gives birth to stories of what humans are and can be. Stories have a unique property—they travel from human to human, and so, they become known as folk stories. These folk stories create a social collective that binds humans and makes them act collaboratively with each other.'
This magical, mystical yet scientific collection of the ultimate traveller tales draws upon Niti, meaning the wise conduct of life,.. As you travel alongside Dawn you will expand, unlock your powers and equip yourself to face any life challenge.Read on for seven counter intuitive yet universal life experience learnings from Rakesh Kaul's epic Dawn: The Warrior Princess of Kashmir. 
---
The Dream Weaver said, 'To be good is to give back as much as you receive.'
'The yogi was taught, from time to time, to balance his consuming desires by alternating them with periods of abstinence and giving. You see, my children, yoga purified humanity. It is this continuous exchange, this balance of these two contradictory experiences—of receiving and giving in equal measures—that brings out the highest good in a person.'
*
The Master Thief said: 'To be addicted is to concede your volition.'
'At this table, we find ourselves naked and equal in only one respect. We are both slaves of an addiction, no different than Yudhisthira, to an identical craving that grips our mind. It mercilessly binds us and drives us relentlessly.'
*
Dawn said: 'To be human is to be free.'
'Health is the unrestricted movement of the body, mind and heart. This movement is powered by the bioplasmic Life Breath. The property of our Life Breath is freedom. It is this freedom that leads to creativity and joy.'
*
Vidya, Dawn's mother said: 'To know the universe one must know the self.'
'The entire Universe exists inside the Self, no different than a tree that exists inside the seed. But to know the Self, any division between the Self and the Universe must fall and become one.'
*
The Mynah Bird said to Dawn: 'To achieve self-actualization one must accept the fact of death.'
'The self-realized people know that they are one with Maha and are part of the endless cycle of creation and rebirth of life,' said Kira, looking at the moon that glowed in the black-ink sky. 'Death holds no fear.'
*
The Lama Warrior said: 'To fight injustice man must join forces.'
'Slaves are forced to place their trust in their master's rules. This Niti story tells us that free humans place their trust in each other.' He opened his eyes and looked squarely at me. 'And that is how we will get justice and victory.'
*
Guru Patanjali said: 'To focus on goals one must learn to control the mind.'
'The senses want to rest in peace. They want neither more of what you like or less of what you dislike. It is desire that is ruined by impure Life Breath that arises in humans like Arman, which creates one's own slavery. And it is only the purification of yoga that gives you the freedom to reach that equilibrium.'
---
Rakesh Kaul writes: 'The Niti story befittingly delivers an expansion that miraculously offers joy even in suffering. Each reader will experience a different story based on their own emotional resonance as our tale twists and turns across Time and Space and through different ages and eras. Irrespectively, it will entertain, educate, empower and enable as all folk stories have done since the dawn of time.'
The author of the revolutionary bestseller The Last Queen of Kashmir creates another pioneering, literary triumph in a sci-fi saga rooted in a culture that reveals eternal truths as it traverses the terrains of the Kashmir Valley.
To experience more the wonder of timeless stories and eternal lessons, read Dawn: The Warrior Princess of Kashmir!