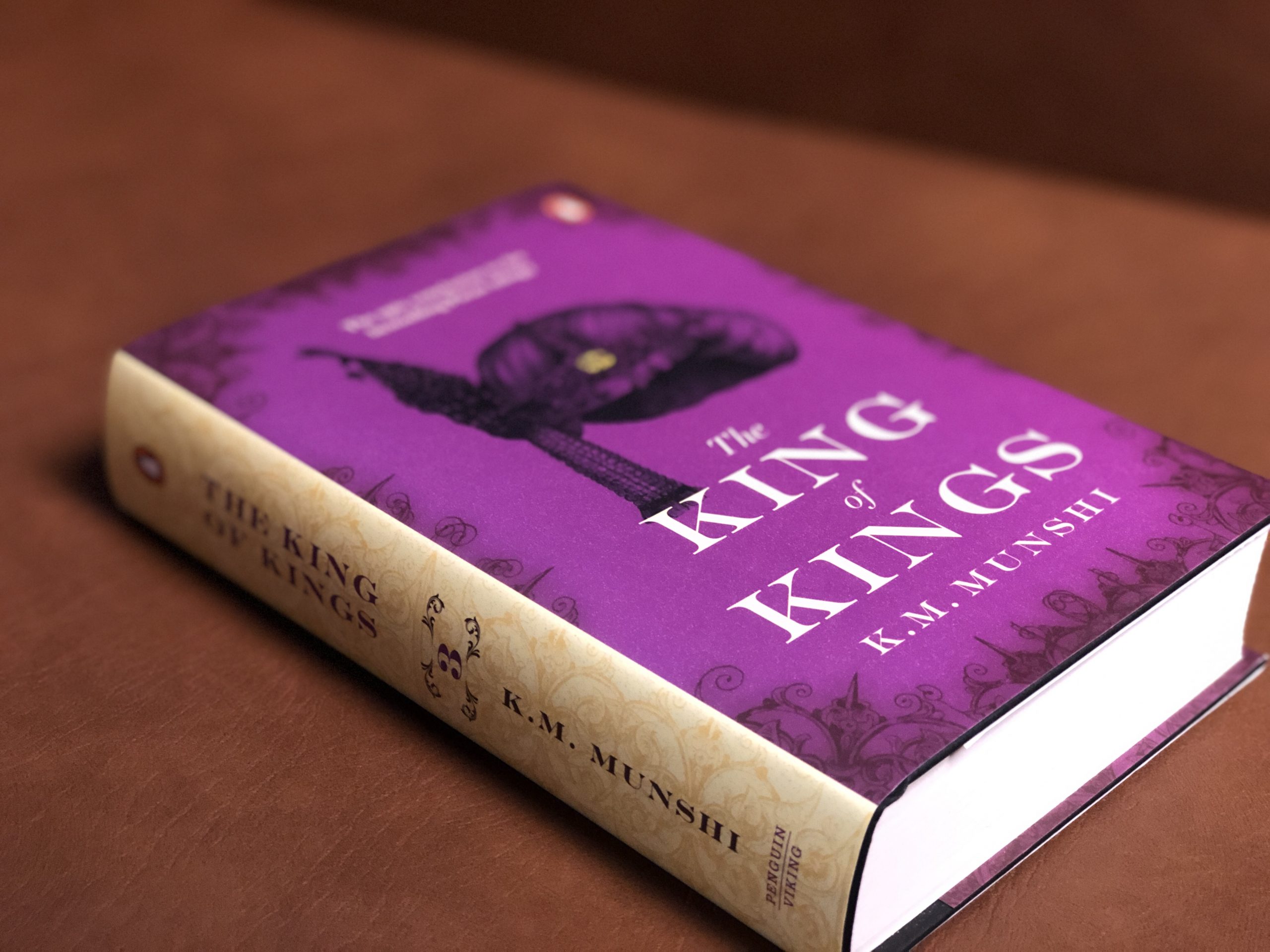 One of the great classics of Gujarati literature, the Patan trilogy by K. M. Munshi, is finally accessible to English readers owing to Rita and Abhijit Kothari's brilliant translation.
K.M. Munshi is one of Gujarat's most well-known literary writers and his historical novels have contributed profoundly to the sense of past that Gujarat lives with. His magnificent conclusion to his beloved Trilogy, Rajadhiraj or The King of Kings is a panoramic epic filled with adventure and intrigue, and a timeless classic with a nuanced insight into human nature and the complex links between statecraft and violence.
A mysterious emissary arrives in the port city of Bhrigukachchh. He has been sent by King Jaysinhdev of Patan with a secret message for Kaak, the valiant chieftain of the city. The king seeks to urgently enlist Kaak's help in conquering the kingdom of Junagadh. However, Kaak has also received crucial summons from two others: Leeladevi, the firebrand princess whose marriage to Jaysinhdev Kaak himself facilitated; and Ranakdevi, the queen of Junagadh.
Caught in a web of conflicting loyalties, Kaak must navigate a treacherous terrain of political machinations where the slightest misstep could lead to grave consequences-where even he will not emerge unscathed.
Seven reasons why you should be reading The King of Kings—
For a glimpse of the rich, varied history of 12th century India that you probably completely skipped in school
The King of Kings takes the reader through a highly layered and complex web of Gujarat in the Chalukya era. As a result of his historical research, Munshi came to the conclusion that Gurjaradesha was a region that dates back to very ancient times. It could be said to have come into its own around 550 CE; its fall began from the conquest of Qutub-ud-din Aibak, and Alauddin Khilji's raid in the fourteenth century spelt its end. Gurjaradesha was a rather large portion of northern India centred around modern-day Mount Abu and Bhinmal.
For a saga as fascinating and complex Game of Thrones set in 12th century India.
Even though the trilogy is based around the rise of Siddharaj Jaysinh,, we are hooked on to the interplay of machinations and intrigues around him. From the sagacious kingmaker Munjal Mehta, to the intelligent and calculating Chief Queen of Patan—Leeladevi, everyone has their own agendas and will do anything to achieve them. After all, power, lust, and glory are universal and timeless motives.
For its powerful portrayal and multifaceted portrayal of women.
Women are very, very present in The King of Kings, not just as idealized trophies but as decision makers every bit as calculating and as potent as the men. From the paragon of all virtues-the beautiful, brilliant pativrata—Manjari, to the equally stunning, shrewd and incisively cold warrior princess of Laat turned chief queen of Patan, Leelavati, to the austere ascetic Ranakdevi, and the intelligent dowager Minalba. Even the ordinary women who pop up –from the unabashedly sensual Premkunvar to the frivolous teenager Samrath, dispay the same attention to actually creating vibrant, realistic women.
'No, you don't,' the princess struck back like an experienced warrior. 'Tomorrow, I will wear my grandfather's crown and go at the head of my army against yours for our last battle. I will die, but I will be immortalized. Tales of my valour will spread far and wide and I will be deified like a goddess.' There was no tremor in her voice or glint in her eyes. There was only an indifferent calmness.
For the astonishingly wide breadth of its romantic and sexual relationships which range from strikingly modern to classical love stories
There is the classical romance and idealized connubial bliss of Kaak and Manjari , the political alliance of Leeladevi and Siddhraj—Leeladevi wants to attract her husband deeply but is far to brilliant and incisive to play the calculating wife to soothe his ego. Meanwhile Jaysinhdev is obsessed with a woman who rejected him years ago who is now the ascetically devoted wife of his arch-rival.
For a truly realistic look at the idea of the kingdom, beyond the confines of the court to those of its satellite villages.
The King of Kings explores tensions between the centrist and regional contestations of power, and the relationship between state formation and violence. One sees in this novel the contrasting views that Patan and its margins have towards each other. For instance, when Amrabhat arrives in Bhrigukachchh, he notices that the houses of Bhrigukachchh are small and its streets narrow. The temples are old and unimpressive, not like those of Patan or Modhera.
Was it possible that the unvanquished bhatraj of Laat and durgpal of Bhrigukachchh, dearest friend of Tribhuvanpal maharaj and the enemy of a person as influential as his father, lived in a place like this? He smiled derisively: Where the palatial mansions of his father in Patan, Khambhat and Karnavati, and where this humble hut!
For the brilliant subversion of the idea of the 'heroic ruler' and the reminder that great kingdoms are often the result of brilliant secondary figures behind the scene.
The collective energies of the wise prime minister Munjal Mehta, the warrior and chieftain, Kaak and the poised Queen Mother, Minaldevi are mobilized in accomplishing the suzerainty of the 'great king' Jaysinhdev , and the novel ultimately celebrates his victories. However we are on many occasions shown Jaysinhdev in a poor light, both as a person and as a statesman. If perfect states are to be achieved with full knowledge of the imperfections of those who represent it, can they remain perfect? Or rather, is the idea of the state more powerful than the one who governs it?
For its delightfully rich and detailed prose interspersed with delicate flashes of humour.
This is no dry reconstruction of historical events, Munshi brings the 12th century landscape and society of Gurjaradesh to life vividly, handling the foibles and weaknesses of both the court and small towns with a deft hand.
Amrabhat was restless. He had imagined himself to be

immersed in revelry and pleasures in Bhrigukachchh. Instead,

as soon as he set foot here, he lost his servant, bore insults and,

to top it all, an unknown woman stole his heart. Such a series of

calamities at this tender age!
K.M. Munshi's magnificent conclusion to his beloved Trilogy, The King of Kings is a panoramic epic filled with adventure and intrigue, and a timeless classic with a nuanced insight into human nature and the complex links between statecraft and violence.